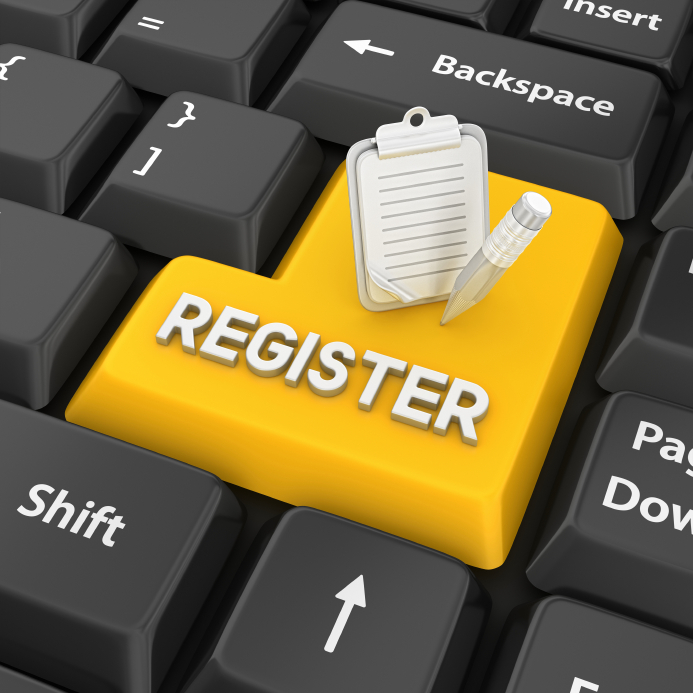 Have you ever collected registrations for an event?
What was the best part of your experience? And the worst?
Manually collecting registrations can take a lot of time, energy, and money if it requires you to bring in additional employees or if you're working by yourself.
Online registration tools can help you simplify the process and save you hours of hassles and headaches. Whether you are planning an event for 10 or 10,000, online registration will allow you to create a professional and branded tool for your business.
Before you create an online registration form there are some decisions you should make.
When do you want to start collecting registrations? If you're a planning a small event, a month in advance is a good idea.
Planning a larger event, such as a weekend retreat, that is expensive and will require travel by your attendees? You'll want to make registration available a couple of months in advance.
Consider these additional topics: Do you want to allow registrants to bring guests? Do you want to charge early/late fees or member/nonmember fees? Do you have a registration deadline?
Those are just a few questions to get you started.
Here are some other helpful reasons why you should take your event offline and manage your registration with an event management tool:
1. Spreadsheets vs. online registration
Managing registrant information with a spreadsheet is time-consuming and prone to error. It's easy for the data to become stale. With an online registration system, the responses are captured and recorded in real-time, it occurs at the leisure of the registrant, and it's available 24/7.
2. Know your registrants
There are many good reasons why you want to know who's coming to your event, including food and beverage ordering, venue capacity, etc. The more you know, the easier the planning will be.
3. Share your registrants
Just having a large number of registrants may incent someone to register for the event. If you make the registrants visible, then potential registrants might see someone they know or want to know better. Just don't forget to ask permission from your registrants before you make their name or information public!
4. Gain demographic information
Demographic information — such as gender, age, purchase or donation habits, or town of residence — help segment your audience. Having demographics about every prospect, customer, client, or supporter is important to every business or organization. The more information you know about an individual, the more value you can provide, and the stronger the relationship can become over time.
5. Understand your promotions
Registration can act as a measure of your social media reach. You can add a mandatory question as a part of registration that asks registrants how they heard about the event. Did they find you on Facebook, Twitter, LinkedIn, a local newspaper ad, a postcard, or poster on display? Or maybe they heard from a friend. You can use that information to find out which of your marketing efforts are paying off, and which current patrons to thank for referring friends to your event.
6. Collect fees during registration
With an online tool, you have the opportunity to capture registration fees in real-time during registration. When individuals pay a fee during registration, this is a firm commitment that they will likely attend your event. If you're not collecting payments on the day of your event you'll have a lot more time to focus on your attendees.
7. Grow your mailing lists
You can use a Join My Mailing List feature that will give you the ability to add someone to a particular contact list during the registration process. This is helpful for segmentation purposes and will allow you to email announcements about future events to the registrant.
8. Ask questions
If you need a question answered, absolutely ask it during registration. You have someone's attention, so this is the best time to capture this information. Resist the urge to ask a lot of questions unless it will lead to actionable intelligence in the future, particularly for this or future events. Don't collect any unnecessary info. The faster someone can complete a registration page, the more likely they are to fill it out.
9. Display an automated registration confirmation page
As soon as someone registers, they will immediately see a confirmation page, which provides validation that their registration was received.
10. Send an automated registration confirmation email
This gives the registrant an email confirming their registration, which includes details of the event and their answers to the questions during registration. They can save this as a resource to refer back to for event details.
The benefits are immediate
When you move your event from an offline registration process to an online tool, you'll notice the benefits immediately and so will your registrants. Being able to easily collect information and track it gives you time back to focus on what matters, your event.
Do you use an online registration tool for your events? How has it benefited you and your business or organization? Share your thoughts with us in the comments field below.