Schools are almost synonymous with paperwork, from worksheets to sign-up sheets to report cards, but a few educational institutes are working hard to change that.
Email marketing has proven to be a great way to connect with families and students, but anyone who has been to a PTA meeting knows that events have a long way to go.
Whether it's an after-school program or a fundraiser, school events often depend on Excel, a hundred envelopes full of RSVPs, and one bleary-eyed volunteer.
Some schools have decided to kick the trend in a big way.
Stay connected to students, families, and staff with expert marketing advice and all the tools you need, all in one place.
1. Admissions
We've talked about the Brooklyn Waldorf School's Facebook Page before, but, since late 2009, the school has been using Event Marketing, too.
Ben Williams, the school's web, publications, and marketing associate, explains that the software has been especially helpful to host open houses.
"The school was founded only a few years ago and there's been a lot of interest, so Admissions is really overwhelmed," he explains. "But now we can just have people sign up for open houses and tours on the website."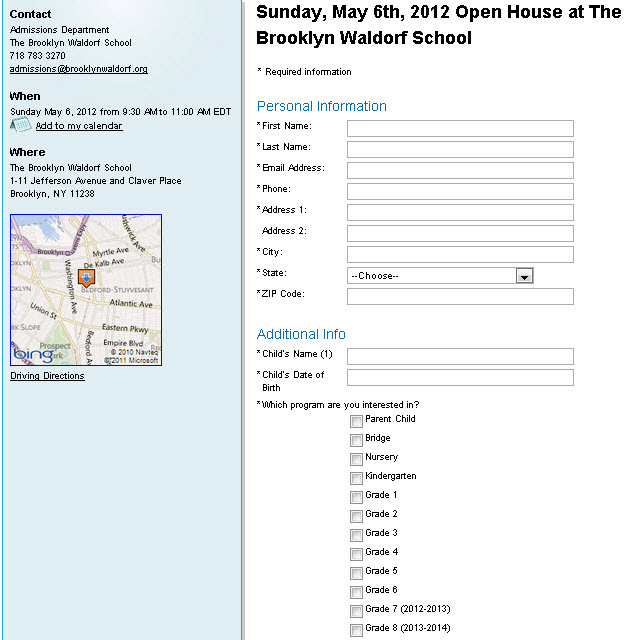 2. Extracurriculars
The Rock School's vice principal, Jim McKenzie, has been using event marketing to organize orientations and new family receptions, but he also uses the software for recreation and educational workshops.
He found that using an online solution for the Gainesville, Fla. school tends to be a little better than waiting for attendees with a pen and a pad.
"We're way past the day and age of sign-up sheets in lobby," he says. "As the person who was doing it in the old fashioned way, I love event marketing… it runs itself."
When people start arriving to an event nowadays, Jim just uses the iPad app to check in students and parents.
3. Family Events
We've discussed the effective email marketing of the San Diego French-American School, but the institute also uses event marketing.
In particular, the software has been helpful for Grandparent's Day, an annual event during which families from all over the world come together at the school to celebrate learning.
"Most grandparents don't get to see their children often, because they live in Europe, Asia, Mexico, all sorts of places," says communications consultant Mim Britton.
That means that sending out traditional RSVPs can be a bit of a logistical problem, let alone a financial one. Taking the event online has allowed Mim to keep track of each registration, no matter what country it's coming from.
4. Fundraisers
The Wellesley Education Foundation, which raises money for public schools in Wellesley, Mass, started using event marketing last year and found that it's saved time and money.
"People registered more quickly," says Annie Cohen, co-vice president. "Usually, right before the Spelling Bee, we were saying to people, 'Where are your forms, you've got to get those in. But we had 35 teams register well before the event. Without Event Marketing, we would have had half as many registrants."