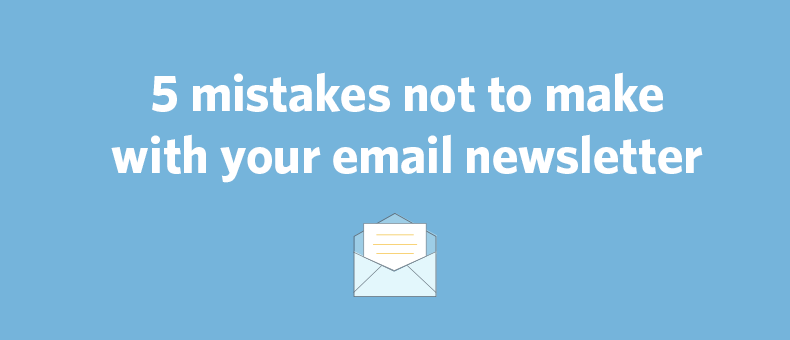 Editor's note: This post comes from our Constant Contact UK office. You can view all the posts from our UK team here. Or connect with us on Facebook and Twitter.
Despite the rise of social media networks such as Facebook and Twitter, an email newsletter is still one of the most effective marketing tools available to small businesses today. This is because it is an easy and very cost-effective way to keep in touch with your clients and potential customers.
However, because the production of email newsletters is becoming more prevalent, your customers are also becoming more selective about what they read, or what they will just delete and unsubscribe. This means that YOU have to make sure you get it right.
Here's the top 5 things that I notice people getting wrong with their email newsletters:
1. Going for a hard sell
Although you are producing your newsletter in order to help you market your products and services, it should not just be one long hard sell every time. A hard sell makes your readers suspicious, and will not hold their interest for long (if at all). Instead, what you need to include is good content.
Good content means different things for different businesses and industries. For example, if you're a retail business, your readers will want to know about your latest offers and new lines, and would also be interested in testimonials from your happy customers, and industry trends. Food-related companies will benefit by including recipes, serving suggestions, and glossy images.
2. Not going for a sale at all
Although you should focus on 'good content' in your newsletter, don't forget that this is primarily a marketing tool, so you can ask for a sale or other call to action from your readers. This might mean including a 'buy now' button and link for a sale item that you are promoting; or adding a discount coupon for a seasonal offer. However, you might also do something more subtle like offering a free trial, ask for feedback, request testimonials, run a competition, or simply ask your readers to tell a friend about their positive experience of your business.
3. Irregular distribution
I send out my Free Marketing Tips email every week on Thursdays, and my readers have come to expect it from me. They know that they will get one short actionable tip to help improve their marketing every week, and they have become familiar with the format of my newsletter.
This not only saves me a LOT of time and effort, but it helps to build up the 'know, like & trust' factor between me and my readership. Sounds straightforward, doesn't it? …but so many people get this wrong.
I have seen many email newsletters which change their design and format every issue – so the readers often don't recognise who has sent it to them, and are unable to find the specific information they're looking for.
Often, business owners will send out a newsletter 'whenever they can'. Sometimes there might be just one week between issues, other times there will be a gap of six months or even a year.
The effect of this, will put your readers on edge, and prevent them from feeling that they know you.
4. Wrong frequency
There is no hard and fast rule about how often you should send out your newsletter. It depends on your industry, your audience, and your business brand. If it's sent too frequently, your readers will switch off and probably unsubscribe. If it's not sent often enough, you won't be able to build up a relationship with them, and they may even forget who you are.
These examples may help you work out what's best for your business:
Annually – an annual message is not a newsletter, it's a Christmas card. Do not confuse the two.
Quarterly – could work for businesses that only need their clients to take action annually, e.g. insurance brokers.
Monthly – suitable for most industries, but the content should be relevant to the time of year and what your clients can do that month, e.g. personal stylists, bookshops.
Weekly – great for information-based businesses (if you keep it short and sweet), e.g. coaches, consultants.
Daily – close to stalking, don't go daily unless you have something really great to tell your readers every single day, e.g. spiritual and personal development organisations sending a 'daily quote'.
5. Too long
This is a real problem, because if your newsletter is too long, it will simply not get read, and all your work in crafting it will be in vain.
You should aim for your newsletter to take less than 3 minutes to read. Go ahead and time yourself to see if it fits.
Making a newsletter too long often goes hand in hand with businesses who have the wrong time frequency for sending it out. For example, they may try to cram the content for 4 weekly newsletters into one monthly one. However, this is a mistake because your newsletter should be the same length irrespective of how often you send it out.
If you have a lot of information you want to get into every issue, you can always use a headline and a  two sentence summary for each item – and then include a link through to the full item, which can be hosted on your website.
Here's the up-side:
The good news is that producing an effective email newsletter is not actually that difficult, you just have to avoid the most common pitfalls in order for your readers to appreciate having this regular contact with you. You also have the ability to improve your newsletter with each issue, so stick with it!