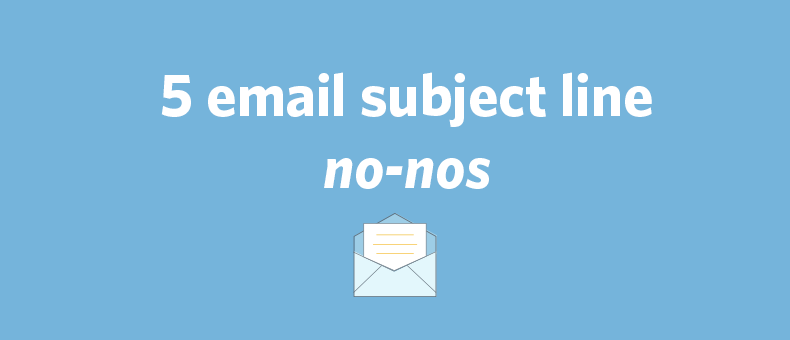 Editor's note: This post comes from our Constant Contact UK office. You can view all the posts from our UK team here. Or connect with us on Facebook and Twitter.
As a small business owner, email is one of the best tools that you can use to communicate with your customers and drive sales. This is because it's fast, cheap, and puts your messages straight in front of their eyes.
Yes, I know that your customers get a LOT of email and it's possible for yours to get lost in the confusion. However, that is not a reason to stop emailing, it's a reason to revamp your email marketing and do it better.
I see a LOT of good marketing emails that won't ever get opened because the subject lines are so terrible. Many people don't realise that the email that they have lovingly crafted is destined for instant deletion because their readers take one look at the subject line and decide that the rest of the email is not worth bothering with.
Here are some of the worst so that you can avoid using them:
1. The Newsletter
These normally go something like this "Acme Newsletter – April 2011". This type of subject line has NOTHING going for it. The reader knows who it's from by the 'from' address, so you don't need to use up the best bit of the subject line (the first bit) on your company name. They also know what date it is, so why waste space with that? Finally, think about how exciting 'newsletter' sounds. Does it fill you with joy? No? Me neither.
2. The Me, Me, Me!
Often in the form of "We are moving/expanding/having a sale", this type of headline makes the mistake of not focusing on what's in it for the reader. Your customers want to know that you have the answer to their desires or concerns, so focus on that. Give them a reason to open that email!
3. The Cringer
A cringer email subject line is any subject line that is badly spelled, poorly punctuated, grammatically incorrect, erroneous, or plain stupid. When you use a subject line with any of these features, your readers perception of your intelligence, and professionalism plummets. You also run the risk of losing their trust. If you can't manage to ensure that your own emails are correct and have good spelling or punctuation, your customers will assume that you have the same slap-dash approach to your products and services, and they simply won't buy from you or recommend you to others.
4. The Hyper
You want to create interest with your subject lines, but ridiculous claims or cheesy overblown phrases are not the way to do it. If you're using lines like "Make Millions With The Worlds Greatest Ever Widget", people will assume that you are running some kind of scam (think "too good to be true"). Your email might get opened by the curious, but they will be reading it with a pinch of salt and likely assume that it's spam.
5. THE SHOUTER
Using all capital letters in email, text or on social media makes it look like you're shouting. Capital are fine to add emphasis to the OCCASIONAL word (can you see what I did there? Smooth, huh!?), but if you use all caps all the time, it feels like being locked in a cupboard with a drill sergeant.
If you can avoid these types of subject line, you may actually get people to read that lovely email you've sent them, so steer clear of all of the above.