By now, you may have heard of yet another social network on the rise, Pinterest.
And as a small business owner, you might feel that with everything else on your plate you couldn't possibly take on another social network. But many small business owners, just like you, are beginning to see the value of having a Pinterest Page.
I spoke with Bridgette Raes, Style Expert and Mindy Black, Owner of Inner Beauty Skin Care LLC, about their experience with Pinterest. Both offered great insight into how small businesses can run a successful Pinterest Page.
Bridgette has been in business for 11 years, consulting those in need of a closet makeover and writing fashion advice. For Bridgette, Pinterest serves as a brand builder and also a tool she uses to consult with her clients. Check out her Pinterest Page below.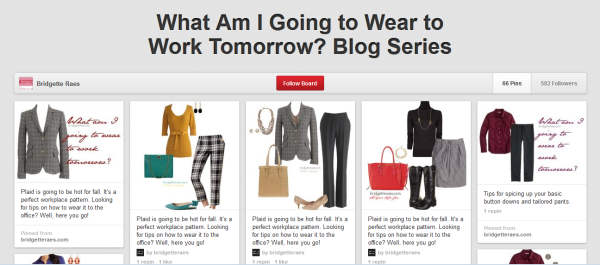 After only three months of using Pinterest for her business, Mindy has been very successful. Since Mindy specializes in the skin care industry, she uses Pinterest to promote her products, but also to drive traffic back to her website. Pinterest and Facebook have become the top social networks for her business. See what Mindy's pinning below.
Both Bridgette and Mindy had some great advice for other small businesses who are getting started on Pinterest.
Here are 5 tips to keep in mind:
1. Separate personal from business
One common mistake business owners make when having a Pinterest Page for their business is blending personal boards with business boards. This is a bad idea. Not only will this confuse your customers, but it can portray your brand negatively.
Pinterest is a great place to show your customers your personal side, but be weary of how personal you get. Some businesses make the mistake of pinning inappropriate material, which can make you look dumb on Pinterest. If you want to keep your personal and business boards together, make sure the content is always appropriate and doesn't cloud the content for your business.
FYI: You can have secret boards. Utilize them!
"I like to keep promotional things at the top of my page. I have a love for French Bulldogs and that is also on my Pinterest Page, but it's at the bottom where it isn't taking away from any of my other content." – Bridgette Raes
2. Stay organized
Categorizing your Pinterest Page is not only for your benefit, but for the benefit of your customer. Having a simple and easy-to-understand layout will keep customers coming back. For instance, on Bridgette's page, her boards have categories like Shopping Tips, Videos, Fashion History, and Weekly Updates. An analogy that Bridgette used works perfectly here:
"Think of it like having people in your home. When someone walks in, what do you want them to see? Do you want them to see a nice organized household or a cluttered and disorganized household?" – Bridgette Raes
3. Think visually
Creating engaging content is the most important thing you can do on Pinterest.
Pinterest is a network for the visual people of the universe. When creating content and figuring out what content works for you, use eye-catching images. You'll want to use images and content that will do two things: Catch their attention and keep them interested enough to like or repin your content. Engaging content will not only make your Pinterest Page look great, but it will gain followers.
4. Plan ahead
Before you create your Pinterest Page, take some time to sit down and plan. Knowing how you want to use Pinterest before you start pinning will help you find success and save time. It won't take a whole day, but taking a few hours to make a strategic plan will be helpful. Planning ahead can be the difference between having a successful Pinterest Page and just another useless social network. Decide how you want to build your brand on Pinterest.
5. Be active
It's easy to forget about social networks for a few days. You get busy. It's understandable. Keeping your boards updated and pinning things often are a few ways to maintain an engaged Pinterest following. If you don't maintain your page you might lose those followers. In order to avoid this from happening, keep your page fresh and updated. You can do this by pinning new content every few days or if you have no new content, repin or like something you see.
Before you start pinning away (trust me it will become addicting), I will leave you with one lasting thought. There is no magic formula when it comes to engaging followers and making your Pinterest Page the best one out there. With some simple planning and organizing, you will be on your way to building a Pinterest Page that will benefit your business.
This month we are hosting a free Pinterest webinar! Reserve your spot today.