Editor's note: This post comes from our Constant Contact UK office. You can view all the posts from our UK team here.
Integrating email and social media remains an unfamiliar concept for many small businesses. But it needn't be. Let's look at some easy ways you can use social media to boost your web presence, promote your business and enhance the reach of your content.
What do the experts think?
Integrating email and social media is the marketing trend du jour. We know because we asked some of the UK's leading digital marketing experts for their top tips and collated them for this short infographic.
This week we're expanding on the thoughts of Dave Chaffey, CEO of marketing advice website Smart Insights, who says:
The Smart way to use email marketing to support social media engagement is to find opportunities to automatically send emails to your subscribers encouraging them to engage with social media. So far, so obvious, but the trick is to map opportunities to send behavioural or event-triggered emails throughout the customer lifecycle. For example, a welcome email could encourage to check out a brand on a social media site or a post-purchase email could encourage a review to be shared by social media.
Promote your social channels in your emails
Your social media channels are only valuable if people know about them. So why not promote them in your emails? It could be as simple as adding links to your social channels in the footer of your email newsletters. Or you could push your channels a little harder by adding a section in your newsletter about the kind of content you publish with a call-to-action for your reader to follow you. Either way, you can expect your digital footprint to grow.
Promote your email newsletter on your social channels
It works vice versa too. Social media profile descriptions are prime real estate. Consider adding a link to your newsletter sign up page – or at the very least publishing updates with links to the online version of your latest newsletter.
Upgrade your automated emails
If you have a series of automated emails, such as order confirmations or delivery updates, think about how you can upgrade them to get people to engage with your social channels. Like Dave Chaffey suggested in the quote above, you could invite people to review a new product on social media or direct new newsletter subscribers to your social profiles. Every email is an opportunity to create a richer, more vivid, more engaging experience for your customer.
Plan content around events that align with your brand
Over the pond in the US, smart businesses almost break the internet each year with imaginative content themed around the Super Bowl. Could you do something similar? Think about upcoming events that resonate with your business. Find tie-ins and create content around them.
Sell horse products? Create some content around the Grand National or Ascot. Landscape gardening business? Get creative around the Chelsea Flower Show. You are limited only by your imagination.
Collect social media usernames on sign up
An easy way to build your social media engagement is to capture your audience's social media usernames when they sign up for your newsletter. Once you have a Twitter handle, for example, sending the occasional tweet or engaging with a user's status updates is a simple, smart and memorable way to foster a connection between your business and your (potential) customer.
Integrating your social media and email marketing channels is a no-brainer when it comes to broadening your reach online and building connections with your audience. If you have any questions about adding social media buttons to your emails or tracking social media clickthroughs in our email management software, leave us a comment and we will be happy to help.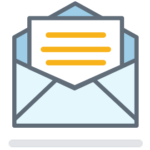 Is email marketing right for you?
See why smart small businesses use email marketing to drive more business. We'll show you exactly what it can do for you, and ten tips to get started.
Get your Guide!
By entering your information, you permit us to reach out to you in the future.