Every day, consumers like you and I receive emails that are easy to overlook.
And it's not that the emails are bad or that they don't have something to offer. In most cases, these emails have plenty of great content and even include offers that I would likely act on if I decided to give them a chance.
As a consumer, it's no big deal. You pass it over and move on with your life. But as a marketer, emails that fail to catch your readers' attention could result in some painful missed opportunities.
If you're worried that your emails may be failing to make the type of impact you've been looking for, adding the right images to your emails could offer a simple solution to the problem.
To help you get started, I collected a list of 10 awesome examples from Constant Contact customers who use images to add something new to their email marketing:
1. Strong Women, Strong Girls – Use images to tell your story
As much as people enjoy hearing about the work you're doing, they much prefer to see it in action. Use images to show off your hard work and tell your organization's story in the process.
2. Boloco – Use images to engage your readers
Special offers and promotions are great, but without a high quality image, they may never get noticed. When you come up with your next offer, make sure to add an image that will catch attention and inspire action.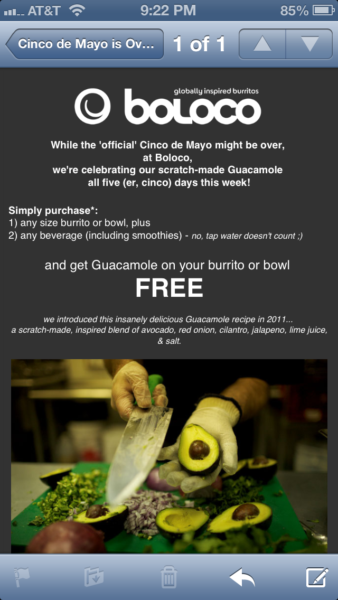 3. The Franklin – Use images to set the tone
If you're having an event, you need to make sure you're making smart decisions about the images you include. Pick images that reflect the experience guests can expect at the event.
4. La Provence – Use images to get recognized
It's no secret that people make snap decisions about which emails they decide to open and pay attention to. One of the best ways to ensure your emails are being opened is by choosing images that your readers will recognize and associate with your brand.
5. Bellybum Boutique – Use images to show personality
Your business has personality and your customers know it. Choose the right images for your emails that reflect your personality.
6. Gorilla Doctors – Use images to help support your message
It's easy to jam-pack your emails with images and hope they catch attention. Instead, only use images that actually support the message you're trying to send out.
7. The Tropical Travelers – Use images to appeal to your readers' senses
Images can offer a lot more than just visual stimulation. For a company like The Tropic Travelers, images spruce up their travel marketing and let readers escape to a place far away from wherever they're checking their email.
8. The Omnia Group – Use images to establish consistency
When running a marketing campaign, it's important to offer a clear and consistent message to your target audience. For example, if you're running a series of events for a period of time and want to promote each of them separately, make sure you're using similar images so that people know your events are part of a series.
9. Basil Tree Catering – Use images to share good news
Telling someone that you're giving them a gift of fresh baked cookies is one thing. Showing them is something completely different.
10. Wine Station – Use images to be seasonal
People's attitudes, interests, and needs change with the seasons. Make an immediate connection by using seasonal, current images.

Remember, using images in your email marketing does not mean that you should jam-pack every email with visuals and hope they make an impact. As you can see in these examples, one or two images are really all you need to catch your readers' attention and bring your emails to life.
Ready to get started? Sign up for your free 60-day trial of Email Marketing from Constant Contact.