Back-to-School season brings a swirl of excitement and stress amongst children and parents alike.
It also brings about massive amounts of spending — money that will go to your business if you understand the trends and required preparation for the 2nd biggest retail holiday of the year.  
Email marketing is essential for making the most of back-to-school spending. Send out newsletters that offer coupons, announce existing sales, and provide other incentives to encourage customers and prospects to shop with you.
Even if your business doesn't sell back-to-school related items (predominantly apparel, electronics, school supplies, footwear, sporting goods, and backpacks) you can still benefit from the season.
Think of ways you can tie in the back-to-school theme by sending informational emails that show off your expertise and educate your subscribers on a topic of interest.
To learn how you can Rock Your Back-To-School Sales and Marketing, check out the infographic below provided by The Shelf.
(Having trouble seeing the infographic? View it here!)
Ready to send your back-to-school promotion? Constant Contact makes it easy.
Not a Constant Customer? Start your free, 60-day trial today.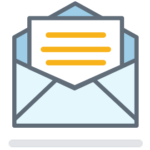 Is email marketing right for you?
See why smart small businesses use email marketing to drive more business. We'll show you exactly what it can do for you, and ten tips to get started.
Get your Guide!
By entering your information, you permit us to reach out to you in the future.