When I started BJC Branding, I found myself out of a tech sales job with no idea what I was going to do next.
My bank account was quickly approaching three digits, and I only had my MacBook and a rolodex of a few names/emails to get going.
My first legitimate client in 2011 (after being stiffed for thousands of dollars by two horribly unscrupulous businesses) was a sandwich shop South of Boston.
I thought I'd struck gold, but in reality, they were getting a steal of a deal.
They paid me $100/month to run their email marketing and social media — almost 20 hours of work a month at $5/hour.
I remember telling my then fiancé, Linda, that if I could just line up 24 more of these clients, we'd be set. She responded by further motivating me: framing the signature page from my first client contract and hanging it next to my desk.
Fast forward to 2016.
BJC Branding has morphed into a full-fledged digital marketing agency with offices in Boston and Tampa and a strong strategic partnership with Constant Contact. We work with clients of all sizes around the globe, from small solopreneurs to Fortune 500 companies like IBM and LG.
I was taught in business as well as in life that you always look at where you were, where you are, and where you're going.
Every day, I take a look at that frame and remind myself of how and why I started BJC Branding.
I think about the advice and wisdom I would impart on my younger, naive self and what I wish I knew to get to where I am faster. I also think about what I know now and what I need to learn that can help me get to where I want to be.
Of course, you can read countless blogs, attend workshops, and watch expert videos, but you can't underestimate the value of a good book.
For that reason, I've put together a list of 7 books every entrepreneur needs on their bookshelf.
There are many factors that lead to business success, but I find creative, out-of-the-box thinking is imperative when first conceptualizing a business.
Instead of battling competitors (creating a Red Ocean full of blood, sweat, and tears) this book trains you to identify and create blue oceans of untapped new market spaces ripe for growth. A great read to either validate your concept or help rework into a successful business model.
Nearly 50 percent of new businesses fail within five years. A well-thought-out business plan can dramatically turn the odds in your favor.
This book is packed with actionable advice and real-life examples from Hal Shelton's experience as a senior executive, SCORE small business mentor, and angel investor.
Business is as much about communicating and collaborating with people as it is about your product or service. Without people, you don't have customers, and without customers, you don't have sales. You get the picture here…
This book is a wonderful glimpse into real-life examples and anecdotes of some of the world's most successful people and how they befriended, gained trust, and influenced those around them to drive success.
You'll learn how to communicate with diplomacy and tact (in business and personal interactions) and capitalize on a solid digital network to project your message widely and clearly.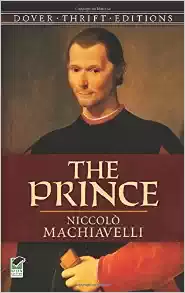 I know this choice is polarizing, but there's something to be learned from Machiavelli's 500-year-old cynical yet practical primer for princes. Business isn't always productive employees, long lunches, and expensed meals with clients. Sometimes, you're going to have to compete (or even crush your opponents) to win the business; Sometimes you're going to have to be cunning (and even manipulative) to navigate the complex deal; Sometimes you're going to risk being disliked (or even slightly feared) to right the ship and get your business back on track.
Just remember to take these lessons with a grain of salt, as Machiavelli did not live in times of the Internet where negative feedback can spread like wildfire.
If you haven't realized it yet, you're in sales, whether your job title says it or not. Especially as an entrepreneur, you should always be selling.
This book is like a sales bible with easy-to-implement principles that will make you a more confident and high-performing salesperson.
Running a business can be draining. At times, you'll even feel like you want to give up and take a corporate job because "it's easier." I know I did.
This book is the motivation you need to assess, analyze, envision, and implement your next steps. With real-life examples of historical heroes like Henry Ford and Thomas Edison, you're bound to find the fortitude you need to keep pursuing your dream of entrepreneurship.
How can a children's book help you in business? Obviously, there's no strategy here, but it's just as important for you to envision and anticipate your future.
Running a business is a balancing act with ups, downs, and all-arounds. A book like this, although elementary, is a great reminder that you can navigate through the tough times and find your success — plus it stimulates your imagination.
Probably not the collection of books you'd expect, but these literary gems make for a great entrepreneurial library.
Of course, books alone can't grow your business; you'll want to still subscribe to mailing lists (like the BJC Branding Digital Marketing Monthly) and attend educational and impactful local workshops near you.
In the end, the more you learn and implement, the faster you'll find your success.
Do you have a book you'd add to the shelf? Let us know in the comments.