I can't begin to count the number of studies I've read that claim to know the best time to post on Facebook.
While most of these studies conflict with one another, they also consistently conflict with my own analysis.
This may not be what you want to hear, but there is no silver bullet when it comes to posting times on Facebook.
The best time for you to post on Facebook depends on your specific business and, most importantly, your audience.
With a little extra effort and creative thinking, you can determine the best time for you by focusing on your audience.
In early 2018, Facebook changed its algorithm to show users more of what they want and less of what they don't. The reason behind the change was to keep users on the platform longer by serving them up content Facebook thinks they'd enjoy the most.
However, this change affected Facebook Pages in a pretty severe way. With a push to show content from friends and family rather than brands, many Pages saw a sharp decline in organic reach and engagement.
Consequently, you should try to determine when your fans are on Facebook and aim to schedule your posts around that time to maximize your potential reach.
Step 1: Determine who your audience is
Look at your Facebook demographics within your Facebook Insights.
Your Facebook audience may be different than you think. You can review the age range and gender breakdown by opening your Facebook Insights and visiting the "People" tab.
If you have multiple locations or a large customer base, you will want to review the location of your audience as they may be spread across various time zones. This will, of course, affect how you think about what time is best to post to your Facebook Page.
Step: 2: Think about what their day looks like
Now that you know the demographics of your audience, think about their day — is your typical fan a stay-at-home mom? A college student? Likely to work a 9-to-5 job? All of these factors can help you determine the best time to post on your page.
You can also look at the "Posts" tab to see when most of your audience is active and online.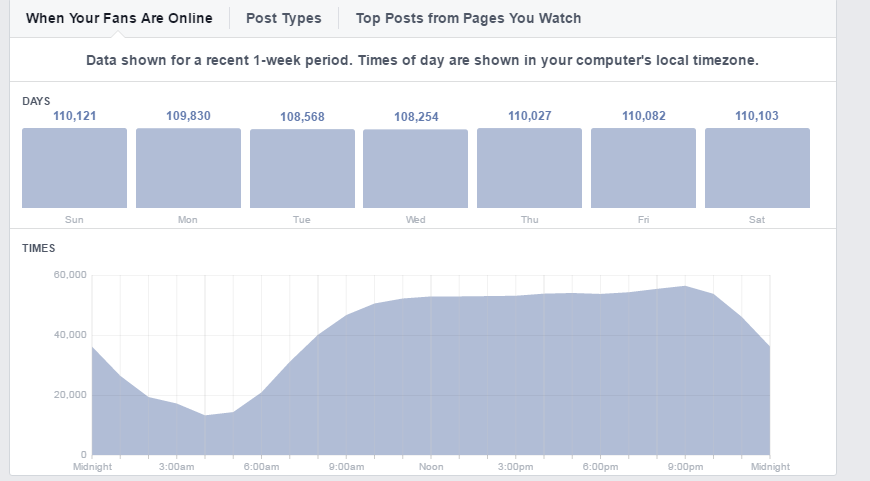 Step 3: Apply what you know
Use the information you now have about your audience to draft a posting plan. The hard part is finding the sweet spot between posting when your audience is online and when other businesses are posting less frequently, getting your content seen by potential customers or donors without the competition of others.
You can see if you're on the right track by experimenting with different times and then checking to see how much engagement each post received. This breakdown can be found in the "Posts" tab:
Step 4: Share content that's in the moment
Sometimes the most important thing you can do to reach your audience is to share extremely timely and relevant content. For example, you can give your fans a look behind-the-scenes of your business by sharing photos of your staff preparing to open your store in the morning.
Better yet, take a short 5-minute Facebook Live video and interview your staff about why they love working for your business. Live video performs especially well because Facebook prioritizes this timely content in the newsfeed.
Tip: Brand new to Facebook Live? Here are 10 Lessons We Learned During Our First Facebook Live.
The bottom line?
No matter when you post on Facebook, the truth is that an algorithm controls when your content gets seen. That doesn't mean Facebook isn't a worthwhile tool for your business, but you should look for ways to connect with your fans on other social media platforms, as well as through your email list.
Email marketing allows you to reach your audience directly, in a place they visit every day: their inbox.
Start encouraging your Facebook fans to join your mailing list by sharing your latest email newsletter, along with a signup link. You can also use Facebook and Instagram to build brand awareness – and your business – with social marketing.
Need more advice? Tweet us @ConstantContact and we'll be glad to help!
Ready to do more business with email marketing?
Start your free 60-day trial today.
Learn more
about our 60-day free email marketing trial.