As Constant Contact's Social Media Marketing and Community Manager, I do a lot of posting on Facebook. Along the way, I've discovered a few simple tips and tricks through analytics, testing, and reading a lot of social media marketing content that will make your Facebook marketing less overwhelming and intimidating.
Here are 4 tips for creating better Facebook content.
Tip 1: The length of your Facebook post matters
Facebook Posts less than 50 characters receive more engagement than longer posts. Just like you, your Facebook fans are busy and have a limited attention span. That's why it's essential to grab their attention quickly in their crowded news feed with short, shareable, engaging posts.
However, fans will interact with long-form content that you link to in a Facebook posts. Linking to longer articles between 1,000-3,000 words will give you more engagement than linking to shorter content.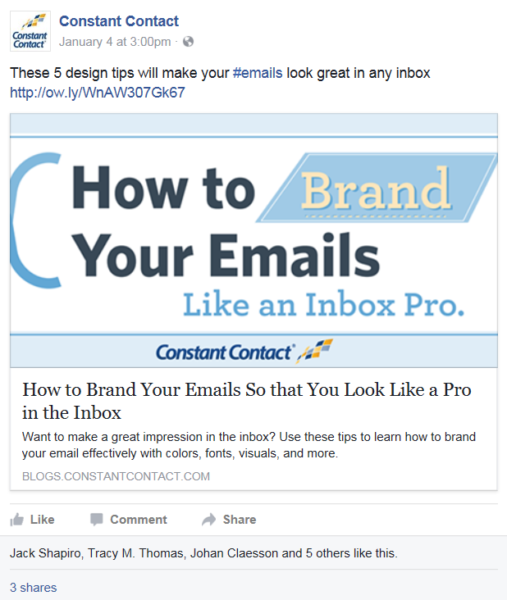 Tip 2: The type of post you publish matters too
When you're posting to Facebook, think visually. Try to use more images and videos with your posts. 40% of people respond better to visuals than plain text and Facebook content that includes images gets 2.3 times more engagement than posts that aren't visual. Videos are just as important, especially since Facebook has placed more emphasis and priority of using its Facebook Live livestreaming feature. Posts with videos get 3 times more inbound links than plain text posts.
Image Tip: It's important to create images that are the right size for the type of content you're sharing so that they display correctly and don't get cut off or can't be seen on mobile. Here's a quick list of the four most common images that are shared on Facebook and their optimal size. (You can find a complete list of image sizes for all social networks in our 2017 Social Media Image Size Guide).
Profile photo 170 x 170 pixels
Cover image 820 x 312 pixels
Link image (the image that displays as a preview when you share a link in a post) 1230 x 627 pixels
Shared image (an image you upload directly and post to Facebook) 1200 x 630 pixels
In addition to these images, Facebook has size requirements for other visuals you may use, such as cover photos for Facebook events and Facebook ads. Check this reference guide from Jon Loomer on the best image sizes for all Facebook content and advertising.
Bonus Image Tip: You can use PicMonkey, Canva, or Adobe Spark to create great images for your Facebook page, cover photo, or email newsletter!
Tip 3: Tell your fans what you want them to do
Posts that ask fans to…
Comment = 3.3x more comments
Share = 7x more shares
Like = 3x more likes
Caption this photo = 5.5x more comments
Often "Like-this" posts get a bad rap for looking spammy but, as long as your posts are relative to your brand (no "Like this cat photo if you like cats" unless you're a pet shop) and you provide useful or entertaining content, asking your fans to do something won't annoy them.
Think beyond literal calls-to-action. Try asking fans to fill-in-the-blank, give you a "thumbs up," or answer a true or false question.
Tip 4: Have conversations with your fans
To have a successful Facebook Page, it's absolutely critical that you genuinely care about your fans (and remember they're your customers too.) People login to Facebook looking to connect with people, not to be sold to. So, think like person, not a marketer when creating questions to post. There's no need to overcomplicate things. Just keep your posts short and simple. Don't just post a question and ignore the responses either, respond to your fans comments.
Now that you know some simple strategies and best practices that will help you improve the quality of your Facebook content, start mastering the ability to think of content ideas without going crazy.
Want to learn more?
For more help with your social media marketing, sign up to receive our Hints & Tips newsletter.