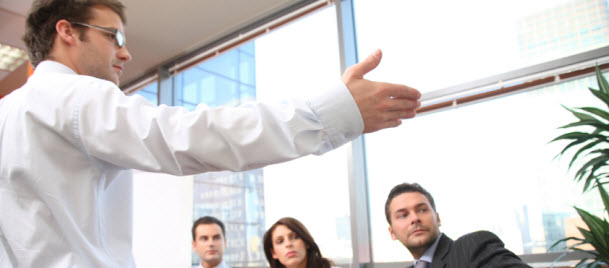 All across the wide, colorful landscape of the Internet, you can find strategies about social media: how to market on Facebook, how to not look dumb on Twitter, what to do on Pinterest, all of that good stuff.
But what about convincing your boss to actually try social media?
The businesses that need social media education the most aren't usually looking for it. Why? Because their bottom line is doing just fine without any tweets, posts, or pins.
But could it be doing better with them?
If your company is rooted in traditional marketing and won't budge, here are eight ways you can try to change that:
1. Show the stats
Reaching a new audience and growing brand awareness is a huge reason to get started with social media.
The sheer immensity of Facebook's user base—which is around 900 million—should persuade any business there's at least one prospect out there.
What about Pinterest? In April 2012, it was the third most popular social media site and the average order was worth about $80.
Social media studies aren't hard to find, and they can go a long way in convincing your boss social media isn't going away anytime soon.
2. Find something with actual results
It's going to be hard to convince your boss to try social media if there isn't a dollar sign attached to it. Sure, social media is "free" to use, but every hour invested still costs the company something.
Soft terms like "brand awareness" only go so far. Do you have actual numbers to back up your argument?
Don't worry—we do!
Check out how Bookbinders Workshop made thousands of dollars from Facebook, how social media fundraisers can actually work, or how Facebook can generate leads.
3. Just do it
Got some spare time? Why not just try making a Facebook Page for the business? Tell your boss you'd like to just go for it.
Jay McKeever of Seconds and Surplus did something like that—two weeks into the job, he got $50 for Facebook Ads and combined that with a Facebook promotion from Constant Contact.
In less than a month, he made his new company over $30,000 from Facebook alone!
4. Start small
Businesses should start small when it comes to social media. Trying to do too much, too soon is going to be overwhelming for you, your boss, and the business.
Starting with an established network like Facebook is your best bet. From there, you can show the value of social media and branch out to other sites.
5. Think carefully about the audience
Who does the company really target? Is that audience on Facebook? Twitter?
You can bet your boss will ask those questions. Consider how social media can impact the bottom line. If none of your current customers actively use it, then are you going to start tweeting and hope for a whole lot of brand new business?
6. Come up with a strategy
Another problem businesses have with social media is that so much of it seems like free association: post a picture here, update something there, repeat.
If you can create a careful strategy of what you want to accomplish, then upper management is more likely to listen and you'll have something to show for your efforts.
Maybe you just want to engage with customers online or drive more traffic to the website. Whatever the goal, make sure it's measurable and achievable and you've outlined the steps to get there.
7. Convince everyone social media isn't a wild frontier
The Internet can be a hostile place, but it's not a malicious one. Yes, having a Twitter account or a Facebook Page opens up a company for feedback, but that feedback is going to happen either way.
Not only that, social media gives companies the chance to turn a bad customer experience into a good one in a very public way.
Let your boss know that getting feedback from your customers on a regular basis is a great way to improve your products and services, engage with customers, and grow as a business.
8. Show exactly how much time it takes
When businesses hear they need to post on Facebook "a few times a day," there's a tendency to recoil from the idea.
It's up to you to show your boss these posts can be half a sentence or just a picture you took with your smartphone. Show them you can do Facebook marketing in just 15 minutes a day and they'll be a lot more likely to experiment.
Most of all…
Be patient! Most businesses still don't see social media as a necessity. But as more companies see results, that'll change.
So if your boss is hesitant to jump on the social media bandwagon, give him or her some time. Compile your facts. Forward this post. Show them some success stories from your industry, and soon they'll see why developing a social media presence really is … a good idea.
Want a comprehensive resource on how to get started with social media? Take a look at our Social Media Quickstarter!