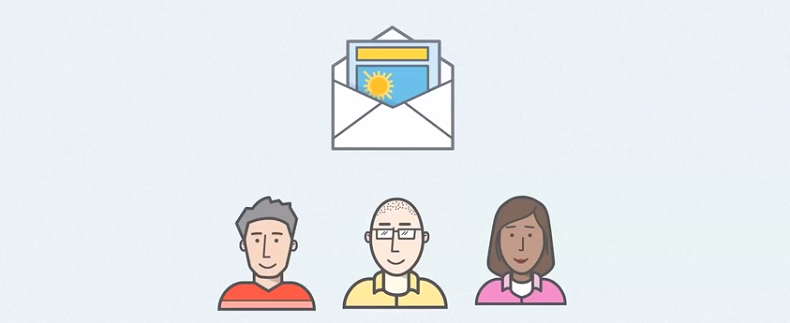 Congratulations! You have a new sign up to your email list.
Now don't blow it.
With one wrong step, this new person on your list may decide they don't want to hear from your business anymore. They'll unsubscribe from your emails, and you'll lose contact forever.
But if you play your cards right, you can build on their initial interest by interacting with them in a way that proves — without a shadow of a doubt — that they can trust your business.
Your emails will create a loyal, devoted follower who looks forward to hearing from your business.
This can only occur over time, and it's crucial you make it happen with carefully measured steps.
My recommendation? Send them the four emails below. They'll work wonders to make the new person on your list feel welcome, special, and appreciated.
1. The Welcome — and "Here's What to Expect" — Email
If you only choose to implement one idea from this blog post, make it this one.
An effective welcome email can make or break the relationship with your customer. Why?
Because this is the email that goes out directly after they've signed up and asked for information from you. Their interest is at a peak: they've just taken action on it.
So sending them a compelling, friendly, engaging email at this stage is crucial.
Here's a recipe for a successful welcome email:
One sentence welcoming them to your community.
One sentence that explains who your business helps.
One sentence that shares how you help.
One sentence that states your core belief or mission.
One to three sentences that explain what they'll be receiving (see ideas below for what to send).
One sentence that states how often they'll hear from you.
One sentence thanking them again for joining your community.
Here's what this may look like:
"Welcome to the Big Brand System community of readers.

Big Brand System helps small business owners who need to market their businesses themselves. Our educational resources show you how to combine good design practices with strategic marketing so you can grow your business.

We believe every small business deserves to have a BIG brand!

For the next few weeks, you'll receive a series of emails called "Design 101." These will arrive in your inbox every few days. On Saturdays, you'll get the exclusive Weekend Digest newsletter, with resources, links, and information to help you market your business.

We're glad you've joined us, and we're looking forward to staying in touch."
Set the tone for future emails with a friendly, welcoming first email. Use this very first message to let them know what to expect so you can meet those expectations over time, and begin to build trust.
2. The Useful, Informative Automated Email Series
Automated email series are the ultimate "set it and forget it" marketing technique.
You create a series of emails which are sent automatically to your new subscribers. You can set intervals of time between each message so that your new subscribers hear from you on a regular basis.
What kind of information can you include in an automated email series?
Information that will make your reader a more informed consumer. You could send a series of lessons, articles, or checklists with information they need to understand to interact with the services or products you offer.
Resource-rich messages that encourage, engage, and entertain your reader.
Emails that follow up after a purchase and share additional information to help them make the most of what they bought (and encourage them to consider another purchase).
It takes a lot of thought to set up an effective automated email series, but it's worth it.
To create an effective series, ask yourself, "What does my prospect or customer need at this stage of their interaction with my business?"
For example, if they're still gathering information to make a purchase, you'll send them resources for that.
If they've already purchased, you can send them resources to make the most of what they bought.
Deliver what they need when they need it, and you'll have satisfied customers who want to stay in contact with your business.
3. The Check-In and Feedback Request Email
After your prospect or customer has been on your list for a while, it's a good idea to send a "check-in" email. Sometimes this is sent as a plain text email so it looks more personal.
In this message, you can:
Thank them again for signing up for your information
Ask them if they're enjoying the information they're getting from you
Let them know you'd love to hear from them. You can ask them to "click reply" and send along any questions or suggestions they may have.
Send them to an online survey. If you'd rather not sort through email replies in your inbox, you can create a short online survey and ask them to take it. The most helpful survey answers are often in response to open-ended questions, so be willing to leave space for your reader to write what they'd like to communicate.
Feedback request emails establish your business as one that listens to its customers. And when you make changes based on the feedback you get, be sure to mention that in your announcement.
4. The Exclusive Benefit Email
I know what you're thinking: isn't "exclusive benefits emails" just a fancy way of saying "sales emails"?
Yes, it is. But I'm asking you to re-think your approach to sales emails you send out.
People who have signed up to your email list are interested in your business to a degree that they're willing to let you into their inboxes. That should be considered an honor and a privilege.
So make them feel special. Don't bombard them with offers: come up with exclusive discounts and invitations that only go to them (and be sure to let them know that no one else is getting what you're sending them).
A few ideas:
A special discount or coupon code that's only for people on your email list
An exclusive invitation to a members-only event, whether it's in person or online
Early access to a new product, service, or other offering
Of course you need to make offers sparingly, even when they're generous. No one wants to stay subscribed to an email list where they're being pitched at in message after message.
But when you approach your sales emails with the idea of giving something rather than receiving something, your readers will sense that you're looking out for their best interests. They'll be grateful they're getting exclusive offers because they were smart enough to sign up to your email list.
Start building trust with these four simple emails
When you welcome your new subscribers, send them useful information, ask for feedback, and send them occasional exclusive offers, you'll build loyalty and trust, and find yourself with an email list of raving fans.
Don't wait: use the information here and start putting together these powerful emails for your business today.
Questions? Let's hear them in the comments section.
About the author: Pamela Wilson founded Big Brand System to help small business owners use strategic marketing and great design to build big brands.