Did you know that 58 percent of consumers subscribe to emails to receive discounts and special offers?
When someone joins your email list, they're opting in to learn more about your business.
Some of these people will be completely new to your business, and will want to learn more about what you have to offer.
Others may be repeat customers — who joined your list to make sure they're staying up-to-date with everything that you have going on.
Don't miss the opportunity to build these relationships the right way.
Watch the video below for tips on how to connect with your email subscribers.
(Can't see the video? View it here.)
Looking for more email marketing tips? Head over to the Constant Contact YouTube channel!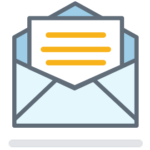 Is email marketing right for you?
See why smart small businesses use email marketing to drive more business. We'll show you exactly what it can do for you, and ten tips to get started.
Get your Guide!
By entering your information, you permit us to reach out to you in the future.