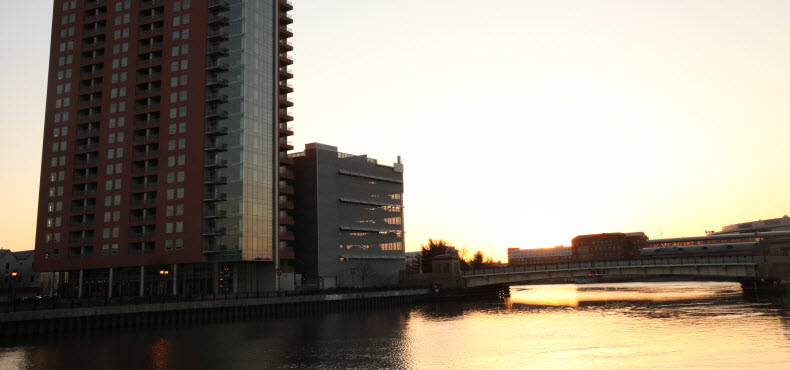 When Julia Mason joined the Buccini/Pollin Group as marketing manager for the company's residential communities, The Residences in 2012, the company was already doing a lot to communicate with residents.
"When I joined the team, they already had an email program in place, and were using a newsletter to stay in touch with residents," Julia explains.
And while their email program was delivering results, like a lot of marketers — Julia was eager to do more.
"We wanted to improve communication with our current residents, and also wanted to expand our program to reach potential leads as well."
To help launch the new program, Julia got started with Constant Contact.
"I used Constant Contact at a different company in the past, so I knew it was an easy, hands-on tool that I was familiar with," Julia explains. "And knowing that we wanted to do a lot more with our marketing, I was excited when I saw that Constant Contact would let me manage all of my marketing in one place."
When starting out, Julia decided to focus on building a new strategy for the company's most valuable communications channel — email.
"I began sending out two announcements to our leads, based on the properties they are interested in — one which shows potential residents life at that community and another to share reviews about that location," Julia explains. "I also send monthly newsletters and announcements to current residents to keep people informed and up-to-date with everything we have going on."
According to Julia, both audiences have noticed the difference.
"We've definitely seen that our potential residents are appreciating the fact that we're reaching out to them more. I think it's great to have that extra little nudge after they visit a property to remind them of why they would want to live here," Julia explains.
The response has also been similar from current residents.
"We've had people say that they've really noticed that there's more communication going on," says Julia. "It can be something small – maybe the garage doors aren't going up or down – we try to send out an email right away letting our residents know that's happening, and sometimes get an email right back saying thank you and that they appreciate it."
As part of the new communication strategy, Julia changed the way residents and potential residents communicate with her team.
Using Constant Contact, Julia sends surveys to different members of their audience to collect feedback, and give residents the chance to voice their opinions.
The surveys cover a wide range of topics.
"One of the first surveys we did was about an event we were having at a new theater that opened up downtown, to ask what movie people wanted to see," Julia explains. "But we also sent out residential surveys asking how they feel about their apartments, how they feel about the area, how our service has been. We want to do all that we can, so they love their home."
Julia says that this has resulted in an entirely new level of engagement.
"It's one thing to send out an email or a survey, but it's another thing to get some interaction out of it," Julia explains. "When we hear from people who say they appreciate us reaching out to them — it could just be one email back from a resident saying something nice— it makes all the difference in the world because you can tell that people appreciate it."
In addition to collecting feedback prior to her events, Julia began to manage her events with Constant Contact.
By creating  an event landing page and registration form and promoting it through her different marketing channels — including email and social media, she has seen more people getting involved, and signing up to attend events.
"Today, we are running all of our campaigns — our newsletters, surveys, and events through Constant Contact," Julia explains. "It saves me a lot of time because all of the information I need is in one place."
Are you ready to transform your marketing strategy?
For Julia, transforming her company's residential marketing strategy started with a clear goal in mind: to improve communication with current and prospective tenants.
With a goal in mind, she was able to choose the right marketing campaigns, and leverage the company's existing channels to reach the right people, with the right message, at the right time.
By paying attention to her audience's response, and continuing to adapt to meet their needs, she has been able to transform her strategy and helps the company do more business.
Ready to get started? Sign up for your free trial of Constant Contact today.