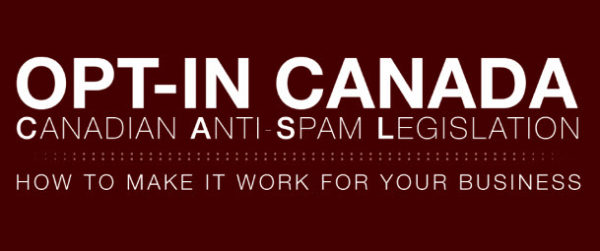 The Canadian Government passed the Canadian Anti-Spam Law (CASL) in December 2010 to establish a regulatory framework for permission-based marketing, including email marketing, social media marketing, text, and other electronic messaging.
Government regulators (Industry Canada and the CRTC) are still working to finalize the regulations, but the date of implementation is expected to take place at some point in 2014.
If you own or are responsible for marketing a business or organization in Canada, you may be wondering what affect, if any, CASL will have on you.
You're not alone! We've received a ton of questions from small business and nonprofit marketers who are using email marketing and other marketing tools to engage with their audience online.
Opt-in Canada!
This fall, Constant Contact will be hosting a multi-part webinar series, "Opt-in Canada!"  The series is aimed at educating small business and nonprofit marketers about the new legislation, and the steps they need to take to ensure continued marketing success.
The first webinar, being held this Thursday, September 26th at 1 p.m. ET, will provide attendees with a background on CASL and how it differs from current Canadian spam laws. 
Shaun Brown, Canadian lawyer practicing at nNovation LLP and CASL expert, will join Lisa Kember, Constant Contact Canadian Regional Development Director, and I as we teach small businesses and nonprofits what they need to know about CASL.
We will also be answering all of your questions about the new legislation.