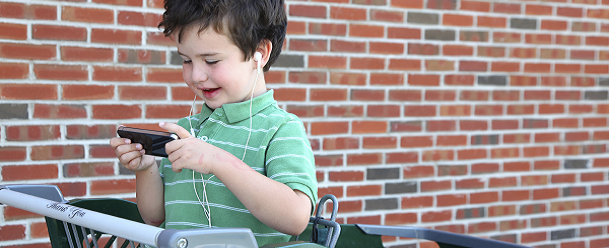 You probably don't need a study to tell you that people can't get off their smart phones.
But what if that study told you that a huge chunk of those distracted people were actually engaged consumers, using those phones to research your business?
Is that a study that you want to learn more about?
Also find out how Facebook decided to spend $1 billion this week and which social media site (not-named-Facebook) got a major redesign in this week's news roundup.
A study from Leo J. Shapiro and Associates found that two-thirds of surveyed consumers rely on smart phones to aid in their shopping experience. And we're not just talking about mobile online shopping. 38% of people surveyed said that used their smart phones to research products when they are actually at a store or business.
How are consumers using their smart phones? They are reading product reviews (54%), comparing prices (52%), and even calling family and friends for more info (42%).
Bottom Line: If you're a small business then you need to know that your customer's habits are changing and they are changing fast. The access to information that is being provided by smart phones is changing the way that people research your business and shop for your products or services. Business owners need to take notice and make sure that their business is ahead of the mobile curve.
Did you buy anything cool this week? Facebook did.
Facebook kicked the work week off on Monday by announcing the acquisition of popular photo-sharing app, Instagram. After turning down multiple offers from both Facebook and Twitter since its 2010 launch, Instagram finally agreed to a deal with Facebook valued at $1 billion. The popular mobile app has over 30 million users worldwide and their team will now be joining Facebook.
Bottom Line: Believe it or not, photos are only a small part of the picture when it comes to this deal. The biggest takeaway is what this means for Facebook's push into the mobile device market. Last week, the head of mobile developer relations for Facebook was quoted as saying, "Had Facebook been built today, it would be mobile."
In two years, Instagram turned from an unknown mobile app to a company with a $500 million valuation and was purchased for $1 billion. Like Facebook they were able to change the way that people share socially, but unlike Facebook, they did so by setting a model for sharing in the mobile market. That model now looks to be leading Facebook into a more mobile future.
In the wake of all the recent Facebook Timeline shakeup, Google announced on Wednesday that their social networking platform Google+ would also be getting a major redesign.
The redesign includes both new additions and updates to the current layout. Some of the most noteworthy updates include a much more visual profile page, where photos are now bigger and much more prominent on the screen, and a new customizable ribbon on the left side of the page which will replace the former icon layout across the top of the screen.
Other changes? A new interactive Hangouts page, with quick access to chat hangouts and live broadcasts and an Explore page that features updates on what's hot or trending across the site.
Bottom Line: Google continues to make strides toward fulfilling their promise to provide a more customizable online experience for their users with Google+. Furthermore, we continue to see the growing influence that the photo-craze is having on the world of social media marketing. From Pinterest to Timeline with Facebook and now Google+, photos are driving engagement online and sites are responding accordingly.
Social video app Viddy celebrated their one-year anniversary on Wednesday by adding over 300,000 users in a 24 hour period. Viddy, which has more than 4.5 million users world-wide, is the most recent mobile app to reap the benefits of integrating with the Facebook Timeline. Since their February integration they have added more than 1.7 million social users at a rate of 150,000 each day.
Bottom Line: There are two important takeaways from Viddy's recent success. First, users are flocking to apps that not only make it easy for them to share photos or videos but make it easy to do so, on-the-go. And second, the increase in users that mobile apps are seeing from integrating with Facebook Timeline should be an indication of the kind of engagement that's taking place on the "new" Facebook.
What stories caught your eye this week? Tell us in the comments section below.