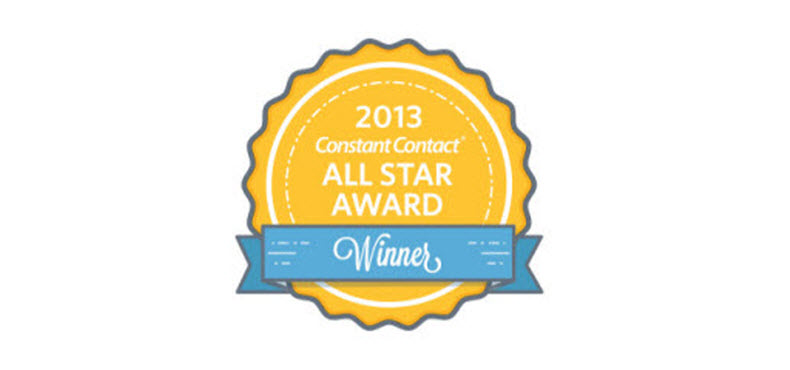 The Constant Contact All Star awards recognize our customers who excel at using Constant Contact's tools to engage with their own customers and build great relationships.
Recently I had the chance to speak with one of our top All Star winners, Meghan Blair-Valero, owner of Fogged in Bookkeeping, Inc.
As the winner of the Best Business to Business All Star award, Meghan had some great marketing advice for other business to business (B2B) companies, and anyone who wants to do more business.
Here is my conversation with an All Star award winner:
When did you start sending an email newsletter for your business?
We're an accounting company in Nantucket, an island 30 miles off the coast of Massachusetts. We service mostly small to mid-sized businesses, almost all privately owned, some family offices, and individuals.
We came to use Constant Contact several years ago as a way to begin to share information with our clientele that weren't QuickBooks or accounting-related, but were just things about being a small business owner.
We were working with a marketing advisor who had said that having a newsletter was important; that it could do great things for our business.
I have done them weekly for about two years, and we get great feedback from our customers.
Have your newsletters changed over the years? If so, how?
Our newsletters have always been a great way to add value to our clients — sharing information with them that is not only helpful but also very relevant to their needs.
It also saves us time on having to communicate, educate, and raise the elevation of someone's knowledge that's going to be our client.
I started as a single business owner in a small corner of my bedroom. We've grown to a company of 10 with several hundred customers.
When you're servicing three people, it's really easy to call each of them and say: "hey I'm opening another account on Friday," or "there's a new change in the law you need to know about."
Now that there's a couple hundred, we use a newsletter to communicate with them.
One of the things people struggle with the most is coming up with newsletter content? What's your strategy for coming up with content each week?
We usually do a 4-6 week advanced plan of a theme.
We lay it out and try to cover at least one thing that generates a lead back to our blog and our website. Then, we try to pull in at least one HR-related item. We pull from the popular business publications like Entrepreneur, Inc., Fast Company, etc.
We just decided what our next theme would be, like in a business cycle, where are people at?
For example, the week of April 15th, we'll do taxes.
We're all big readers in the office. So we're constantly grabbing helpful articles off of New York Times Business, or something we saw on Fast Company, or on social media.
We use a tool called Evernote to save articles so that we all have access to them. Then when we lay it out in the office. There's plenty of information for the team to pick through.
It seems you guys do a good job adding a lot of personality to your stuff, which I think is sometimes rare, especially for B2B businesses. Is that something that you guys are conscious of?
It's something we're very conscious of, and it's a reflection of the company culture.
We were joking around in the office the other day that we only have one employee that doesn't have a tattoo. We definitely are not your typical accountants.
We produce what I would consider a really superior product and process, but the people in here are definitely accountants with great personalities, which isn't what a lot of people would expect.
When we redid our website a little over a year ago, we made a really brave leap in the world of accounting and went kind of bold with a non-traditional look. The photos were more of a Mad Men theme, which is very atypical for our industry.
I think if you line up 27 accounting firm websites, they'd all look the same with a different color palette. We really wanted to stand out. We wanted a younger, start-up clientele who's into thinking outside the box and wanted help managing the accounting part of that.
By making a leap with our marketing campaign and adapting a new look, we are able to better reach our ideal customer— now the people who walk through the door are typically a good fit for us. We've tried to lend that universally across all of our marketing materials, whether it's our business cards, headshots, website, and newsletter.
What role does social media play in your marketing strategy?
Social plays a couple of different roles for us. I could never say that we landed a client because we're on Twitter, but it definitely reinforces our brand in the online world.
It's a way to stay in touch and in the public eye, without physically having to be some place all the time, which is nice for us.
It's a way to share our company culture; these little bits and pieces about our business that are part of who we are, that way our content is not all about QuickBooks and accounting. It took me a long time to get my head around the social media piece because I was like "Who wants to read about accounting online?"
And then I realized, it doesn't have to be all about the accounting, and that has worked out well for us.
What would you say has been the biggest benefit of sending an email newsletter?
The connection with our clientele, I think, is the biggest benefit.
It's a way to connect with them and remind them that we're here every week without me having to call every single person, every single week.
It's has also been great for generating leads.
People that are thinking about using our service will usually sign up for the newsletter. I'll see them pop up for a couple of weeks in my reader-base, and then they'll call and make an appointment. It's not long until we pull them in as a customer.
What's your best newsletter advice? Share your tips in the comments below.