If you run a small business, you've probably been thinking about what to do with your content marketing. A recent study by BusinessBolts.com found that 74% of small businesses plan on increasing the amount of content they produce this year.
When I talk to small business owners during our Constant Contact webinars, they say producing good content can be a struggle. Some small businesses have no problem sharing information about their products or services, but want to provide something more: the kind of content that people will interact with on social media. How do you create engaging content that customers will like and share with their networks without selling to them?
Well, I'm going to make it easy on you. Not everything has to be directly related to what you sell or what you do. You can go off the beaten path and share things that are fun but still relevant to your industry and culture.
Here are three tips on how to create and find content that your fans and followers will find engaging that aren't about selling:
1. Show off your employees
Awesome Merchandise does a fantastic job of showing what goes on behind the scenes in their Instagram feed. Their employees have wacky costume days, and they share the weird things they find on employees' desks—like the dolphin photo one employee received for Valentine's Day.
InConcert Web Solutions wanted their followers to get to know their staff, so they decided to create an infographic of the office culture, which includes 8 facts about the office fridge. For example, President/CEO Matt Ward is from Hershey, PA, so you might find some chocolate in their kitchen.
Every business has something quirky going on behind the scenes. If you think it's funny or interesting, chances are your followers will think so too. Don't be shy—share your staff photos, stories, videos or infographics on social media.
2. Embrace the memes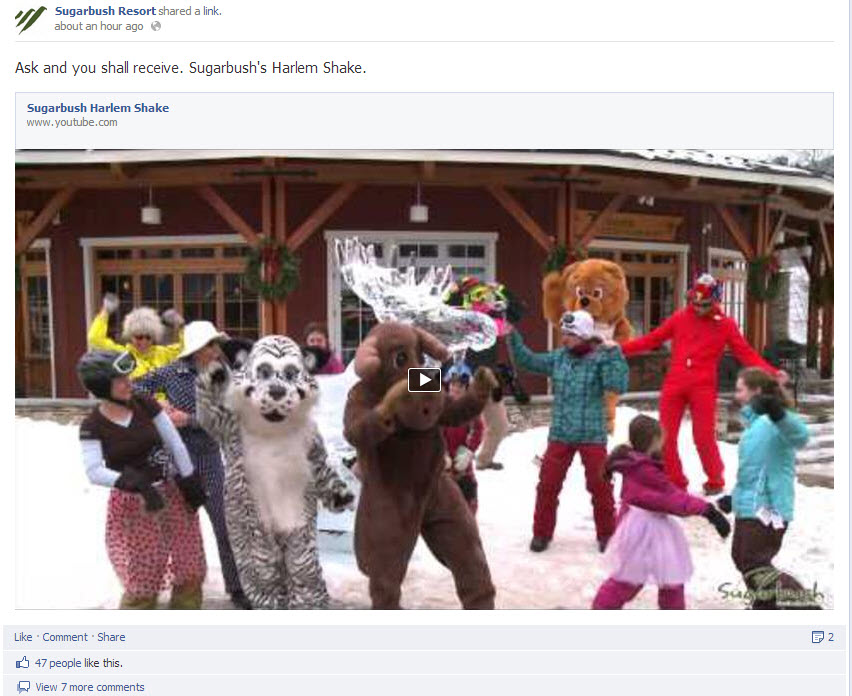 Memes are great Internet eye candy—it's fun to take a break during the day and check out what everyone's passing around and talking about. Be one of the people online saying "You have to look at this!" Geek Girl Camp does a great job with memes that appeal to their audience: women in the tech industry. So, of course, there's lots of posting about Star Wars and cats. When New England got hit with a blizzard 2 weeks ago, they shared an image that was passed around a lot that weekend: a Star Wars AT-AT walking around a snowy neighborhood—it got 32 likes and 18 shares. A meme comparing the Internet to ancient Egypt (people write on walls and worship cats) got 49 likes and 26 shares on Facebook.
By the time you read this, just about everyone who uses YouTube will have seen or created a Harlem Shake parody. Sugarbush Resort posted their version this week, which featured some skiers and a few people dressed in animal costumes dancing outside around a moose ice sculpture. Within an hour, they got 47 likes and 9 comments on Facebook, and almost 100 views on YouTube.
Be on the lookout for memes that your customers would like. If you see them on Facebook, you can easily share them through your business page. Or do your own version of the Harlem Shake. Find out what everyone's sharing by checking out KnowYourMeme.com, which has the latest memes and the story behind them.
3. Talk about current events
The Tea Spot often posts links to studies or articles about the health benefits of drinking tea. A few days ago, they shared a link to a Huffington Post article about a recent study on how antioxidants in green tea can help the body fight Alzheimer's disease.  It got 15 likes, a share, and a customer comment.
President's Day was this week. As holidays go, it's not a very exciting one, but any holiday is an excuse to say hello to your fans by posting about it. Wellness Natural Pet food scored on President's Day by linking to a White House webpage of a presidential pet photo album, and the photo that showed up next to the link on Facebook was of the first family's dog, Bo. It got 551 likes, 45 shares, and 9 comments.
Take a look at the calendar and check out what's happening in the local or national news. You'll find there's no shortage of current events to share with your audience.
Need more help with social media content? Check out the free Constant Contact guide, Get Started Building Your Social Media Presence.