Google recently announced plans to join Yahoo and AOL in an effort to cut down on email spam.
Google's change to their authentication policy impacts people who use Gmail to send emails through a third-party service like Constant Contact.
What does this mean for you?
If you're sending email through an email service provider (ESP) — like Constant Contact — using an @gmail.com address as your "from" email address, Google's protocol will tell receiving servers to reject the email because it's not sent through a Google server — and your email might be rejected or recorded as a bounce.
(Note: All email service providers are impacted by this change; it is not isolated to Constant Contact.)
Here's how to ensure your emails get delivered:
To help your business successfully reach your customers and supporters, Constant Contact will update your 'from' address using domains that abide by Google's DMARC policy.
For example, if your address is joesgoods@gmail.com, it will change it to joesgoods+gmail@ccsend.com
However, to make your emails more credible and professional, we recommend using a custom domain email address.
Using a custom email address for your business increases trust, engagement, and sales for your business. Surveys show 42 percent of businesses saw an increase in sales after switching to a custom domain email address.
You want your customers to see an email address that matches your brand, like joesgoods@joesgoods.com, rather than joesgoods+gmail@ccsend.com.
This not only limits email deliverability issues, it also makes it easier for your contacts to recognize your business and can increase your open rate.
How can you get your own domain?
If you don't already have a domain, look into a service like Domain.com to register a domain and switch to a custom domain address.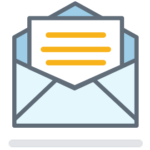 Is email marketing right for you?
See why smart small businesses use email marketing to drive more business. We'll show you exactly what it can do for you, and ten tips to get started.
Get your Guide!
By entering your information, you permit us to reach out to you in the future.