When you spend time on social media marketing for your business, what are you doing to grow your fans and followers?
You're probably spending time creating great content or marketing campaigns – and that's important. But have you overlooked the easiest way to grow your fan base – integrating your existing channels to drive people to your social profiles?
If you're using email, it's really easy to drive your audience to your social profiles by adding social buttons or icons to all of your messages.
Here are 3 tools that you can use to do that:
1. Social buttons in Constant Contact
When you're creating an email in Constant Contact, you can add social media buttons to your message. When you're in the edit mode of a block, choose the social tab from the tools on the left side of the screen, pick the buttons you want to use, and link them to your profile, then click Insert to add them to your block.
Make sure to link the buttons directly to each of your social channels. Here's how the buttons will appear in your email: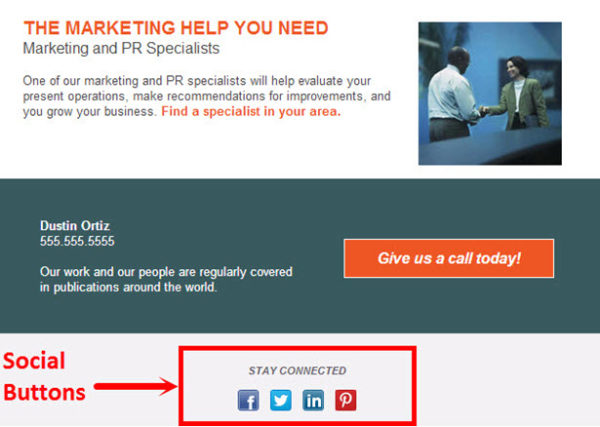 2. Outlook signature
Did you know you can create a signature in Outlook that includes social media logos? Click on File, and then choose Options. From the Options window, select Mail, and then Signatures. Edit your signature, and use the Insert Picture option to add logos, then click on each image and use the Insert Hyperlink to link them to your social profiles.
Need to find social logos? You can save official versions from these sites:
3. WiseStamp app
WiseStamp is a customizable signature app that you can use with Constant Contact, Gmail, Yahoo, and several other web-based email services. The great thing about WiseStamp is that you link to more than 50 social profiles and services – including the more popular tools like Facebook and Twitter, as well as an RSS feed from your blog, services like SlideShare, and even the link for your Constant Contact mailing list signup form.
Once you've downloaded WiseStamp and connected it to your email, select the editor, click on Social Icons, then add links to your social profiles.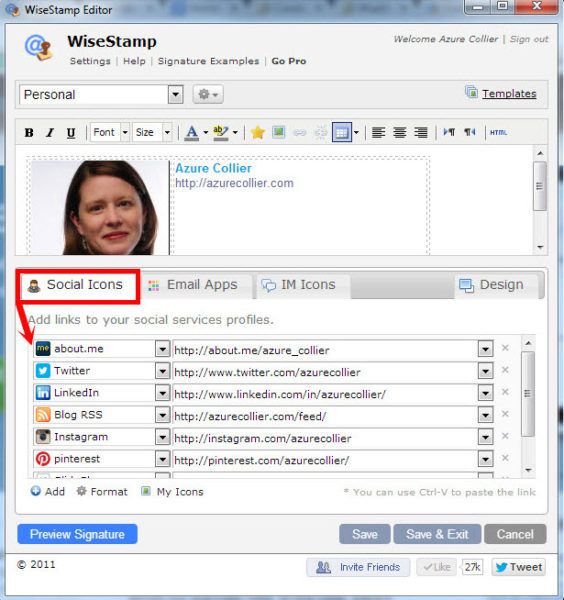 You can also add apps that display your latest social content. Click on the Email Apps tab, and choose the networks you want to feature.
Save your new signature, and you can check out a preview of what it will look like in your emails.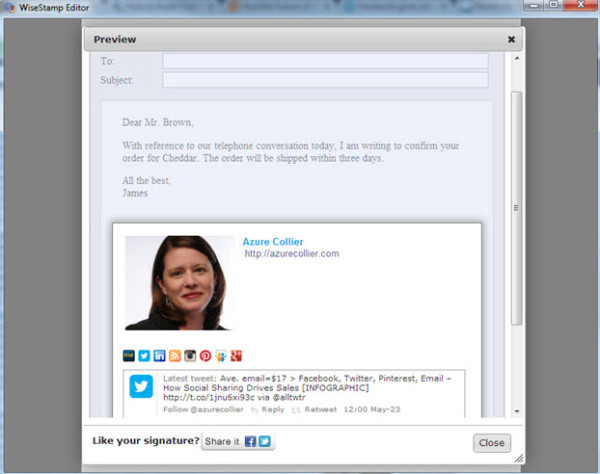 Need more social media marketing tips? Make sure to sign up for our free Hints & Tips newsletter!