You want to make sure your email looks great when it lands in a customer's inbox.
You want them to look forward to hearing from you, and the last thing you want is a small mistake to keep people from paying attention to the messages you're sending out.
The good news is that with an email marketing service like Constant Contact, it's easy to create emails that look good in any inbox.
This week, we talked about email design on the live streaming service, Periscope. We looked at common email design mistakes, how you can fix them, and what you need to watch out for when creating emails to send to your customers.
Here's a quick recap of what we covered:
How to design emails for mobile
The importance of branding
Tips for organizing your content so it's easy to read
How to make sure your subject line works for your email
The benefits of using an email marketing service
Why email marketing is alive and well
You can watch the full broadcast from this week's Periscope below.
(Having trouble viewing the video? Watch it here.)
If you're doing email marketing, you know that you're not just managing a list and creating content, you also need to do some work to actually design the emails you send out.
There's a lot to think about — you have to choose the right template, figure out which colors and fonts to use, add images, and do all the other things you need to do to make your email look good. You've also probably realized that design best practices can change a lot.
It's important to update your design to keep things fresh, but you also want to make sure you're adapting with the times as well.
Think about all the people who are now opening and reading emails on a smartphone or tablet. Depending on where you look that could be anywhere between 50 – 65 percent of all emails. So you really want to adapt your design because as more people are reading on mobile, less people will be opening on desktop.
I thought we could start by looking at three common design mistakes.
Mistake #1: Not thinking about mobile
Not thinking about your mobile readers is one of the biggest design mistakes you can make.
If you're designing for mobile, you need to start with the template that you choose. A single-column template will work best on mobile because of the limited real estate on the smaller screen.
You can also choose a mobile responsive template —  which is a template that has technology that allows it to actually adapt and reformat to ensure that the message looks great on any size screen.
You also want to think about the copy of your email to make sure your message is clear and concise. Constant Contact recently analyzed over 2 million customer emails and found that the ideal length for an email is around 20 lines of text and between 1-3 images in your email.
That's not a lot of copy, but it's those quick messages that will really work best on mobile.
An email can deliver real results with just a few lines of text, an eye-catching image, and an action you want the reader to take.
The other thing you'll want to think about is font and text size. Again, if you have a responsive template then your email will adjust to make sure your font can be read on a smaller screen. But as an overall best practice, we recommend using 14 point text for the body of your email and up to 22-24 point font for headers.
And lastly, you'll want to think about images. Keep in mind that on mobile, many people will turn off having images display by default. Also, if someone isn't on wi-fi and needs to use their data to download images, they can cause problems for the recipient. So really be careful not to overload your email with images and use a good balance of text and images.
Mistake #2: Not branding your email
Forgetting to brand your email is a tough mistake to see because it really is one of the easiest things you can do to improve your email marketing.
You want people to be able to go from your website or blog, to your emails, and onto your social media pages and have a consistent experience that looks and feels familiar.
A quick way to brand your email is to add your logo. This will make your email more recognizable and also will make you look more professional in the inbox.
You'll also want to think about the colors you use in your emails. If you think about the businesses and organizations you support, both large and small, there's a good chance you know the colors that are associated with their brand.
One of the tools you can use on PC is ColorCop. Every color has a specific number called a Hex Value that allows you to identify it. With ColorCop, you can hover over a color on your website or your logo and get that value and use it to choose the colors to put in your Constant Contact emails. There are also other tools like ColorSnapper which work on Mac.
Another important consideration for branding is the images you put in your emails. If you're already taking photos and sharing them on social media and other places, then you should be using them in your emails as well. Real photos from your office, of your storefront, your products, and other things that you're doing — that's a real win for branding and it's super easy to add them into your emails.
Constant Contact customers can integrate their accounts with Facebook and Instagram, and access their photos right from within Constant Contact.
If you decide to go with stock photos, which can definitely work well when you don't have photos available, make sure that you are choosing images that people would expect from your business.
And a last thing to think about is the font you use in your emails. It's easy for your email to start to look messy when you're using too many different fonts. We recommend limiting it to 1-2 different font types, and really being consistent with the fonts that you're using.
Mistake #3: Not organizing your content
When designing your email, it's important to think about how your content is going to be organized.
This starts with having a clear message you want to get across. What is the one action you'd like your reader to take?
You want to put that front and center because that's the thing you want to get the most attention. Constant Contact recently looked at how the number of links in an email can impact email click-through rates, and found that beyond 5-7 links, adding additional links really doesn't result in more clicks. And it's really those first few links that will get the most attention.
When laying out the copy of your message, it's important to make it easy for people to scan your content. This starts with including a strong header that will catch the reader's attention. You also want a strong image that will visually connect with the message you want to get across. And just a few lines of text can be all that you need to get your point across with a link to take action or learn more.
So it's really about positioning your important messages in the places you want them to be seen and then formatting the message so that people can quickly view it and click to take an action.
Here's a look at the other topics we covered in this week's live broadcast.
Subject lines
Your subject line is setting people up for what they are going to see when they get into your email.
It's less of a design choice and more of a consistency choice, because you want people to open your emails knowing what to expect. What is it that they will see when they open and what is the value of clicking to see it.
A big mistake you see people making a lot is that the subject line really doesn't align with the content of the email. Or you open the email and have to scroll or search for what you're looking for.
Using your blog to keep email content short
If you're like a lot of people, your email might just be your email. You're not linking people out to a different site.
The reason you do want to do that is that you're able to move people onto your own properties — your website, your blog, your social media pages — and getting them to take an additional action. If you're creating content on your blog and then linking people to read more, you'll be able to keep your email copy shorter and also benefit from more traffic to your site which can help with your rankings on Google and generate additional actions.
One of the things you want to do if you're not already, is that if you have a lengthy email, consider using just a few lines of sample text and then linking to your website or blog to read more. This is especially valuable if your website is already optimized for mobile.
The benefits of an email marketing service provider
All of the things we're talking about today are possible when you use an email marketing service provider.
The difference between using a service, rather than your personal email account, is that you're able to access email templates that can be customized to fit your brand.
When you send out, you'll be able to see what worked, what didn't, and how your email is getting received.
So if you're someone who is already sending through an Outlook or Gmail, you've probably already noticed that there's not much you can do to customize your message.
If you haven't yet, you can start a free trial at ConstantContact.com to see how these templates can help with your email marketing.
Is email marketing dead?
Email marketing continues to be one of the best tools for reaching consumers. A recent survey found that more than 90 percent of consumers like to receive emails from the brands they do business with. Over social media, print, and other channels — people continue to prefer email.
Email also works well with tools like social media. But unlike social, you get a new level of control and get to take ownership of your contacts. If someone subscribes to your email list, you'll have that email list and will know that your message will get delivered.
Both of these platforms are extremely important, but at the end of the day you want to make sure you're moving people onto your email list. After all, there's a reason why sites like Facebook, Twitter, and LinkedIn send so many emails to bring people back to their site.
Find more email design tips in our Email Design guide!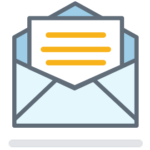 Is email marketing right for you?
See why smart small businesses use email marketing to drive more business. We'll show you exactly what it can do for you, and ten tips to get started.
Get your Guide!
By entering your information, you permit us to reach out to you in the future.