You know that not everyone on your email list is the same.
They have different needs and interests, and different reasons for signing up to receive your emails.
And if you want to get the best response from these different audiences, you need to learn how to communicate with the people on your list in a way that's interesting and relevant to them.
This week on Periscope, we discussed how you can gain the insights you need to create marketing messages that will resonate with your email audience.
We looked at how tools like online surveys and email reports can help with learning more about your audience, and took a closer look at the information that may already be available without you knowing it.
You can watch the recording of our broadcast and read the full transcript below.
(Having trouble viewing the video? Watch it here.)
When we talk about email marketing, one best practice that comes up a lot is segmentation and why it's important to segment your email list.
Segmentation is the process of organizing your email database into lists, based on things like interest, location, purchase behavior, or their relationship with your business, and send sending targeted email messages to these different lists.
The big question that comes up when we talk about segmentation is how do you find the information you need to segment your email list? And why is it important to collect that information?
Why it's important to collect new information about the people on your list
When Constant Contact surveyed consumers to find out the top reasons why they decide to unsubscribe from email lists, the number one response we heard was that irrelevant content lead them to unsubscribe.
The people on your mailing list opted-in to learn more about a business, had certain expectations about what they'd receive, but then had an experience that wasn't relevant to them.
If you want to keep people on your list longer, you need to invest in understanding who they are and what they are most interested in receiving from you.
A recent analysis of Constant Contact customer emails found that 51 percent of all opens come from 10 percent of openers. 44 percent of all click-throughs come from 10 percent of clickers.
This shows you that you need to focus on these people — the people who are consistently opening and clicking on the content of your emails — so that you can understand how to better communicate with your audience as a whole.
So, how do you actually gain these insights?
For starters, you should use what you know.
Your email list isn't just a collection of names and email addresses. These are real people who have opted-in to learn more about you, and the products and services your business offers.
If you log in to your Constant Contact account and look at your email database, there's a good chance you'll recognize a lot of the names that are on your email list. You may be able to identify some of your repeat customers — the people who have been supporting you for a while.
If you speak to different audiences — for example if you manufacture a product and sell directly to consumers and to other retailers — you could probably separate those audiences pretty easily.
You can use email tags to organize and group your contacts, or create a separate lists for some of your different audiences.
Another thing you can do is update your sign-up process.
When deciding what to ask for when collecting email addresses, it's important to make sure you're not making it too difficult or time-consuming for people to join your list. In most cases, the required information you'll want to collect is a name and email address.
But in addition to these required fields, you can add some optional details that people can fill out. For example, if you own a seasonal business that depends on a busy tourism season — you may want to ask for an address so that you can separate your local audience and the people who visit you while on vacation. This will allow you to market to these audiences differently, especially during your offseason.
Another good piece of information to collect is birthdays. So, if you're a retail store or restaurant that wants to send out a coupon to someone on their birthday or during their birthday month, you can collect this information right when someone joins your email list.
You can also use your sign-up form to give people the option to opt-in to specific lists. So, if you already have lists set up for the different emails you send out — maybe you send a monthly newsletter, weekly promotions, and event invitations on a regular basis. You can let people choose which communications they want to receive from you.
One of the best ways to gain new details about your audience is to send an online survey.
An online survey is a quick and efficient way to collect information from your email contacts.
This isn't something you'll send every month, but you should set a goal to check in with your email audience at least once a year. When done well a survey can give you value insight into who these people are, what they like about your email marketing, how often they want to hear from you, and why they signed up for your list.
Try something simple like a three question survey with questions like:
What information do you like receiving from us?
How often do you like to hear from us?
What are some questions we could help answer?
Even if just 10-20 percent of your email audience decides to open, you'll still be able to gain some valuable insight into a sample of your readers. And the people who take the survey are clearly showing they have an interest in your business and are engaged enough to share their feedback with you.
You can provide multiple choice questions to help gauge people's interest around a particular product or service, and can also provide open-ended questions for people to fill out their own information.
Another thing I've seen businesses do to learn more about their email audience is to host an event.
Events are a great opportunity to collect additional information for your contact list.
You can collect information when interacting with attendees face-to-face, and also use an online registration tool to collect important details before the event.
You can also create a separate list for people who attend your events. These are people who you know have interacted with your business, they're clearly engaged enough to register or show up at your event, and they'll likely be more receptive to hearing from you in the future.
Use this list to follow-up after your event and make sure they are the first to know when you are planning other activities in the future.
The last thing you can think about is using your email reports.
You're probably familiar with using your email reports to keep track of things like open rate, click rate, bounces, and spam reports. But if you take a deeper look into your report, you'll find that there's a lot of valuable insight into the interests and behavior of the people on your email list.
For example, if you have a newsletter that covers different topics, you can look at your click reports to see who is clicking on particular links within your email. If you're consistently seeing people click on links about a particular topic, you can follow up with a targeted message relevant to that audience.
This can work the same way if you're sending out an email promoting a special offer. If you see a lot of people clicking through to your website to view the offer but aren't making a purchase, you can follow up with all of the people who clicked through to your website. Providing a reminder email with some additional information can be a great way to move these readers to take action.
Where do you start?
Start by focusing on the actionable things you can do right away. If you don't have a ton of information about email audience, take some time to look through your email list and set up your first audience of VIPs. Who are the people who have been with you awhile and are constantly showing up when you reach out to them?
Look at your sign-up process. Are you collecting all the information you need to do the things you want to do with your email marketing?
When you're ready to get a more in-depth look into your email list, take some time to plan out how a survey or event could fit into your strategy. These will take a little more time but can provide valuable information about the interests and behaviors of the people on your list.  
Have questions you'd like to see us answer live on Periscope? Let us know in the comments below.
You can watch all of our previous Periscope recordings here.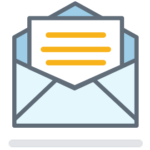 Is email marketing right for you?
See why smart small businesses use email marketing to drive more business. We'll show you exactly what it can do for you, and ten tips to get started.
Get your Guide!
By entering your information, you permit us to reach out to you in the future.