The Chicago Network was founded in 1979 to foster connections among Chicago's women leaders. Through these connections, the organization now also plays an active role in cultivating the next generation of women leaders.
Through its 35-year history, the network has grown to more than 450 members, representing more than 60 industries throughout the Chicago-area.
"Our membership organization is a cross section of women leaders, who have really reached the top echelon in their respective industries — whether that's nonprofit, corporate, academic, or elsewhere" explains Elizabeth Stigler, communications director for The Chicago Network. "Our mission is to really help connect our members and pay it forward to the next generation, and one the best ways for us to do that is through live events and other networking opportunities."
With live events at the center of their organization's mission, The Chicago Network has continued to look for new ways to keep members informed and make sure they know about upcoming opportunities.
The Chicago Network has been a Constant Contact customer since 2010, and has made email marketing a major part of their member communication strategy.
"We've found that the best way to let people know about our upcoming events has been through our email list with Constant Contact," Elizabeth explains. "Our members are constantly on their mobile devices and being able to send out a newsletter and give members the information they need has been invaluable."
If you've been looking for a better way to connect with your members, email marketing can help. Here's a closer look at how The Chicago Network does it.
1. Start with your mission
You probably don't need to look far to see how your organization's mission impacts the work that you do every single day.
The same should be true when it comes to your marketing and online communications.
One way The Chicago Network incorporates its mission into its email marketing is by using a weekly newsletter to share news and highlight member accomplishments.
"When I see people at events, they definitely bring up the newsletter," Elizabeth explains. "They love it. It makes members feel good when their accomplishments are being highlighted and it's really a way for members to recognize each other when they meet in person at different events."
2. Time it right
When you focus on your mission, you'll also be able to better focus on your audience. This will provide more opportunities to understand what they're interested in and help you create a plan to communicate more effectively.
For The Chicago Network, paying attention to their audience helped them solve a common email marketing challenge — timing.
"We found that we get the best response from our early morning sends. Our audience is busy and they appreciate receiving our newsletters first thing in the morning before the hustle and bustle of the day," Elizabeth explains. "We send an event blast every Tuesday morning at 6am and a newsletter that goes out on Fridays at the same time."
3. Be consistent
Once you've taken the time to determine the right email timing and frequency, it's your responsibility to follow through and make sure you're meeting member expectations.
"The key for us has been to really stay consistent and make sure our emails are expected when they land in our member's inbox," Elizabeth explains. "People receive a lot of emails and if they aren't used to seeing your emails in their inbox at a certain time, it's possible you could be thrown out or just seen as clutter."
Sticking to a regular sending schedule shows a commitment to your members, which can result in higher opens, less unsubscribes, and more people taking action from the emails you send out.
For The Chicago Network, this has resulted in an average open rate of 40 percent.
4. Get members involved
Consistently coming up with ideas for what to put in your emails can be a major challenge for any organization, especially if you're communicating with your audience on a regular basis.
But as a membership organization, you have a distinct advantage of being able to reach out directly to your members and get them involved in the email creation process.
"Our members have gotten really great at sending us information they'd like to have included in our weekly newsletter or event blasts," Elizabeth explains. "We give members the option to send in press releases or let us know about other news and announcements they'd like to share with other members, which makes everyone more invested in our communications."
5. Adapt over time
As email continues to play a larger role in The Chicago Network's communication strategy, Elizabeth takes steps to make sure they are providing an experience that works for their members and for the organization's staff.
"We used to send individual invitations to each of our events and we noticed that was a lot for our members and for us to keep up with," Elizabeth explains. "That's when we made the switch to a weekly email. The change has been really well received by our members."
In addition to tracking metrics like opens and clicks, Elizabeth is focused on making sure that the investment her organization is making into email marketing is resulting in more opportunities for members to stay connected.
"The biggest benefit for us is that our members feel more connected," Elizabeth explains. "We're able to keep people informed about our upcoming events and provide another way for our more 400 members to recognize each other and feel more connected."
Want to better connect with your members?
Your organization depends on effective communication. With tools like email marketing, there have never been more opportunities to improve communication and keep your members connected.
Ask yourself — what's one thing you could be doing better to connect with your members?
If you think email can help, check out our guide to email marketing success.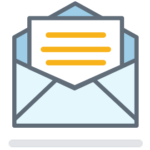 Is email marketing right for you?
See why smart small businesses use email marketing to drive more business. We'll show you exactly what it can do for you, and ten tips to get started.
Get your Guide!
By entering your information, you permit us to reach out to you in the future.