There's always a ton of work going on behind the scenes to make all of our products better.
And today, we wanted to bring you up to speed on some updates and enhancements that recently went live for our Email Marketing product.
Here's a look at what's new and improved:
MARCH 2014
Autoresponder
Autoresponder has a new look and new features that will make it a lot easier to schedule automated emails within a series.
With the most recent update you can now create as many Autoresponder Series as you need giving you the ability to deliver relevant and timely content to multiple contact lists.
Since you can send to an unlimited number of contacts, with a maximum of one email per series per day, there is no need to worry about how many contacts you have on each list, or how many lists you have.
These updates will allow you to eliminate manual campaign management by scheduling emails at predetermined intervals. Set it once and forget about it! Also, now that you can add both new AND existing contacts to a series, you can improve personalized engagement with every contact.
And we're not done. Stay tuned for more updates to Autoresponder.
—
PAST UPDATES
OCTOBER 2013
Sign-Up Form CAPTCHA
As an additional precaution to protect your data, CAPTCHA is now included on your existing sign-up forms. By requiring visitors to type letters or digits of a distorted image to sign up, you ensure that only real people sign up for your list — not an internet bot. There is a possibility that this will decrease the amount of new contacts you get since CAPTCHA can sometimes be difficult to complete. If you want to remove it from your sign-up form, just grab a fresh URL or button code to place on your website, email signature etc. Here's how.
SEPTEMBER 2013
MyLibrary Mobile for iOS and Android
Ever wished there was a way you could take a photo right from your mobile device and use it in your next email, event invitation, social campaign or offer? Now you can.
With MyLibrary Mobile, our new app for iOS and Android, you can easily snap a photo and upload it right to your Constant Contact account.
Multi-user login
Account owners can now set up account users to allow multiple people to work within a Constant Contact account without having to hand over full control. This new feature gives account users their own unique login that prevents them from accessing billing information, adding and canceling products, or adding and deactivating users.

Mobile responsive sign-up form
Your web sign-up form is now mobile responsive, making it easier for visitors to fill it out and join your list — even on the go.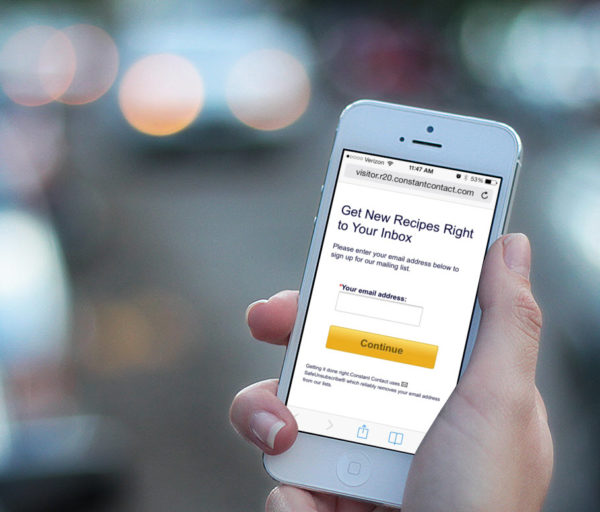 Gmail Tabs template
We've created a template that you can use to send information to your Gmail subscribers, educating them on how to move your emails into their Primary Tab. Just type "Gmail" into the search box in the Template Picker to find it.
AUGUST 2013
Facebook, Instagram, Bigstock and More: See the New MyLibrary
We've heard your feedback about uploading, storing, and managing your images and documents in Constant Contact, and the team has been hard at work, developing an improved experience and some awesome new features.
From seamless integrations with Facebook and Instagram to a huge new selection of professional stock images and more, with these improvements to MyLibrary and MyLibrary Plus, you'll have everything you need to create visually-appealing emails that bring your marketing to life.
Here's a look at what's new and improved:
Easily store and manage all of your images and documents
One of the biggest changes you'll notice is how much easier it is to add, edit, and manage all of your stuff. You can toggle between list view and thumbnail view, and we've made it much easier to find your files with search and filters.
Before, you could only store images and PDF files in Constant Contact. Now, you can upload and store images, PDF files, Word documents, PowerPoint documents, and Excel files. It's easy to select and upload multiple files at once, and you can even drag and drop files right from your desktop.
Upload images from anywhere…and fast
Chances are that you have a ton of great images on your smartphone and on your social networks that you want to be able to use in your marketing. With the improvements to MyLibrary and MyLibrary Plus, you can. Now, you'll be able to easily upload photos from Facebook and Instagram (MyLibrary Plus only), and with MyLibrary Mobile for iOS and Android. You can even upload photos right from your mobile device.
With 250MB of storage space in MyLibrary Plus, you can store everything in one place. That means no more trying to remember where you saved that awesome picture you took last weekend.
Access to millions of professional images from Bigstock
We've also partnered with Bigstock, a leading provider of royalty-free stock images, to give you access to millions of professional-quality images right from your Constant Contact account. In addition to all of the images that are currently available in our Free Stock Image Gallery, you'll always be able to find the perfect image for your next email.
These updates will be rolling out to everyone over the next few weeks, starting today, so make sure to keep an eye out in your account.
Coming Soon: We're putting the finishing touches on the MyLibrary Mobile app and our integration with Bigstock. We will keep you updated here and on our Facebook Page when those new features are available.
JULY 2013
More New Templates
We've added seven more new templates ; all customizable to match your brand no matter what industry you're in. Find them in the "All New" category in the Template Picker, or simply by searching "All New."
Updates to QuickView for iOS
Our new, streamlined creation flow means you can create mobile-friendly emails in just two taps right from your iPhone, iPad or iPod Touch. Don't have the app? Get it here—free.
MAY 2013
1. Easily insert a table
Here's how it works:
Step 1. When you click to edit a block, you'll notice a new icon to insert a table right next to the paint bucket:
Step 2. After you click the icon, just place your cursor over the grid to select the number of columns and rows for your table (just like you would if you were creating a table in Microsoft Word, for example):

Step 3. Click the gear icon in the top right corner of the table to access the table properties (this is where you can do things like add a border), delete the table, play around with the alignment, or add/delete columns and rows. Just like you would do with an image, you can also click and drag to re-size the table:
The best part is that you can actually use this new feature to do a lot more than create just a plain old table.
Here are a few other things that you can do with insert a table:
Showcase your products and services
Insert a table is a great feature to use to showcase your products and services. Let's say you want to show off your delicious new burger and your world famous sandwich. It's easy. Simply create a 2×2 table (you can change the dimensions depending on how many items you want to show), drag and drop your images in and add some text in the row below them.

Thinking about running a similar promotion next week or next month? Want to showcase two new products in a similar format? Just make a copy of the email and swap out the images—you now have a brand new template that you can save and re-use each time you want to do a showcase.
Create a call-to-action button
Insert a table gives you a quick way to create an eye-catching call-to-action button. Just create a 1×1 table, add a border, add some text with a hyperlink, and customize it to match the look and feel of the rest of your email.

Make sure to think about mobile when designing a call-to-action button. The finger is the new mouse on a smartphone or tablet, so make sure the button is eye-catching and there's enough space so it's easy to touch. We recommended using at least 24pt font.
Want to discuss this update? Leave a comment on this post.
2. Five Mobile-Friendly Templates
Smartphone usage is sky-rocketing, and with it, so is the number of people that are reading email on a mobile device. According to Litmus, 43% of email is now opened on a mobile device. That number is up 138% from 2010, and it's a pretty safe bet that it's going to continue to grow.
This means that you need to be creating emails that are mobile friendly, and we've got your covered with these five new mobile-friendly email templates.  A mobile-friendly email is an email that displays optimally between a desktop/laptop and a mobile device, ensuring that it will look great regardless of where your customers and prospects read it.
You can find these new templates simply by searching for the word "mobile" in the template picker.
Interested in learning more? Check out this post on "5 Simple Tips for Mobile-Friendly Emails."
DECEMBER 2012
Improved My Emails page
We heard you loud and clear that you wanted folders to help stay organized and on top of all of your emails, so we've improved the My Emails page to give you just that. While we were at it, we added more functionality to the page to help you work faster and more efficiently. Here's what you can do with the improved My Emails Page:
Create folders. You can now drag and drop emails into custom folders that you create.
Switch views. You can switch between the traditional list view and a new thumbnail view of your emails.
Access your reports. See your open rates for emails you've sent right from the My Emails page, and get one click access to full report for that email.
More new email templates
Earlier in the month, we released another batch of brand new templates that you can customize to match your brand, no matter what industry you are in. You can find them all by selecting "Show More" from the "Type" menu of the left-side of the Template Picker and then clicking "New."
Not only do these templates look great, but it's incredibly easy to customize them to match your brand or industry. Just drop in your logo, change the colors, and add in your images and content.
We've also designed these templates to look great on mobile. Now your customers get a great-looking email, even if they are reading it on-the-go from their smartphone.
If you're in need of some inspiration for an email you're working on, or just want to see some of the great things our customers are doing with our new templates, check out this album we've created on our Facebook Page – and keep an eye out for more new templates soon!
Many of our improvements are based on your feedback and we want you to keep it coming! Have a suggestion or idea how we can improve our products? Submit it here!
Let us know what you think about these enhancements in the comment section of this blog post!
—
Drag and drop
There's no way to describe our new drag and drop feature other than "awesome."  It makes editing emails so fast and easy—you're going to love it.
Now you can simply drag and drop new blocks into your emails, along with any of the other standard insert options (like inserting a survey link or any of your social media buttons).
Just place your cursor over the block, or option you want to insert, and you'll notice that you can drag it right into your template.
My favorite feature is how you can now drag and drop an image into your email right from the side panel.  When you click to add or change an image, you'll notice we've added an Images tab between the Insert and Social tabs.  Just click it and you'll be able to access all of the usual Insert Image options (like MyLibrary, the Stock Gallery, upload, and more) right there:
After you find an image that you want to use, just hover your mouse over it and you'll notice that you can drag it right into your email (and of course, you can still click to insert your images as well).
Current "Insert Image" option
 New "Insert Image" option with side panel and drag and drop
New nonprofit templates
We've also released seven brand new, great looking, nonprofit-themed templates.  There are templates for newsletters, saying thank you, encouraging people to donate, asking people to volunteer, and more.
Not a nonprofit?  No worries.  These templates are for you too. They can easily be customized for your industry.  Log in and you'll notice the templates featured in the template picker, or search for the keyword "nonprofit."
The best part is that these nonprofit templates are just the first in a group of brand new templates we are currently working on that should be available over the next few months.
Small Business Saturday templates
To accompany our Small Business Saturday toolkit and help B2C retailers attract customers this holiday season, we've also just released three Small Business Saturday themed templates.
Just log in and you'll notice them featured in the template picker as well, or you can search for them under the keywords "Small Business Saturday."
New Formstack app
Our new Formstack app gives you another great way to grow your contacts. You can easily create a sign-up form and embed it directly on your website, which means no extra clicks for your potential subscribers.
After a contact signs up, they will automatically be added to your Constant Contact mailing list.  For the first time, you can even create multiple sign-up forms to capture different information for different segments of your list, and you get to select which list to use with each form.
This app comes with a free version for all Constant Contact customers, and you can find it within "Contacts" under "Grow My List."
Learn more about the Formstack app in our MarketPlace.