Finding time to do your email marketing is a challenge any business owner can relate to.
You're busy — really busy. And time is one of your most valuable resources.
When Constant Contact surveyed small business owners and asked them to put a dollar value on having an extra hour in their day, the average response was $273, with responses ranging all the way up to $5,000.
This week, we decided to talk about some time-saving tips on the video streaming platform, Periscope.
We discussed simple steps you can take to save time in different areas of your email marketing, including: design, content creation, planning, and list growth. We also talked about the benefits of email automation and how these tools can help you get more from your email marketing without spending a ton of extra time doing it.
You can watch the full recording of the broadcast and the transcript of our discussion below.
(Having trouble viewing the video? Watch it here.)
You know email marketing is important for your business or organization and understand the value of using email to communicate with your audience on a regular basis. But one of the biggest hurdles you can run into is actually finding the time to do it.
One of the biggest benefits of working with an email marketing service, like Constant Contact, is that you'll have the tools and resources to make it quick and easy to get your marketing done. We provide email marketing tips for your specific industry and also partner with experts throughout the country who provide marketing services to small businesses and nonprofits, who can help with your marketing.
But if you are doing your email marketing on your own, finding ways to save time when creating and sending emails can be a huge help.
One of the places you may be spending a lot of time is in designing your emails.
This can be an especially time-consuming process if you're sending emails to your audience without using an email marketing service. Email marketing services like Constant Contact provide customizable email templates, which will make you look more professional and save a ton of time when designing your emails.
Templates are designed for different types of emails you send out. For example, there are newsletter templates which you may choose to use for your regularly scheduled emails that you're sending out each month. There are also templates that are set up for quick announcements or event invitations or reminders.
One of the other things we do here at Constant Contact is to offer custom template designs, which are created to match your website and provide consistent branding.
Once you've found the templates you like to use and have designed them to match your brand, you can then save that template and copy it next time you're ready to send. This can act as a master template, which will keep you from having to start from scratch every time you send.
Another important part of your email design will be choosing the right images to include in your email.
This is another place where you can save time by setting up integrations that automatically pull the photos you share on social networks like Facebook and Instagram into your Constant Contact account. When you're ready to design your email, those images will be available in your photo library along with other professional-quality stock photos to choose from.
And lastly, when it comes time to design your emails, you can save time by preparing your colors.
You probably already have the colors you like to include in your emails — the ones that match your brand and make your emails look professional. With a tool like ColorCop, you can find the exact values for the colors in your logo or on your website. Once you have those values, you can plug them into your Constant Contact account and get the exact colors to use in your emails.
Another area where people spend a lot of time when creating their emails is coming up with content ideas.
But what a lot of people don't realize is that you don't always have to create content from scratch. While you'll likely have things that you know you want to include in your emails, you can also look for content from other reliable sources to share in your emails. This is known as content curation.
When you are developing your own content, it can be helpful to create systems to simplify the process of developing your content.
One of the best things I've seen a business owner do is create a template that they print out and write notes on when figuring out what to put in their emails. Rather than waiting to figure out what to write when they sit down to put their emails together, they make content creation part of their everyday routine.
Another way to save time when writing your content is to write it in a format where you may be more comfortable, like a word document, before designing your emails. That way, when you do have some time to design your emails, you'll simply need to copy and paste your content into your email template.
One thing that's really helped us save time with our Hints & Tips email newsletter here at Constant Contact is creating a set schedule that we commit to follow each month.
What the schedule allows us to do is plan our entire calendar and set deadlines for the assets we want to include in our newsletter. This helps us stay organized on a monthly basis and avoid situations where we are scrambling to get our content together last minute.
On your end it may be deciding on an email that you send on a monthly or bi-weekly basis and then creating a schedule that makes sense for your business. That won't only help with your email marketing, but it also lets you factor in things like your social media or blog, and gives you the chance to build your entire marketing calendar around your email marketing.
When we are talking about time-saving, we definitely can't forget to mention email automation.
Automation allows you to set up an email, or a series of emails, that will send automatically to people on your email list.
When using automation, there is an initial setup time that you will have to invest to get these emails created and scheduled, but once it's setup it will help you engage your audience without adding any additional strain on your busy schedule.
A perfect example of this comes from a Constant Contact customer who owns a retail business. They were having trouble getting website visitors to join their email list and came up with an idea to offer a coupon to new subscribers. Using automation, they were able to set up a series of emails that would be sent to new subscribers over the course of a few weeks after they signed up to receive their emails. The first email was a welcome email that included the coupon. The second two emails were reminder emails and thank you emails to make sure people redeemed the offer.
Setting up this program didn't only help them grow their email list but also helped generate sales without spending any extra time reaching out to new subscribers.
You can apply the same type of strategy to any of the groups of people on your email list. Maybe it's for new clients or for loyal customers who have been on your list for a while. Maybe you don't feel like you've done enough to connect with people who are super engaged with your emails. Automation tools can help you create a series of emails to build relationships with this audience, as well.
One of the last areas where you can think about saving time is with growing your email list.
There are a lot of tools you can use to build your email list.
A lot of businesses start with a paper sign-up sheet. But you can also complement your offline list growth with mobile tools like the Constant Contact app or our Text-to-join feature. The Text-to-Join feature lets people join your list by texting their address to a custom code that's setup for your business. Those email addresses will be automatically added to your Constant Contact account.
Growing your email list online shouldn't be a time-consuming process. You can set up a sign-up form on your website that lets people join your list in a few seconds without adding any extra work for you.
And when you're sending emails, also make sure to add a link for people to join your list in every message you send out. When people share or forward your emails and new people find them, they will be able to join your list right away.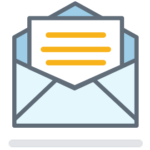 Is email marketing right for you?
See why smart small businesses use email marketing to drive more business. We'll show you exactly what it can do for you, and ten tips to get started.
Get your Guide!
By entering your information, you permit us to reach out to you in the future.