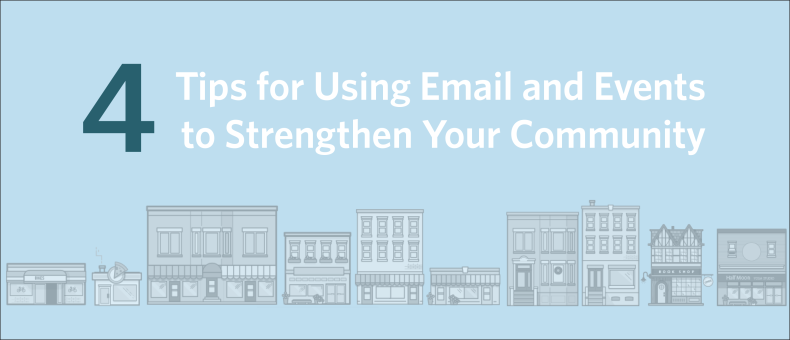 As town liaison between the business community and the local government of Enfield, Connecticut, Courtney Hendricson knows how important strong communication can be.
With a full schedule of local events, and a number of different audiences to speak to — including local business owners, local residents, media contacts, and elected officials — Courtney knew she needed a better way to manage her office's communications.
"I needed a way to reach out to our business community from one place so that everyone could be on the same page," Courtney explains. "I wanted to give them information about what's going on with local businesses, but also let them know what we're doing to help businesses thrive."
In October 2013
,

Courtney

found out

about 

Constant Contact

.

Having used email to communicate with the business community in the past, Courtney was excited to have a tool that would allow her to manage all of her email and event communication from one central dashboard.

"I used to use a really cumbersome product to handle my event registration. Then I realized I could use Constant Contact for my email and events, and it made a lot of sense."

With Constant Contact, Courtney is able to create custom web pages for each of her events.

Each page includes important event details and also has the option to register in advance. Courtney can also create a series of email communications around the event — including invitations, reminders, and follow up emails.

"It's a really seamless process now: The event invitation I send out links right to the registration page that I create," Courtney explains. "We've been initiating quite a few new programs, so we've really been relying on Constant Contact as our main marketing tool for staying organized and getting the word out about all those different things."

By improving her strategy, Courtney has recently learned some valuable best practices to make her communication effective than ever before.

Here four of her top tips:
1. Keep your contacts organized
With over 2,000 contacts, it's important that Courtney keeps her different contacts organized so that she is sending emails out only to relevant audiences.
For example, while she may only want to send a press release out only to her media contacts, an invitation to an upcoming networking event would be more appropriate for her business owner community.
"I do the best I can to put all my contacts in separate lists so I can email just the development community, or just businesses, or elected officials, depending on what kind of event announcement or email I'm sending," she says.
In total, Courtney has used Constant Contact's contact management system to divide contacts into eight different contact lists.
2. Create messages people want to read
Courtney knows that engaging her audience means more than sending relevant information. To encourage as many people as possible to read and act on her messages, she thinks about each message from her contacts' perspective.
She thinks about what will capture people's attention and enthusiasm, as well as how she can provide information in a way that is valuable to her contacts 
"I'll often just do a few lines of text, a big picture, and a link. I like to preview each message and ask myself: 'Are they seeing what I want them to see at first glance. I also spend time thinking about the subject line and what will draw them in."
3. Reach a broader audience by connecting with social media
After creating an email or an event page, Courtney often extends the reach of her message even further by sharing a link with her social media audiences. Using Constant Contact's Simple Share, Courtney can easily share her campaign with her social media audience on various networks like LinkedIn, Facebook, and Twitter.
"I use Simple Share to share my message with my connections on LinkedIn. Then, I rely on my social media team to share on Twitter and Facebook," Courtney explains.
4. Seek out helpful resources
When first getting started with Constant Contact, Courtney was pleasantly surprised how quickly she could start creating professional emails and event pages. "The product is so user-friendly. It's really obvious how to do a lot of the things you want to do."
Still, to make sure she was sending the best messages possible, and to get helpful advice along the way, Courtney took advantage of Constant Contact's training and support.
"I took a couple classes when I first started out, and they gave me great advice I never would have known. I also called the support line a lot in the beginning. They were really helpful and receptive to my questions. Somehow they always understand what I'm asking!" she says.
Now, Courtney has confidence each time she creates a new message.
Reaching her community with ease
By finding the right tool, Courtney is able to save time by managing her outreach from a single login.
"I would say the biggest benefit to Constant Contact is the fact that everything is saved in one place. It really gives me a complete picture of my outreach efforts and the best ways to reach my community. My advice would be to jump in and use it!"
Want to see how Constant Contact can work for your business? Start your free 60-day trial today.
Already a customer? Log in and create something new!