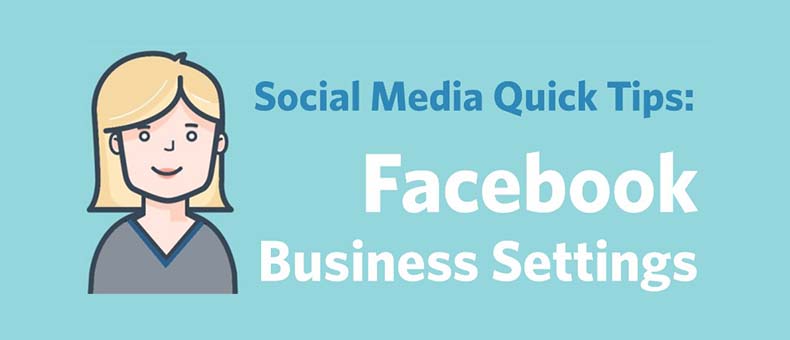 You may not remember it but when you originally set up a Facebook Page for your business, you were asked to select one of six Page categories that best fit your particular business.
Eager to get your Page up and running, you may have rushed through these first steps unaware of the importance of choosing the most appropriate type of Page. You may have also overlooked some of the different areas of your Page's About section and maybe even left some of your important business details blank.
This is a mistake a lot of businesses make when getting started on Facebook.
But what you probably didn't realize is that each Page category comes with a unique set of features, designed specifically for the type of business or organization you run. Depending on the type of page you choose, you will also be able to add specific details about your business to help you get found on Facebook.
In this week's Social Media Quick Tip video, I'll show you a few small tweaks you can make in your Facebook Business Settings to improve your results on Facebook, and make sure you have the right type of page for your business.
As I mentioned in this week's video, even if you've selected the incorrect Page category, it can be changed with a quick fix.
Looking at your Page within Facebook, select the Settings tabs above your Cover Photo.
Change Category Type: Settings > Page Info > Category
You can also choose up to three subcategory types to help people find your Page more easily. These will appear above the About section on your Page and in search results. If you haven't added these yet, do so now!
There are six main categories of pages and within each of these category types there are several options listed in a drop down-down menu.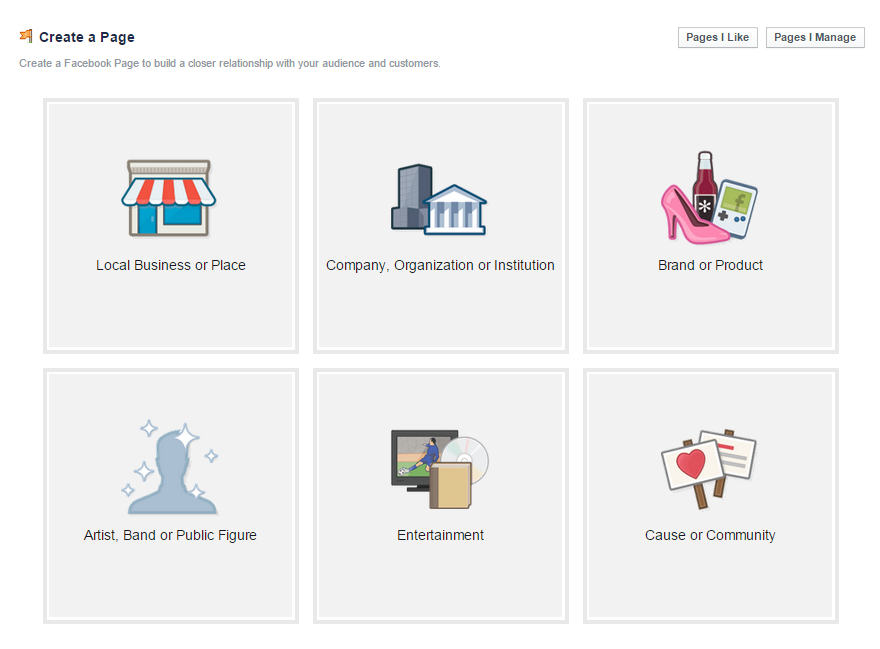 As a small business, you'll be choosing between Local Business or Place or Company, Organization, or Institution.
Local Business or Place:
This Page category is reserved for businesses with a physical storefront that customers visit.
Selecting this Page category will allow you to add extra information such as your physical address, hours of operation, and parking options. It will automatically turn your Page into a Place as well.
Place pages include several features that improve the Facebook experience for customers visiting your business and help new customers find you. As a Place page, customers are able to get directions to your business, check-in to your business during a visit, and create a review with Facebook's star-ratings.
Place business pages are also added to the Facebook Mobile app feature, Places Nearby. Places Nearby is a local search and discovery feature in iOS and Android Facebook Mobile apps. "Nearby" allows users to search for specific places, browse business categories, or see what's around them on a map. It's organized by their friend's recommendations, check-ins, and other social cues.
Company, Organization, or Institution:
This Page category is best for businesses with multiple locations in the same city, such as a franchise, e-Commerce businesses selling from one website, and location based businesses that aren't trying to drive foot traffic; for example churches or a schools or service businesses, such as a consulting business.
Selecting this Page category will not automatically set you up as a Place page but you can add all or some of the Place Page features within your Page's settings following the initial setup.
TIP: If you do not add your address to your Page, you will not be able to turn on the star ratings feature.
Cause or Community:
As a nonprofit organization, you will want to choose the Cause or Community category for your Facebook Page category.
Selecting this category will allow you to generate support for your nonprofit by adding the Donate Now button to your Page.
If your business does not fall into any of the categories above, it may be appropriate to choose one of the three remaining categories:
Brand or Product:
This Page category is mainly reserved for Brand names (i.e. Coca Cola), but online businesses that sell through multiple websites or resellers could also select this category.
Artist, Band or Public Figure:
This Page type is appropriate for journalists, lawyers, politicians, authors, chefs, etc. Keep in mind that this category is for individuals looking to create a Page. While appropriate for a lawyer, a law firm wouldn't select this Page type.
Entertainment:
This Page type is best suited for things such as TV Shows rather than businesses. Radio stations, libraries, local sports, or concert arenas could also fall into this category.
Beyond the unique features included in the different Page types, selecting the correct Page category is important for making the most of Facebook Graph Search and Facebook mobile search. It will also give your business an overall SEO boost from social media.
Remember that all of these different features are only available if you are using a Facebook Page. If you are still using a Facebook Profile, it's time to make the switch. Discover how to make the switch here.
Looking for additional resources for getting started on Facebook? Check out our new Facebook 101 page in our Social Media Quickstarter!