When it comes to mobile marketing, mobile and social go hand-in-hand.
Each day, millions of people use Facebook to engage with business pages. And over half of those people are accessing these pages from their mobile device. Users are not only interacting with businesses on Facebook mobile but, they're also discovering new business pages.
One in every three new page "likes" occur via mobile.
You may not realize this but, if you're using Facebook for your business, you're already leveraging a form of mobile marketing. And taking advantage of this marketing opportunity isn't difficult either if you keep these simple tips in mind.
Tip 1: Understand how your page looks on a mobile device.
Your Facebook Page does not look the same on a mobile device and a desktop! Facebook automatically creates a summary of your page for mobile users. You can view your page in two ways, Admin and Public.
The "Public" summary looks a little something like this:
In the "Public" view, the Facebook mobile summary doesn't show your complete Timeline. To highlight your content, it's important to always have a pinned post. This post will be featured first.
*To make the most of this real estate, pin a visually appealing/engaging post or your latest promotion.
NOTE: Through the "Admin" view, you can switch between commenting from your personal Facebook account and your business page account. Within "Admin," you can also publish a post and can quickly check your notifications with this quick link to the "Pages Manager" App.
Recommendations and check-ins:
The next thing your fans will see as they scroll is recommendations and check-ins. The results they see are based on friend activity.
*Mobile searchers are more likely to make a local buying decision. Having recommendations visible may encourage them to choose you.
Photos:
Next, your summary shows photos that were taken at your location, not necessary photos you've uploaded.
*To use this area to your advantage, be sure to tag your photos with the location of your business or encourage customers to upload photos while they're checked in.
Most recent post:
Finally, at the bottom, you'll find your most recent post.
Don't forget about the news feed too! On mobile, you have a short amount of time and space to grab someone's attention. Your photos will be cropped to a smaller size and the text of your posts will get cut off if it's too long. The same best practices you implement for the desktop news feed can be applied for the mobile newsfeed.
Tip 2: Make sure your customers can find you through mobile searches.
Did you know that 91 percent of local searchers say they use Facebook to find local businesses online?
Ready or not, people are searching for small businesses like yours on Facebook. Make sure your Facebook Business Page is ready by always keeping it complete and up-to-date. Mobile Facebook users can search by business name, category, or based on their location. Check you category to make sure its correct. Update your business hours, contact information, and try "Facebook Nearby" on a mobile device to ensure that the map and directions are correct. It's important to be visible through mobile searches.
What is Facebook Nearby?

Facebook Nearby is a local search and discovery feature in its iOS and Android Facebook Mobile apps. "Nearby" allows users to search for specific places, browse business categories or see what's around them on a map. It's organized by their friend's recommendations, check-ins, and other social cues.
According to a recent Google study, your next great customer is literally around the corner and mobile can get them in your door.
95 percent of smartphone users search for local information.
61 percent of smartphone users called after searching for local information.
59 percent of smartphone users visited in person after searching for local information.
Tip 3: Encourage check-ins. They matter.
The results that show up in "Facebook Nearby" may not always be the closest businesses based on proximity, friend activity, check-ins, reviews, and personal preferences. So what should you do? Encourage customers to check-in on Facebook at your business location! Recommendations from mobile user's friends will also appear first. This serves as a great tool for word-of-mouth recommendations.
Facebook already promotes mobile users who recommend your page, but it doesn't hurt to nudge customers a little more by asking for recommendations through signage or a promotional incentive.
Tip 4: Manage your page on-the-go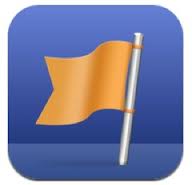 The "Pages Manager" app is a free downloadable application that lets page admins check on their page activity, view insights, and respond to their audience from their mobile device. You can download the "Pages Manager" app in the iTunes Store or the Google Play store.
You can also adjust immediate notifications for your page within the settings of the app or within "Your Settings" in the dashboard desktop. Desktop: Edit Page > Edit Settings > Mobile
If you would prefer to publish posts via email on-the-go, you add a specific email address provided within your page's admin panel.
Bottom Line:  Don't be intimated by the phrase "mobile-marketing." The most important thing you can do today as a small business owner is to be aware of how your brand is represented in the places your customers are accessing information about you. Add a monthly reminder to Google your business, review the information and recommendations on sites like Yelp, Facebook, Foursquare, etc. and always view your emails on a mobile device before sending. By being conscious of your online presence, you're setting yourself up for mobile marketing success.
BONUS: 5 ways you can and should use your phone for coming up with engaging marketing content.
Want to learn more?
For more help with your social media marketing, sign up to receive our Hints & Tips newsletter.