Recently, I saw a post on Facebook from one of my favorite local businesses that really caught me by surprise.
The post was in response to the declining Facebook organic reach for business pages.
This business owner had invested a ton of time and energy into building an audience on Facebook and was disappointed to find that Facebook was making it more difficult to reach his fans.
After growing their fan base to nearly 6,000 fans, they've decided to call it quits.
This was disappointing news for a few reasons.
Selfishly, I've always enjoyed receiving updates from this local business. Their posts are fun, conversational, and do an excellent job at showing off their products without clogging my feed with too much promotional content.
Less selfishly, I was disappointed to hear that they were shutting down their page because I still believe Facebook could have a positive impact on their business.
With new tools like Facebook Live, businesses have increasing opportunities to develop authentic connections with their fans and increase their reach.
What can your business do combat declining Facebook organic reach and get seen?
If you've seen your organic reach continue to decline in recent months, there are steps you can take to set yourself up for success and avoid getting tuned out.
Let's start by looking at a few things you can try right away:
1. Move relationships beyond Facebook
Look for opportunities to move the connections you've made on Facebook to a place where you can build relationships with them on your own terms.
Email marketing allows you to reach your audience directly in a place they visit every day — the inbox.
If you have an email list, you don't have to worry about changing algorithms that restrict who sees your posts.
Tip: You can try email marketing for your business for free. Sign up for a 60-day trial of Constant Contact.
There are plenty of ways you can grow your email list on Facebook. Start by sharing a link to a recent email and encouraging your fans to sign up to stay in touch with you. You can also add the Join My Mailing List Facebook app to your Facebook Business Page.
Here's an example from JO Social Branding: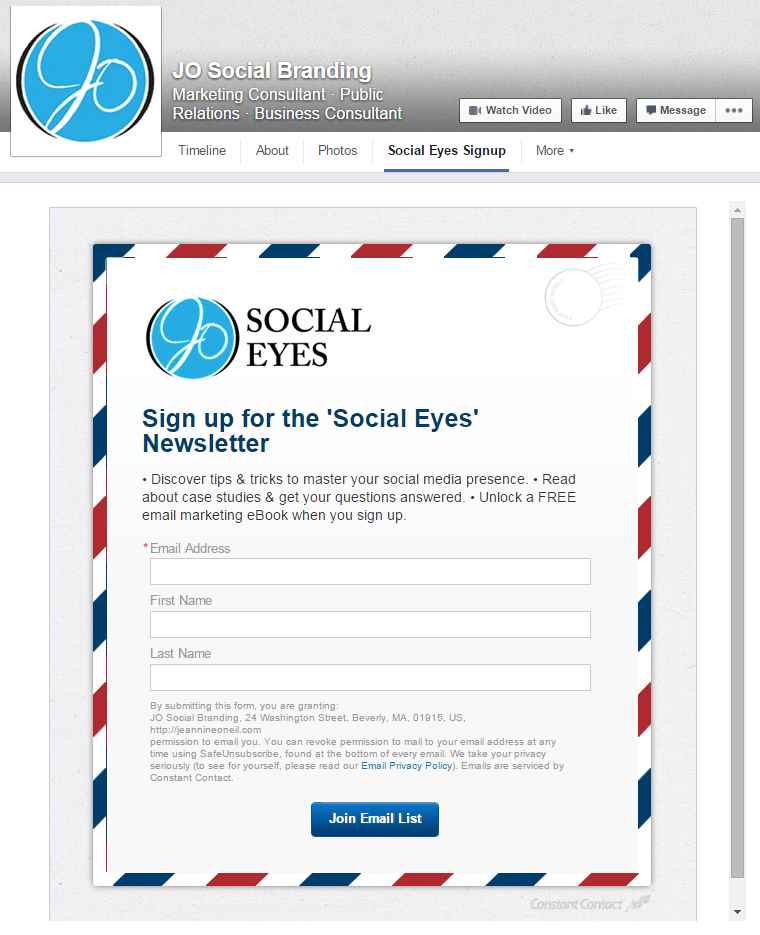 2. Identify your recent top performing posts
Use your Facebook Insights to see which recent posts received the best reach. You should also look to see which type of content is generating the highest response in the form of comments, reactions, and shares.
Ask yourself:
What are some of the unique characteristics of these posts?
Is there a particular type of content that's performing best (image, video, links, text)?
What about the copy of the post? Is there anything unique about the topic or language you used?
Identify 3-5 of your top performing posts and use those posts as models for your upcoming content.
We've recently found that Facebook Live video was getting the best reach for ou audience. Want to give Facebook Live a try? Here are 10 Things We Learned From Our First Facebook Live.
3. Experiment with timing and frequency
Once you've figured out which type of content is working best, you can think about timing.
Unfortunately, there is no one-size-fits-all answer to when is the best time to post on Facebook? But there are steps you can take to figure out which time of the day your posts are more likely to be seen.
You can test posting at different times to see which performs the best and also look at past results to see how your posts performed at different times of the day.
You'll also want to think about frequency. For some pages, posting 3-5 times per week will be all they need to keep their audience engaged. Others may need to post on a daily basis or multiple times a day to have their posts show up better.
Test different times and frequencies for your posts — you can use Facebook's native post scheduler to schedule posts in advance. 
4. Develop an advertising budget
If you're going to use Facebook to promote your products or services, or to let people know about upcoming sales or events, you need to have an advertising budget for Facebook.
This doesn't mean you'll have to pay to have every post seen by your fans. But when you do have something big to promote or want to get more exposure for something you have going on — you can use Facebook's advertising tools to reach a wider audience.
For a bakery, this could mean investing in paid ads as you head into a busier season like the holidays. Or, if you're a service business, you might want to promote posts at a time where you know potential clients are more likely to need your help.
You can use Facebook Ads to target existing fans, or you can reach a whole new audience using Facebook's targeting features.
Facebook Ads are also a great way to build your email list. Constant Contact's tool for Facebook Advertising makes it easy to transform a newsletter into a targeted Facebook Ad.
5. Keep your details up-to-date
Even if you decide to scale back your Facebook posting, don't overlook the value of using Facebook to help new customers find your business.
Review your business information like hours and location, and make sure you've completely filled out your bio so that new customers can find the information they are looking for.
You can also use this space to provide links to channels you update more regularly. For example, your Instagram account or blog.
We want to hear your Facebook questions!
We'd love to hear what questions you have about Facebook and the changes that have taken place. Do you expect to do more with your Facebook marketing? Have you considered calling it quits?
Remember, Facebook organic reach does not make or break the impact of your page. Put these five tips to work and you'll continue showing up for your fans and deepening your customer connections.
Visit our Facebook 101 Page for more Facebook tips and ideas to develop a successful page for your business.