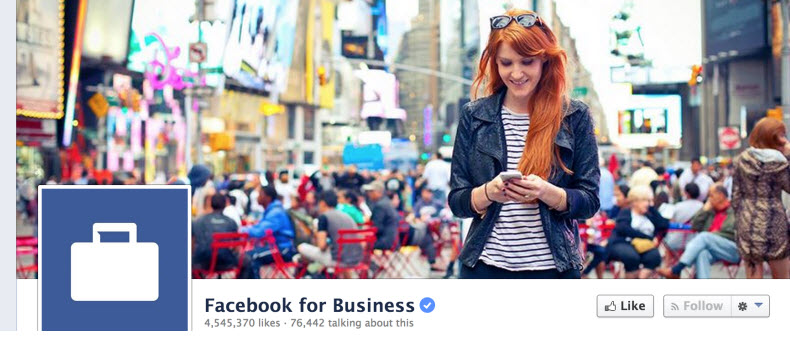 Facebook has announced a redesign for brand pages that will begin rolling out in the coming weeks.
Don't panic.
While the change may take a few days to get used to, the redesign is meant to simplify, not complicate your Facebook experience.
Find out what you need to know about the newest changes, plus get caught up on the other marketing stories you may have missed in this week's marketing news roundup.
In the announcement, Facebook said the redesign will, "…make it easier for people to find the information they want and help Page admins find the tools they use most."
Here are some of the big changes you need to be aware of:
Single-column post display: One of the most notable changes is that Facebook will now display all of your page's posts in a single column, rather than the two-column display that brands have become familiar with in the last few years.
Business info in left sidebar: The left-side column will feature important information about your business — including location, hours, phone number, website, and access to any photos or videos you have shared.
Tabs moved to left sidebar: It was originally reported that tabs would be moved into a More dropdown menu. It was since been confirmed that tabs with images, will be listed beneath your business info on the left sidebar.
Easier access to admin tools: Facebook is removing the admin panel from the top of pages and introducing a simplified look at your week's activity in a feature called This Week, which will show Page Likes, Post Reach, Notifications, and details about any Ads you have running. Facebook is also adding new navigation options to the top of the page, making it easier to access your activity, insights and settings.
Pages to Watch available to all admins: With Pages to Watch, admins can create a list of pages similar to theirs, and compare their performance.
Bottom Line: While redesigns are often a source of anxiety for small business marketers, it does seem that this change will help simplify the way you view and navigate your page.
Many have expressed concern about Facebook's decision to remove tabs from the top of your page. But as you may have already seen if you've been using tabs, the best way to get people to your tabs — whether it's an email sign-up form on your Facebook Page, a menu of your services, or a promotion — is to point people directly to them.
The vast majority of Facebook interactions occur within the Facebook News Feed, not directly on your page. Rather than waiting for people to come to your page to find your tabs, Facebook gives you the option to share content that links directly to them. This will not only help drive people to your tabs, but will also enable fans to help spread the word and generate social visibility by liking, commenting, and sharing.
You can use Facebook's Ad tools to help promote your tabs as well.
You can also take your promotion outside of Facebook. For example, make sure to leverage your existing network by including a link in your email newsletter or sending out a special announcement. Share links on your other social networks to help drive people to your Facebook Page.
Here are some of the other top stories that caught our eye this week…
Yahoo! announced this week that they have partnered with Yelp to integrate local data into search results on both mobile and desktop.
People using Yahoo! to search for local businesses will have easier access to reviews, business information, and pictures, which will be displayed prominently along-side search results.
Bottom Line: Yahoo! is just the latest company to partner with a review and listing platform to improve local search results. This is something Google has done with Zagat for quite some time.
And while Yahoo! may not have the same volume of search activity as its larger competitors, this provides another example of why making sure the information people are finding on sites like Yelp is accurate and up-to-date.
Pinterest has introduced a new feed for retailers using the site to sell products. With its new Gifts Feed, Pinterest will only show Product Pins that are enhanced with pricing information, availability, and where the items can be purchased.
Users will be able to filter results based on pricing, ranging from $25-$50 to over $200.
Currently, Pinterest is curating pins for the new feed; users cannot directly add their own pins.
If you do want your pins to be picked up, you will need to enable Rich Pins functionality on your business's website.
Bottom Line: Pinterest has been delivering impressive results for online retailers of quite some time. In fact, a recent report found that the value of a pin has increased 25 percent in the last year alone.
If you're a retail business that's considered using Pinterest, now is a great time to get started. If you're already on Pinterest, it's important that you're enabling rich pins so that you can get the most from this valuable platform.
Have questions about any of this week's top stories? Let us know in the comments below.