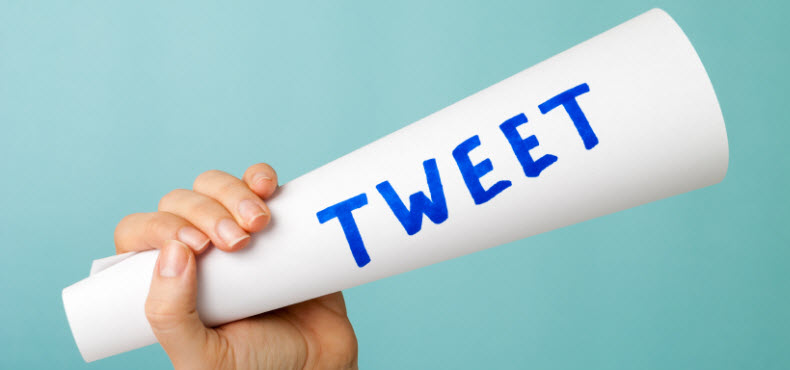 You've been on Twitter for a period of time now and have amassed a number of followers. That's great and all, but are those followers doing anything for you besides scrolling through your tweets on their timelines?
Finding actual leads and turning your current followers from leads to customers on Twitter may come across as a daunting task. But there are plenty of things you can do to build a relationship that goes beyond just favoriting and retweeting. You just need to look in the right places to find those conversations worth having.
There are two types of leads on Twitter:
1. Those within your network.
2. Those outside of it.
You're probably already sending an email newsletter to your existing customers, and chances are you are asking them to follow you on Twitter. But are you actively engaging, replying, and interacting with those people once they connect with you? If not, you could already be missing out on a big opportunity to turn a potential lead into your next great customer.
The second type of lead on Twitter is someone who you aren't already connected with, but may already be sharing your content or talking about you on Twitter.
Don't worry, both leads are easy to identify, engage, and convert using 140 characters or less!
To help you identify both audiences, it's important to keep conversations organized.
One of our mottos over at MarketMeSuite is that to be effective with social media marketing, you've got to cut through the clutter. That's why we created our Smart Inbox, which you can use to filter your social media updates and keep you up-to-date with the conversations that are important to you.
As a small business, you'll want to pay attention to conversations that are relevant to your business and the services you provide.
One of the ways you can do this is with Twitter search. Come up with topics and keywords that you think potential customers would be using, and Twitter's search tool will pull in a full list of conversations where those terms are being used.
You'll also want to look for ways to focus those results based on location. This is especially true if your business is focused on a local clientele.
With MarketMeSuite's Real-time Search, you're able to compile all tweets related to a specific search term in one feed.
So say you're that SEO service looking to build out leads through Twitter. Create a Real-time Search that looks something like this: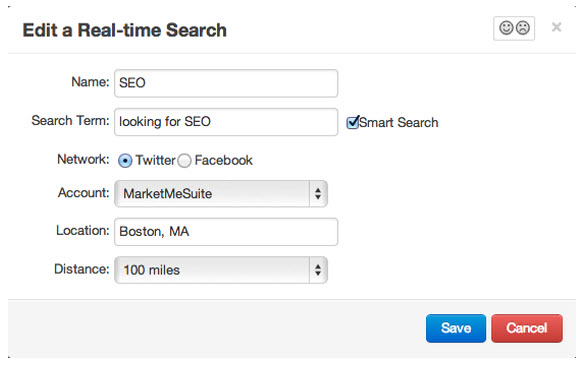 In no time you'll have a feed of tweets from users looking for an SEO company in the targeted location that you provided.
You'll also have the chance to flag those conversations as potential leads and look for opportunities to reach out and spark a conversation. If someone has a question that relates your business, answer it. If they are talking about a topic and you have content that you think they would find interesting, don't be afraid to share it.
This will not only help attract a new Twitter follower, but could also be the first step to creating a valuable customer relationship.
Once you've mastered engaging with your current followers, and finding new and relevant ones through search, you may be ready to graduate to finding leads with paid acquisitions.
Lead Generation Cards can be created by any marketer who has a Twitter Ads account.
The cards, which allow user's to fill out their information right on their own timeline, work right within your Promoted Tweets that you've created.
You can also send out a card-containing tweet to your current followers free of charge, but by promoting a Lead Generation Card, you're guaranteed to reach a larger audience. You are charged per engagement on the card (Twitter suggests a starting bid around $1.50 – $2.20), but you're paying a minimal fee to acquire some potentially useful user information.
A Lead Generation Card features:
A short description (50 characters max) of what your business's benefits.
An image (must be at least 600×150).
A call to action (20 characters max).
You'll also have to paste in your privacy policy and card details URL, which explains further to users what the offer is all about and what their information is being used for.
You can grow your email list right through Twitter! Create a Card that offers a promotion or free trial and before you know it you could have a boatload of data from users interested in your product or service right at your fingertips.
To recap:
By identifying the two different types of leads (those who are already engaging with you and those you should be engaging with), taking advantage of social media marketing tools to help locate and organize the most important conversations, and using Twitter's advertising tools to boost visibility and attract new customers, you'll be on the right track to being a powerhouse in the Twittersphere.
It's reported that 82 percent of all social media-originated lead generation comes from Twitter, so start looking beyond retweeting your followers, and start growing your customer base today!
How have you been able to use Twitter for finding leads? Any ways you'd like to recommend that weren't discussed? Let me know in the comments below!
MarketMeSuite participated in the pilot of the Constant Contact Small Business Innovation Program. Visit the Constant Contact MarketPlace to learn more about MarketMeSuite's new integration with Constant Contact!