I screwed up.
Back during my consulting days, I met a potential client at a party hosted by a mutual friend.
We spent part of the evening talking about a marketing initiative she was trying to get off the ground. We agreed to get in touch later to discuss the possibility of working together.
She gave me her card and asked me to follow up with her.
And that's where I blew it. For some reason, I put it off.
By the time I sent the follow-up email, it was too late. She had already moved on with someone else.
The same mistake can happen with email marketing.
When a customer gives you their email address, they want you to contact them. The customer is highly engaged at this point and a prime candidate to shop with you again. But, if you wait too long, you run the risk of the customer forgetting they signed up.
Even worse, they may have already spent their money at another shop because they forgot about you.
Here's how to avoid this mistake:
1. Put a system in place to regularly upload contacts.
Collecting email addresses is only half the battle. If you've been using a paper sign-up sheet near your register, the next step is to make sure they're getting added to a contact list within your email marketing software in a timely manner. (Check out the list growth tools in this post to avoid the manual process altogether.)
2. Make following up easy with a welcome email.
Make sure your customers hear from you as soon as they're added to your email contact list by setting up a welcome email. This email goes out to your new contacts automatically, allowing you to take full advantage of this highly-engaged period without doing any extra work, aside from setting up the email the first time.
For example, Susan Hordych of Suzi's Sweet Shoppe, customized her welcome email to inspire repeat business by including a 20 percent off online code — which new email contacts receive immediately after signing up.
3. Set up an automated email series.
This is another way to "set it and forget it." Extend the idea of the welcome email even further by creating a series of emails that go out to new contacts. You set the number of emails and the frequency the emails are sent. This would be a great way to let someone new to your business know about things they may not already know you offer.
For example, let's say you sell cheese at your shop but you also serve hot food and sandwiches with daily specials. Your automated email series would be an opportunity to let people know about your regular menu items, the stories behind them, and any other regular in-store events they should know about.
Give your shop a better chance of encouraging repeat business.
With each day that passes without a follow-up email, the likelihood of tapping into the highly-engaged state of your customer dwindles.
For your email marketing to have the greatest impact you need to set up a system to regularly enter new email addresses and have a simple plan for sending something to the customer as soon as possible.
Over to you. What are your best email follow-up tips?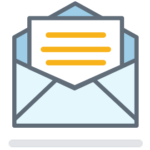 Is email marketing right for you?
See why smart small businesses use email marketing to drive more business. We'll show you exactly what it can do for you, and ten tips to get started.
Get your Guide!
By entering your information, you permit us to reach out to you in the future.