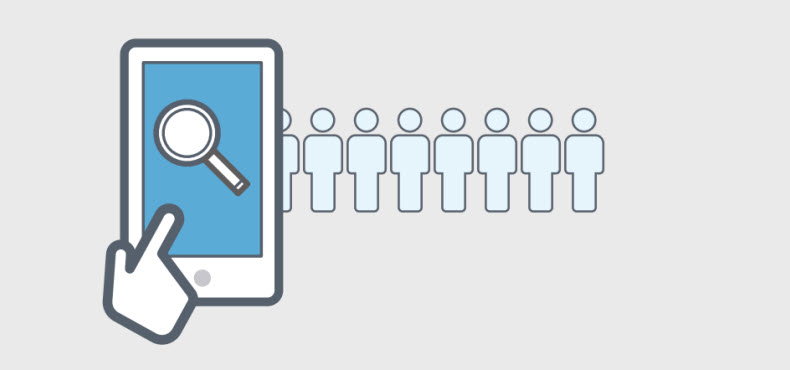 The ways new customers find your business, has changed a lot in recent years.
But even with all the changes that have taken place, a lot still remains the same.
People still ask questions, search for products and services, and seek help from businesses in their local area.
Friends, family members, and colleagues still recommend their favorite businesses and show their support whenever they get the chance.
The only difference is now, people are using devices — like smartphones and tablets — and new tools — like search, social media, listings, and review platforms — to talk about their favorite businesses and find the information they're looking for.
If you've visited the blog, received our Hints & Tips newsletter, or connected with us on any of our social media platforms, you may have noticed that this is a topic we've been talking about a lot over the last few months.
If not, don't worry. We've compiled some of our top resources to help your business get discovered, reach new customers, and ultimately do more business.
We've organized these resources into categories to make it easier to find the information you need to succeed.
Taking control of your online information
One recent survey of smartphone users found that 75 percent have used a mobile device to get real-time location-based information.
When people find your business, make sure your information is accurate and up-to-date. You wouldn't want them to visit your storefront, just to realize you moved last week.
This starts by identifying all the places people are using to find information about your business.
Once you identify these places, you'll want to take an inventory of the information that's being found there, and take steps to control that information so you never miss a chance for someone to connect with you.
1. Making an Inventory of All the Places Customers Find You Online
2. Understanding One Way People Find You Online
3. How to Prepare for When New Customers Discover Your Business
4. Understanding Where Your Information Comes From Online
5. Five Ways to See How New Customers are Finding Your Business
6. Three Things You Can Do to Tidy Up Your Online Presence
7. Are You Turning Potential Customers into Clark Griswold?
8. [Guide] How Mobile Search Can Help You Find Your Next Great Customer
An introduction to SEO
In addition to taking control of your online information, you'll also want to optimize your content to help your business show up in search results to more effectively drive customers to your business.
This process is known as Search Engine Optimization or SEO.
Don't let its name fool you. There are simple things you can do to improve your chances of showing up in relevant search results.
To provide an introduction to SEO basics, we've worked with a number of SEO experts to get their advice.
9. Simplifying SEO for Small Business: 9 Questions with an SEO Expert
10. What is Search Engine Optimization? Getting Started is Easy.
11. How to Get Your Business to Show Up on Google
12. How to Get More Than Lucky Researching Keywords
13. Google Plus: Your New SEO Valentine
14. What Should I Do About Google's Secure Search?
Using content to reach new customers
A big part of any SEO strategy, will be creating content that's interesting and relevant to the people you're trying to attract.
This includes the content you post on your website, but will also mean creating content on a regular basis on a blog as well.
Don't worry. Starting a blog doesn't need to put a strain on your marketing time or budget. When done right, it can actually help alleviate some of your biggest marketing dilemmas.
Once you've learned how to consistently create content on your blog, you can look for opportunities to share your content on another business or organization's blog, to help you reach new audiences.
Here's what you need to know:
15. Understanding the Impact of Content People Want to Share
16. A Simple Strategy for Writing Your First Series of Blog Posts
17. I Already Have an Email Newsletter — Do I Really Need a Blog for My Business?
18. [Q&A] How to Use Guest Blogging to Grow Your Blog and Your Business
Understanding the importance of social visibility
While you may have only thought of social media as a way to connect with existing customers in the past, today sites like Facebook, Twitter, and Pinterest are just as important for helping you be discovered as well.
Part of using social media to your advantage, will be making sure you're taking steps to increase your visibility within each of these networks.
But you will also want to think about the content you want people to find when discovering you for the first time.
19. Six Uncomplicated Social SEO Tips for Small Businesses
20. Show Up in the Facebook News Feed! 8 Things that Really Work
21. How to Use Social Media to Build an Audience for Your Business
22. One Benefit of Having a Facebook Page That Most Business Owners Overlook
23. Why You Need to Participate on Social Media
24. What People Think About When They Find Your Facebook Page
25. [Guide] Facebook for Small Business: How to Get Discovered and Generate New Business
Have additional questions about what you can do to help your business get discovered online? Post them in the comments below.