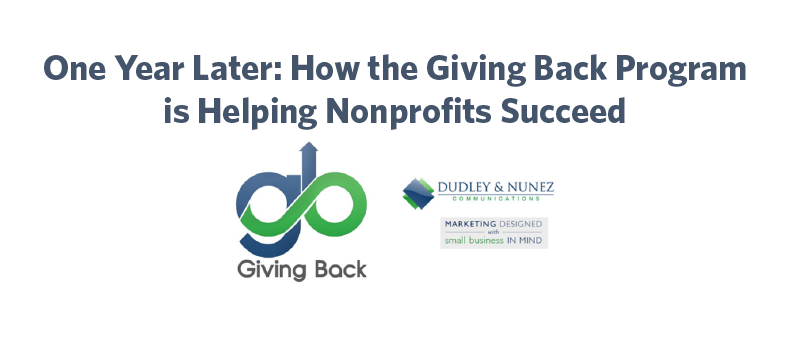 No industry understands the importance of giving back better than nonprofits.
That's why Maureen Dudley and Celia Nunez have made it their mission to give back to them.
As the winners of Constant Contact's Solution Provider of the Year award in 2013, the team behind Dudley & Nunez Communications knows how to create long-lasting relationships through email marketing.
In August 2014, they launched the Giving Back Program to help nonprofits get started with Constant Contact through free accounts, training, and resources.
I spoke with Maureen last year, right at the launch of her program. Now, one year later, she is happy to announce some major successes she's seen thus far.
Best of all, she is still actively looking for more nonprofits to help.
Find out the details by reading through our most recent conversation:
1. It's been almost a year since we last spoke, how have things been going with your Giving Back Program? Any highlights you'd like to share?
It's been a great year for the Giving Back Program. Since launching in August 2014, Dudley & Nunez Communications has been able to help over a dozen nonprofits across the nation, from a YMCA to a disabled veterans program to a school district. We've donated over $6,000 in money and time this past year and have a goal to donate even more next year.
The biggest highlight would have to be working with such big-hearted people. The people who staff nonprofits are dedicated, caring, and just plain nice. We love working with them.
2. Tell me about what you are offering to nonprofits that's so valuable to them?
A lot of times, nonprofits are so focused on helping others that they forget to let people who could help them (through donations or volunteering) know how to do that.
That's where we come in. We help nonprofits get started in email marketing so they can effectively communicate with their donors and volunteers.
3. What are some of the biggest marketing challenges you see nonprofits encounter? How does the Giving Back program help them through these challenges?
Getting started with email marketing is a big hurdle for many nonprofits due to limited money, time, and technical experience. Our Giving Back Program addresses those challenges in three ways by providing:
a donation to cover the cost of the Constant Contact subscription;
a readymade template customized to the nonprofit's brand; and
training on the Constant Contact software
4. What have the responses been from the nonprofits you've worked with?
The two biggest responses we've seen are gratitude — and relief! Deep down, these nonprofits knew they should be using email marketing to engage their donors and build their communities. They just needed a little help getting started.
Here are a couple quotes from nonprofits involved with the program:
"The Giving Back Program was even better than I expected. During our launch call, Maureen helped us get set up with Constant Contact and then immediately made an online donation to reimburse us for our six months of prepaid service. There were no hidden charges. Dudley & Nunez made getting started with Constant Contact a breeze for our nonprofit." — Colleen Nelson, Program Coordinator for Compass ShiningCare.
"As we've expanded, we've wanted to improve our use of online marketing tools for our agency. One of our board members highly recommended Constant Contact, and the Giving Back Program was just what we needed to get started. The reimbursement of start-up fees was helpful, but even more valuable was the time savings Maureen provided us through the free graphic template, the setup help, and the online training." — Maryanne Mountain of Lighthouse Recovery Services.
5. What has been the most rewarding part of the program for you?
The nonprofits have been so eager to learn and jump in. It's been very rewarding to see them use the Giving Back Program resources as a springboard for email marketing success.
We've been so impressed with these nonprofits that we've collected some of their emails and developed a seminar/webinar presentation to inspire other nonprofits.
6. Do you have any advice for nonprofits just getting started with email marketing?
Take advantage of Constant Contact's free local seminars, online learning, and customer support. We've found the U.S.-based customer support to be especially helpful to those just starting out.
7. Is there still a chance for nonprofits to get involved with your Giving Back program?
Absolutely! Any 501 (c)(3) nonprofit in the United States is eligible to apply at http://bit.ly/GivingBackProgram.
Want more information about the Giving Back Program?
Nonprofits can read the program's FAQs and apply online. You can also email Maureen at maureen@dudleyandnunez.com or join the social conversation with hashtag #GivingBackProgram.