Earlier this week we took a look at the incredible amount of emails sent by small businesses over Thanksgiving Weekend, and in particular the huge jump in email volume between Cyber Monday in 2013 and 2014.
This time around, we're exploring what happened on #GivingTuesday — the Tuesday after Cyber Monday devoted to giving back — as well a few interesting trends we saw among specific industries over the course of Thanksgiving Weekend.
So put on some sweatpants, sit back, and relax, because we're going in for second helpings!
#GivingTuesday has Arrived
Below is a chart with our email volume numbers for the week of Thanksgiving Weekend 2014:
Now here's the same chart, with Giving Tuesday added in:
Giving Tuesday 2014 is now officially the second busiest day in Constant Contact's history in terms of customer emails sent from our servers, behind Cyber Monday 2014.
These are impressive numbers — especially considering that Giving Tuesday has only been around since 2012!
As we expected, activity on Giving Tuesday was driven in large part by nonprofits.
Here is the percentage of emails sent out by nonprofits over the course of Thanksgiving Weekend: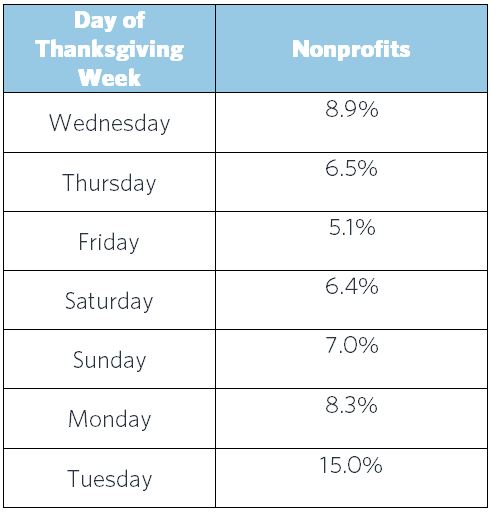 Notice the large spike in activity on Giving Tuesday compared to the rest of the week. In fact, nonprofits sent more emails on Giving Tuesday than any other industry, as you'll see below.
Retail Dominates Thanksgiving Weekend
Following up on our results from earlier in the week, we also chose to investigate four other industries that tend to send the most emails over Thanksgiving Weekend: Retail, Sports & Recreation, Education & Services, and Entertainment (music organizations, theater and film groups, etc.).
As you'll notice below, retail businesses make up a hefty portion of emails sent:
This makes sense, as retail stores are a natural fit for time-sensitive discount holidays such as Black Friday, Small Business Saturday, and Cyber Monday. (As mentioned above, nonprofits rule the day on Giving Tuesday.)
Diving a little deeper, the percentage of emails sent by these four industries was largely consistent with what we saw in 2012 and 2013, with one exception: Sports & Recreation.
Here is the percentage of emails sent by sports & recreation small businesses, per Thanksgiving Weekend day, since 2012:
Almost without exception, every day saw an increase since 2012 (especially Black Friday). This might speak to the overall popularity of Thanksgiving Weekend and how other types of businesses are realizing that they can benefit from the holiday. Also, what better time is there to try and motivate new customers to join a gym or fitness program than after the indulgent time of Thanksgiving? There's certainly a New Year's resolution play there, as well.
So there you have it!
We hope that you found this data as interesting as we did, and maybe a little tastier than the turkey that's still lingering in your fridge.
Did you participate in Small Business Saturday, Cyber Monday, or #GivingTuesday? Any surprises from Thanksgiving Weekend? Let us know in the comments!