For those who sell products, planning a holiday marketing campaign is easy. You can offer coupons, discounts, free shipping, and lots of other promotions.
But what do you do when you sell a service or experience? How can you get customers to engage with you during the holiday season? A lot of our customers in this position have great ideas for holiday marketing.
Here are three ideas that worked for them:
Promote your events
If your business holds events, give your audience a discount or coupon to promote them. Geek Girl, a technology training organization, recently sent this email that offered an early bird discount of 20 percent off to anyone who buys tickets by the end of 2013.
Package your knowledge
Business owners who sell services or experiences are experts in their industry. That's what customers are paying you for, right? Put together a digital asset to give your audience a taste of what you do, and encourage them to become a client to experience your full services. The giveaway could be anything — a list of 10 tips, an e-book containing your best blog posts from the year, or a webinar. Health coach Michelle Pfennighaus of Find Your Balance recently shared her recipe for Halloween pumpkin fudge cups and registration for a free webinar on food allergies.
Try a contest
Keep your business top of mind by encouraging your audience to compete for a prize. It could be as simple as submitting their name and email to win the prize, or you could ask them to create something. Workers' Credit Union recently launched a pumpkin carving contest on their Facebook Page. Fans who submit photos of their pumpkins have a chance to win a $50 gift certificate to a local grocery store.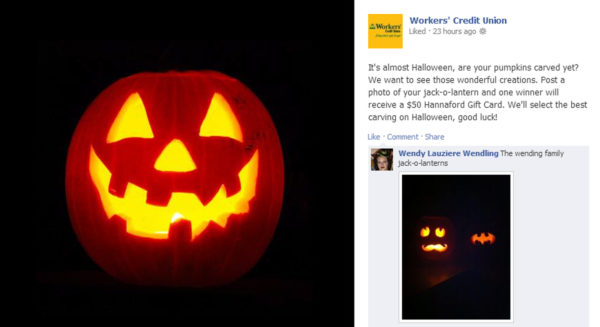 Ready to get started?
Log in to your Constant Contact account today. 
Not a Constant Contact customer? Start your free 60-day trial today!