87% of shoppers now begin product searches online.
Is your business ready to be found this holiday season?
Here are five ways to make sure shoppers find your business during the holidays.
1. Create a website
With so many people searching online, it's surprising that almost 46 percent of U.S. small businesses still don't have a website. If you don't have a website yet, find out how you can build a website in just 15 minutes.
2. Optimize your website for search
If you do have a website, great! Now it's time to take advantage of search engine optimization (SEO) so your business shows up on the first page of search results when people are looking for what you offer. Not sure how to get started? Start here: What is SEO?
3. Write fresh, timely blog content
Beyond people looking for specific items and your actual business, sometimes people are in the market for gift ideas or have questions about your product or service. When they search, fresh content in the form of blog posts can put your business at the forefront of search results. Here's a simple way to start your blog.
Keep in mind your website alone may not be enough.
Did you know that companies with omnichannel customer engagement strategies retain on average 89% of their customers? This is compared to a 33% customer retention rates for companies with weak omnichannel strategies. That's why it's important to have an online presence in as many places as possible.
4. Claim and update your listings
More and more people turn to their favorite apps or listing sites to find businesses where they may want to spend their money. To top it off, 70 percent of mobile searches result in an online action within an hour of the search being conducted.
If your business isn't there or the information is wrong, you lose out. Here's how you can start managing your online listings.
5. Keep your social profiles active and up-to-date
Shoppers consult friends on their favorite social channels for recommendations before they make purchase decisions. Make it easy for people to spread the word about you by keeping your social channels active and up-to-date. Here's how to build your social media audience.
Still not convinced that you need to be online this holiday season?
Keep this in mind: In 2018, about half of retail sales were influenced by a customer's use of any digital device before or during a shopping trip. Your business should be online.
Here's what you can do right now
If you do only one thing before the holiday shopping season, start with the most popular search engine, Google. Make sure your business appears on Google Search and Maps.
You can find more holiday marketing tips here.
Editor's Note: For relevance and accuracy, this post was updated on November 13, 2019.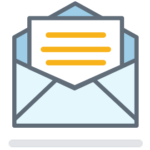 Is email marketing right for you?
See why smart small businesses use email marketing to drive more business. We'll show you exactly what it can do for you, and ten tips to get started.
Get your Guide!
By entering your information, you permit us to reach out to you in the future.