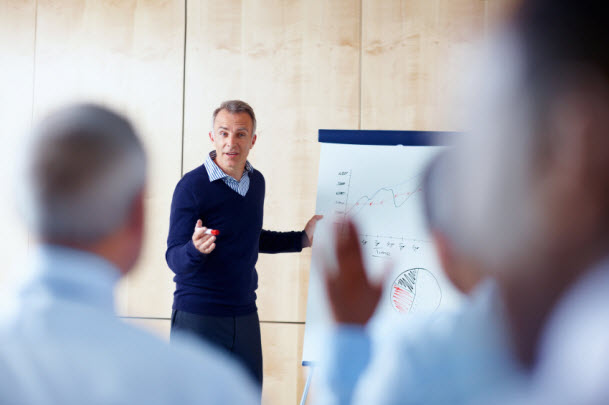 When you typically think about a business event, what comes to mind?
Fancy displays and decorative booths? Handouts that get thrown away or lost before the day is through?
If that's your idea of an event, it's understandable to be a little hesitant when it comes to event marketing.
But then again, think about what you offer that no one else does. Whether your business sells a service or a complex product, events are still crucial to boosting sales. That's because, without educational seminars and workshops, no one will ever know why they need what you're selling in the first place.
That was certainly the philosophy of Western Energy Control Solutions, a firm based out of Costa Mesa, Calif.
The business helps clients with energy-efficient lighting solutions by providing training, budget analysis, and other services to both commercial and residential building owners. Most products being sold require education, and in the beginning, just getting people to come to the seminars proved to be a challenge.
"We were relying on clients to drive attendees [like electricians and distributors] to each event," says Jimm Reifsnyder, principal representative. But he knew there had to be a better way.
Eight is not enough
Western Energy Control Solutions wrestled with low attendance during many of the seminars. Jimm explains that each session the company hosted was meant to train people in safe and effective product use, but the events only attracted around eight attendees each.
That lack of attendance meant fewer people knew how to use the product — or train others for it — and that meant poorer sales for the company.
Not to mention that a lack of training could prove to be literally electrifying, since Western Energy Control Solutions sells products from Lutron Electronics, many of which are electrical.
Back in 2009, Jimm turned to Email Marketing and Event Marketing, thinking that these new tools could help improve the sessions. But first, he had to think about what made a workshop successful.
What if you held a workshop and nobody came?
It's an age-old question. If someone held the world's best seminar and no one knew that it was there, would the event make a sound? Awareness is crucial for any event, and that was something that Western Energy Control Solutions had to improve.
Jimm decided that the best way to create awareness and show off the value of each event was to send email invitations that linked directly to a registration page. Sales representatives throughout California gathered email addresses, and now, every time a new workshop is coming up, Jimm sends an invitation via email to the contacts in that specific region.
"I'm 100% sure that a big reason our participation increased was because we could reach all of our customers," Jimm says. "Originally, sales reps could drive for two weeks without seeing a customer," he says. "Now, we can just point and click to get in touch with 2,300 people."
Making registration easy for host and attendees alike
The biggest change that spurred increased attendance, however, was taking the registration itself online. The registration form for each event hosted by Western Energy Control Solutions is clean, quick, and straightforward. Attendees are able to register from the company website or from email invitations, which makes the entire process much easier.
Not only that, Jimm can use Event Marketing to keep track of who is consistently attending the events and who keeps declining, which helps him understand the primary audience of target seminars. It also means that monitoring RSVPs is all automatic.
And has taking things online worked for Western Energy Control Solutions?
Well,  attendance for events more than doubled, jumping from the average of eight people to 25. "When we started seeing those new numbers per seminar, we also saw a 30% increase in sales," Jimm says. "Even if we had called attendees ourselves, we probably wouldn't have gotten this type of return."
How has the Event Marketing tool changed your business or organization? Share your story in the comments field below. And to get even more event marketing insights, be sure to follow @CTCTEvent on Twitter.