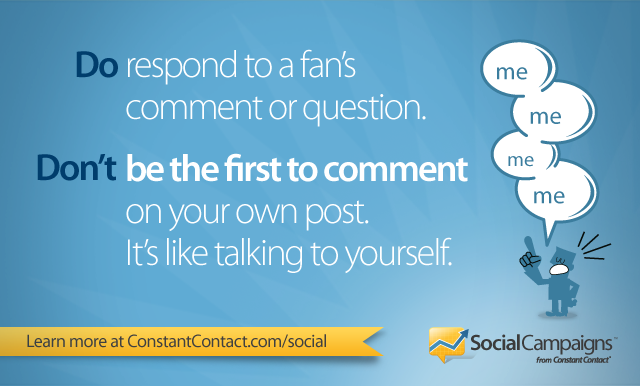 To respond … or not to respond?
With apologies to William Shakespeare, if you have a Facebook Page, then that is the question.
But it's really not a question. You should respond to feedback shared on Facebook. After all, if someone were to call you up or walk into your place of business to tell you how much she likes your product or service, you'd reply, right?
So why should you treat Facebook comments any differently?
In short, because you can.
Facebook gives you the opportunity to respond differently to some kinds of feedback than you do to others.
Let's take a look at when you want to respond and when it's less important:
When to respond
1. When people are happy. If someone posts to your wall how much he or she loves you, your business or organization, or your products and services, then by all means reply with a "thank you" message. In fact, make it a rule to always acknowledge positive feedback. Better yet, ask a follow-up question (Which salesperson did you speak with? What about the experience was so good?) so the person comes back and tells you more good things.
2. When people are unhappy. If someone is dissatisfied with an experience, make sure you acknowledge as quickly as possible that the comment has been seen, address the problem and show that you want to deal with it, and then give that person a way to follow-up with you off of Facebook. Perhaps you create a separate email address where this kind of dialogue can take place (either your name in a different format, or a more generic comments@ email address).
When it's less important
1. When you ask a question and receive multiple responses. If you choose to engage your fans by asking their thoughts on a topic, there is no need to reply to each individual comment. That said, you should acknowledge them all and thank people for answering. A group "thanks for your thoughts/feedback" in the comments stream should suffice. If you're asking for constructive feedback, you should add that you'll consider what you've been told, and that people should stay tuned for the next steps you'll be taking. This will show people you appreciate them participating, and will encourage them to do so again in the future.
2. When you get spam comments. It's not unheard of for spammers to post messages on Facebook Pages. How will you know if a comment is spam? One or some of these will be true: The message will be overly promotional, it'll be made by a person whose picture is a bit racy, or it'll include excessive punctuation (lots of exclamation points is a big giveaway). In these cases, there's no need to say thanks. In fact, you may even want to delete these comments. If you don't feel comfortable deleting something, then move it to the Hidden part of the wall; select the Hide Post option from the drop-down menu you get when you click on the options cog on the post.
Good rules of thumb
1. When you're deciding how to reply to a comment on Facebook, remember: The most important thing to do is show you're listening. Some people just want to be heard, and by acknowledging comments, you do that quickly and easily.
2. While the majority of comments you'll receive will likely be positive, some will be negative. And while you should never dismiss these people, know that some will complain just to complain. It's important to have a thick skin in these cases, and not let it affect you too much.
3. One piece of negative feedback is nothing to get upset about. And if you get multiple ones, then you can recognize a trend. That's a great opportunity to make some changes that will surely please your fans.
4. Most importantly, when you respond, make sure you do so in a warm, human voice, not a stiff, robotic one. People are often more comfortable venting and sharing negative feedback when they feel like they're communicating with a faceless, anonymous brand. The more you can show you're an actual person and that you want to help, the more your fans will feel like they're speaking with you, not to you, and they'll give you the benefit of the doubt or err on the side of the positive.
One more thing
You can't decide how to respond if you don't know what's being said. Use a free tool like HootSuite to stay on top of what people are posting and saying on your Page.
One thing that's worked for us is to schedule "Facebook Office Hours," where people can come with their questions or feedback, and they'll know you're there paying attention and ready to respond. In this case, you can create an actual dialogue with your fans and can focus the activity on a specific amount of time. (Just be sure to promote this time so people can plan accordingly.)
The bottom line?
Just like when the phone rings, you get an email, or when you see someone in person, you can't ignore when someone is speaking with you. On Facebook, though, you have options for how you respond. Make sure you're listening and demonstrating that you're open to feedback of all kinds.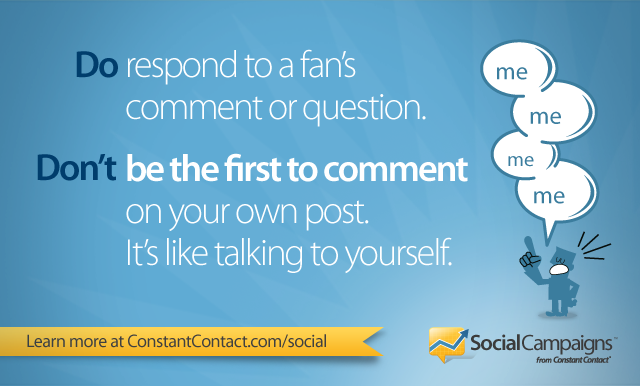 How do you decide how to respond to feedback from your Facebook fans? Share your thoughts with us in the comments section below.