What's in this episode?
20 minutes of marketing awesomeness.
1. This week's topic: How to Ask for Referrals
When you think about your main source of new business, where does it come from? If you're like most small business owners the answer is word-of-mouth referrals. And even though you know this to be true it's likely you're not doing everything you can to get more referrals. Why is that?
It's probably because the thought of asking makes you feel nervous. The last thing you want is to bother people or make them feel uncomfortable. But here's a little secret, most people, especially happy customers, are truly glad to help when asked.
Today, we want to help take the fear out of asking so your business can move forward and grow.
2. Questions/topic we discuss:
The three types of referrals
How to ask for referrals in person
How to ask for referrals online
How to get referrals without having to ask
If you're a Constant Contact customer in the U.S. or UK be sure to check out our special Refer a Friend promotion ending June 30, 2013.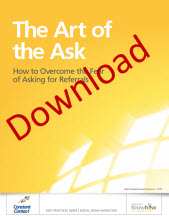 And if you'd like to take a deeper dive into asking for referrals to grow your business check out our free guide, The Art of the Ask: How to Overcome the Fear of Asking for Referrals.
As always we love to hear your feedback so leave a comment and you can now subscribe to The Speakeasy Marketing Roundtable in iTunes! So be sure to do that.
Enjoy!
Listen to the show: Click here to listen to the file in your browser. (Right-click and "Save as" to download to your computer.)
Want to take this podcast with you? Now you can! Subscribe to The Speakeasy Marketing Roundtable in iTunes.
About the Speakeasy
Your marketing questions plus a room full of beer and marketing obsessed colleagues equals the best way to spend some time on a Friday!
Listen in as content manager, Dave Charest (that's me!) moderates a marketing roundtable discussion with social media education developer, Azure Collier, social media specialist, Danielle Cormier, social media manager, Erica Ayotte, senior manager of conversion, Josh Mendelsohn, and social media specialist, Kristen Curtiss.
Ask your social media and marketing questions in the comments below and we'll answer them in an upcoming episode! Or you can email your questions to: SocialTeam (at) ConstantContact (dot) com