Small business owners know what it's like to deal with a time crunch.
With so many things on your plate (and all those new challenges you can't help but take on), completing projects ahead of time isn't always a possibility.
Even with the best intentions and a carefully laid out plan, it's easy for unexpected issues to pop up — and for things like your email marketing strategy to get pushed to the back burner.
But what if I told you being pressed for time doesn't have to be a bad thing for your marketing strategy?
The truth is most of the people on your email list are busy too. They're checking email while waiting in line for a coffee, in between back-to-back meetings and errands, and right before turning in for the night.
And as much as your subscribers enjoy hearing from your business, they're strapped for time just like you.
That's why delivering messages that are fast to create and quick to consume could be best approach for both you and your audience.
Let's look at four tips for creating effective emails, even when you're up against the clock:
1. Develop a reusable, branded template
One of the biggest benefits of using an email marketing service is that you'll have access to professional email templates that help you look good in any inbox.
Looks aside, these templates are also a huge time-saver for your business. Once you put in the time to create a branded template for your business — using your business's logo, colors, fonts, and customized footer — you'll have a reusable foundation to build upon each time you send out a new email.
Branded templates make it easy for you to fill in new content quickly and will also build familiarity with your subscribers so they know what to expect from your business.
You can save an email as a reusable template right within your Constant Contact account so you don't have to create emails from scratch.
Here's how nonprofit, Gorilla Doctors, works from a customized template each month. Notice their logo and donation button featured prominently, followed by a quick introduction and links off to relevant articles.
2. Keep your message short and sweet
Worried about what you're going to say in your latest email newsletter? The good news is you probably don't have to write as much as you think.
A recent analysis of more than 2.1 million Constant Contact customer emails found that emails with 3 or fewer images and 20 lines of text see the highest click-through rates.
With the majority of emails now opened on a mobile device, many businesses have moved away from the lengthy messages jam-packed with links and information.
Instead, consider sending an email with a single-column template, one primary focus, and two or three secondary ideas if necessary.
This concise format allows you to create an email more quickly and lets readers consume your message more easily.
3. Don't be afraid to send at the last minute
Many business owners want to know if there's a foolproof best time to send your email. While you can certainly test out different times and see what works best for you, the timing of the message will also depend on what you have going on at your business.
For example, if you have a registration deadline coming up for a class at your yoga studio, remind your subscribers to sign-up during the last few days before the deadline. Call out the deadline right within your email subject line to grab your subscribers' attention.
If you are ahead of schedule, you can use the schedule tool in your Constant Contact account to schedule messages to send at a later date and time.
Christine Copertino, spa director for Allegria Spa drives last-minute sales by sending out offers that are only good for a single day.
"If we have a slower day and know that we want to reach local people, we can create a quick email and will get at least a few calls right away," Christine shares. "The response is immediate."
Here's an example of an offer she sent to promote facials at her spa:
4. Create emails on the go
Stepping away from your business isn't always as easy as you'd like — which is why mobile technology can be a big help when you need to manage your marketing on the go.
Our recently launched Constant Contact mobile app allows you to create and schedule emails right from your mobile device. You can test and send emails without having to take time away from your business.
All emails created using the mobile editor are mobile responsive, meaning text and images will adapt well to any screen size.
Here are four benefits of using a smartphone to run your email marketing.
Don't wait for great email marketing results!
Even if you're working under the wire, you can still send emails that benefit your business and further connections with your audience.
Think about the one thing that you can get done today.
Log in to your Constant Contact account to put these tips to work.

Not a Constant Contact customer? Start your free 60-day trial.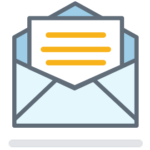 Is email marketing right for you?
See why smart small businesses use email marketing to drive more business. We'll show you exactly what it can do for you, and ten tips to get started.
Get your Guide!
By entering your information, you permit us to reach out to you in the future.