If you've been searching Google lately, then you've probably noticed that some results have a picture next to them.
That's a sign that the author has integrated Google Authorship  with their blog.
Google Authorship essentially links the content you publish on your blog to your Google+ profile. This link between the author and the content they create will eventually have a bigger impact on search results when Google introduces its AuthorRank  algorithm later this year.
So if you're a small business or nonprofit with an active blog, setting up Google Authorship for your authors is crucial. It'll also help you and your authors stand out with your own profile picture displaying in search results.
Here's how to set up Google Authorship:
1. Set up a Google+ Profile 
A Google+ profile isn't hard to create, especially if you already have Gmail account. Just go to https://plus.google.com/ and click the "Sign Up" button to get started.
If you have a Gmail account, just click the "+<name>" tab at the top left of the screen.
2. Make a profile picture
Once you've created your Google+ profile, it's time to put up your profile picture.
This will be the picture that people see next to the search results, so choose wisely!
3. Make sure your content has a byline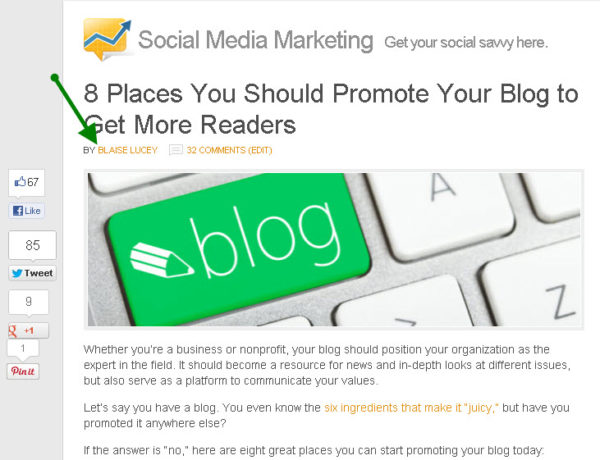 To really make sure that Google recognizes that it's you writing all that great stuff, you have to have a recognizable byline under each article.
4. Verify your domain email address with Google+ 
If your email has the same domain as your blog (like we do, because our blog is blogs.constantcontact.com and our emails end with "@constantcontact.com), then you get to set up Google Authorship the easy way.
Just visit https://plus.google.com/authorship and enter that email into the box underneath the instructions.
That'll also add your blog underneath the "contributor to" section of your Google+ profile, which is under the "About" tab.
You should get a confirmation email from Google. Then, you can verify that email and you should be all set!
If you don't have an email address for your domain…
The process gets a bit technical if you don't have an email address with the same domain, but Google walks you through the steps on how to do it.
 It can take a few days (or weeks, in the case of my Google+ profile) for your picture to emerge next to the search results.
Google has a tool that can help you figure out if you set up Google Authorship with your website, though.
Just go to Google's Rich Snippet Tool, insert a blog post URL, and click "Preview." That will show you whether or not your website now has Google Authorship enabled.
If you see your picture, you can lean back, relax… and continue creating great content that informs and engages your readers!
Want to know why Google Authorship is so important for content creators? Check out Ask An Expert: What Small Businesses Need to Know About AuthorRank!