Did you know, by using a Facebook Page as opposed to a personal profile, you receive a free analytics tool provided by Facebook?
This tool is referred to as Facebook Insights and is something all small business owners should be using to help grow their Facebook presence.
Why use Facebook Insights?
Research plays an important role in the decisions you make about your small business marketing. Facebook Insights allows you to research what your Facebook audience has been responding to, what they've clicked on, and what times they are most active. Facebook provides all of these metrics and more for free.
How to access Facebook Insights
Once you have arrived at your business's Facebook Page, you will find a graph in the middle of the Admin Panel at the top of your Page. Click "See All" to view all of your metrics.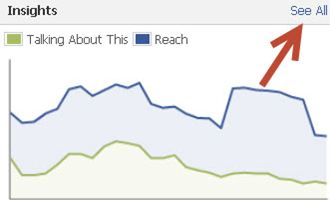 The tabs above your graph are clickable. These tabs allow you to deep dive into specific metrics that will help you fully understand your audience and the content they're interested in.
Along with the tabs above your graph, you will find a list of your posts below the graph with columns that include Date, Post, Reach, Engaged Users, Talking About This and Virality.
There are two things that many people forget about these columns:
When you click a specific column, you can look at this metric from high-to-low or from low-to-high.
If you ever have a question about a specific metric and what it means, there is a small question mark next to each of these metrics which will explain what each metric means…or you can always just bookmark this blog post!
Post
The most important thing to note when looking at your posts is the icon to the left of the content. This icon indicates whether your post contained an image, a link, or if it was a text-only post. When you sort by Reach, Engaged Users, Talking About This or Virality you may just happen to find a pattern.
Facebook has been known to show more of your audience (Reach) a specific type of content. When you sort by Reach, you may, for example, find that you see a lot more text-only posts on the top than any other content type. This is why Facebook Insights are so important. Without looking at these metrics you would never know that you may reach more people if you post content without using an image or link.
Reach
Reach is defined as "The number of unique people who have seen your post." Thanks to Facebook's EdgeRank algorithm, you only reach a certain percentage of your audience. Facebook considers a ton of different things when deciding who and how many people get to see your post. The Reach metric shows you not only how many people saw it, but if you take the time to sort by Reach, you will see what type of posts received the highest reach, as well as how many people engaged in each of your highest reached posts.
Viewing the Reach metrics can help you understand what type of content (i.e. text-only, image, video, or link) receives the most reach. This way you can focus on content that is working best to reach the largest audience.
Engaged Users
The Engaged Users metric is not what it sounds like. Most view this metric and think it means how many comments, likes, and shares you have received on each post but this is not the case.
Facebook defines Engaged Users as "The number of unique people who have clicked on your post." This metric is a great metric to consider when you are looking at the success of a link you posted to your Facebook Page. Though you may not have received many comments, likes, or shares on your link, if your audience has clicked-through to the place you were trying to drive them to, you could potentially consider that post a success.
Talking About This
Wondering how many people created stories because of your specific content? Wondering what a "story" means? There are a lot of people who are confused by this specific metric.
As defined by Facebook, People Talking About This is "The number of unique people who have created a story from your Page post. Stories are created when someone likes, comments on or shares your post; answers a question you post; or responds to an event."
Talking About This helps you to determine what types of content your audience is engaging with. By understanding what your audience engages in, you'll be better able to create a two-way conversations on Facebook.
You may find posts that have a very high "Talking About This" number, meaning you had a ton of comments, likes and shares, but it didn't reach a lot of people. This is okay! That's why we always suggest to small businesses to make sure to change up your content. You don't want to post just images, or just text-only posts, because you may be missing out on one of these metrics!
Virality
Virality is a metric for the analytic brains out there. This metric shows you the percentage of people who liked, commented on, or shared your post based on the number of people who actually saw the post.
Facebook defines it as "The percentage of people who have created a story from your Page post out of the total number of unique people who have seen it"
Get even more data
There is a piece of this that most tend to ignore…the ability to export your data. When you export your data, you get to dive even deeper into your metrics.
By exporting your data you will be able to see what day and time each of your posts were posted, negative feedback, impressions and so much more! This is one feature you should definitely take the time to check out.
I may be a dork about stuff like this, but I think the ability to get all this information for free is pretty awesome!
Still want more about Facebook Insights?
Paige Cahill, Regional Development Director for Constant Contact, and I teamed up and recorded a tour of Facebook Insights. This 10 minute video will walk you through Facebook Insights, as well as explain what each of the metrics mean for you and your business.
Have you used Facebook Insights for your business? Let us know how in the comments section!