Marketing is a puzzle with many different pieces.
And at a time when most aspects of our life are digital, email marketing and social media are two of the largest pieces.
But how do you use them to strengthen your business?
Beginning her social media journey in 2007, Rebecca Coleman started using social media to market her business way before it was the norm.
Starting off with Public Relations, Rebecca quickly learned the importance of using social media and email marketing to strengthen business relationships. She now focuses almost entirely on social media marketing consulting and small businesses blogging to help businesses and not-for-profits all over Canada and beyond.
I had the pleasure of sitting down with Rebecca to discuss her experience working with small businesses and not-for-profits. She shared her advice on social and email marketing, as well as perspective on how the new Canadian Anti-Spam Law (CASL) has affected email marketing for her and her clients.
Read her advice and utilize her experiences to help improve your own marketing practices.
Can you tell me a little about your business and how you got started?
A few years back, I was working at a full-time job while doing some part-time marketing work for local theatre companies on the side.
When my full-time job decided to close their doors, I thought, "I wonder if I could make a living at this theatre marketing thing!"
I went back to school, wrote a business plan, and launched my business on December 1, 2007 doing traditional PR and media relations.
I noticed right away that traditional forms of media (newspapers, TV, magazines, radio) weren't doing so well, but this new thing called "Facebook" had me wondering if I could use it as a tool to help market my clients.
Those initial thoughts brought me to where I am today, working almost entirely in social media marketing.
You have a passion for writing. How has your initial love of writing helped you market and grow your current business?
I started out as a writer in my early years and writing is still my main source of creative expression; which is why I write three separate blogs, and love every minute of it.
Blogging is a fantastic marketing tool! I've been writing a social media blog for my business since I started, which has been my main source of clients. It's hard work though! Blogging takes a lot of time, but the thing that keeps me going is my love of writing and my passion for social media.
If you're looking to be a better blogger, I've just started a brand new e-newsletter called "Blogging Mastery." I curate the best content from the web to help you with your blogging experience.
I'm going to begin by sending monthly, with the eventual goal of sending more frequently. If you're interested, you can sign up here!
You're also a social media for business professor at BCIT! What is the one key learning you hope all students walk away with when it comes to marketing a business with social media?
I start every single class with this incredibly important concept: "Marketing is about creating relationships based on trust."
The concept of marketing has shifted. In order to be successful, you have to cut the hard sales approach, and provide value to your followers. This creates trust between you and your followers, and will, eventually, lead to sales.
What is the #1 struggle you find small businesses and not-for-profit organizations have with social media and what's your best advice to overcome it?
Lack of time!
Creating a plan is the best way to overcome time constraints. Figure out how much time you can devote to social media per day and stick with it, even if it's only 20 or 30 minutes a day.
Email Marketing seems to be a large part of your marketing strategy. How do you integrate your email and social efforts?
The way I look at it, social media has billions of users, but you don't own those platforms and at any moment they could change or disappear.
Your website, blog, and e-newsletter subscribers belong to you and that's incredibly important.
When integrating social and email, I've seen people post their newsletters to Facebook and Twitter after they are published, but I like to do the opposite.
I'll post a Facebook status and a tweet before my newsletter goes out with a teaser telling them why they should sign up. I also have a sign-up form integrated into my Facebook page, and send out occasional tweets inviting people to sign up. Using social media to get new email subscribers is the best way to combat the fact that you don't own your social channels.
Has your email strategy changed now that CASL is in effect?
You know, it hasn't much. If you have been following e-newsletter best practices all along, you have nothing to fear from CASL!
I've only ever added people to my list who had given me permission, so I was super happy when CASL came into effect.
Less spam is a good thing; I think we can all agree!
Have more questions for Rebecca? Feel free to ask in the comment section!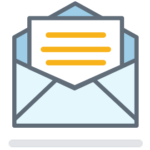 Is email marketing right for you?
See why smart small businesses use email marketing to drive more business. We'll show you exactly what it can do for you, and ten tips to get started.
Get your Guide!
By entering your information, you permit us to reach out to you in the future.