Last October, I had the unique experience of hearing Marty St. George, Senior Vice President, Marketing and Commercial Strategy for JetBlue Airways, deliver the keynote address at the FutureM conference in Boston, MA.
Of all the lessons discussed during the hour long address, one simple lesson about the value of humanity in marketing, really stood out:
 "Humanize your marketing whenever you can…"
In one of the most unpopular industries in the country—where four of the biggest companies in the industry are on the list of America's most disliked brands—JetBlue has found a way to stand apart.
Their commitment to "bringing humanity back to air travel," starts with the type of service they provide, on the ground and in the air. But it also has a major influence on all of their marketing decisions.
And while today JetBlue may be one of the big guys; its human-first approach provides a valuable example to small businesses trying to make marketing decisions in an environment that seems to be getting less and less human every single day.
Where are all the people?
In the age of online marketing, consumers have grown accustomed to interacting with brands online. Even while in your store, restaurant, or office—plenty of customers are still checking their inbox, looking on Facebook, or researching products on their mobile devices.
With all this technology–it's easy for customers to forget that behind every email newsletter, Facebook post, or Instagram photo is a real business, and more importantly–a real person.
Businesses have fallen into a similar trap. With so much focus on attracting more readers, more fans, and more followers—it's easy to forget that behind each online interaction is an actual person. And with them come certain problems, needs, and expectations that your business will need to address.
Is it the end of humanity as we know it? Or is it an unrecognized advantage for a small business like yours?
The case for humanizing your marketing
While technology has certainly changed our lives dramatically, it has not replaced the fact that people buy from people they know, like, and trust.
As a small business, the relationships you share with your customers are the biggest advantage you have over your biggest competitors.
The people (yes, people) you're interacting with via email or on Facebook or Twitter are the same people who live in your community, visit your place of business, and have a clear understanding of who you are and what you're all about.
And because you're not only creating content for emails or Facebook, but are also taking orders, waiting on customers, answering questions, and having conversations with the people who actually read your content, you're able to develop a better understanding of who these people are, what needs they have, and how your business can serve them best.
Humanizing your marketing lets you extend those relationships outside of your place of business and put the people your customers already know, like, and trust in the forefront of your online marketing.
Not only that, but by humanizing your marketing, you'll have an immediate advantage over the businesses who continue to put the same brand-first experience as everyone else. And that could be the difference between whether or not you're able to attract the new customers you desperately need to grow your business.
Let's take a look at 5 ways you can humanize your marketing today.
1. Put people on your website
If you're looking to humanize your online marketing, your website is a great place to start.
Whether you know it or not, your website is often the first interaction customers have with your business online. Many of these people will come through search engines or will discover your site while looking for a solution to a particular problem.
Once they are there, you'll only have a few minutes (or sometimes seconds) to make a memorable first impression. One of the things people will look for is whether or not other people have had favorable experiences with your business.
Recent studies have shown that consumers trust the recommendations of complete strangers over the advertisements of brands. And while you can and should also talk about your products, services, hours, and prices—what most people will want to see when they visit your site is whether or not other people have had good experience with you in the past.
Take a look at how the Serenitee Restaurant Group does this for some of its most popular restaurants:
2. Show your face in the inbox
You want your emails to not only reflect your business but to also reflect the experience customers will have when they walk through your door.
For readers who already know, like, and trust you—seeing a face they're familiar with can help increase the amount of time they spend with each email.
For those people who are new to your business, adding that small personal touch can be a bridge to a meaningful relationship. While they may not know you now, next time they are at your store or in your office, they will.
This means, they will be more likely to introduce themselves, ask questions, and hopefully share their feedback.
That was certainly the case for Susan V. Phillips, owner of Spotlight on Décor.
"Easily 90% of our business comes from our email newsletter," says Susan, who puts a personal photo and signature of each email she sends. "I go to tradeshows and home shows and constantly have people introducing themselves to me because they receive our newsletter."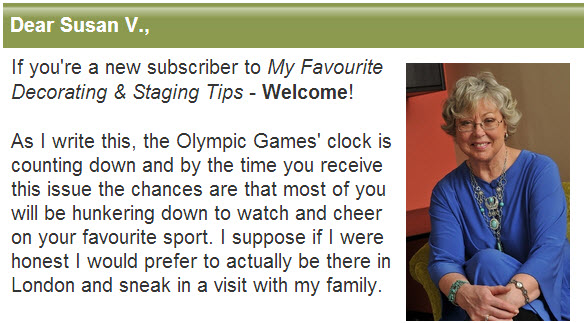 3. Show some personality on Facebook
Businesses that have been using Facebook to interact with customers online in the past have learned that overwhelming their audience with promotions is rarely a successful strategy.
People don't go on social media to be sold to. They go there to interact with friends, stay connected with family members, share photos, watch videos, give recommendations, play games, and talk about the things that matter to them.
For businesses, this isn't just a challenge—it's an opportunity.
It's an opportunity to step back from the mentality of constantly trying to attract new clients, drive traffic to your website, or boost your bottom line. It's an opportunity to have some fun and show your customers who you are and what you're all about.
Take a business like Door County Coffee, for example. With a fan base of over 4,500 people, their Facebook Page is a hub of activity, and more importantly—a hub of personality.
"We do about 75% fun and entertaining stuff and 25% sales and promotion," Erin explains. "We try to find a good balance—we want fans to enjoy hearing from us."
Without ever traveling to Wisconsin to visit their café or retail store, I can quickly learn who they are, what they stand for, and why I may someday want to take the trip.
Here are a few examples from the Door County Coffee Page: (Click the image to enlarge.)
4. Act like a human on Twitter
Sometimes, the biggest difficulty in being human online is learning how to "talk" like a human.
Sites like Twitter, for example where you only have 140 characters to get your message across, make it difficult to be yourself. That's why so many business owners abandon Twitter early or turn it into an auto feed for their activity on other sites.
But with so much automation from other business, small businesses on Twitter can have a real advantage by simply acting human.
For a business like Boston-based burrito company, Boloco, that simply means listening and responding on Twitter.
"Twitter is all about listening and responding," explains John Pepper, CEO of Boloco. "Both Facebook and Twitter are constant feedback mechanisms. They let us quantify general trends, like what people are complaining about. That helps us learn what we need to improve and what we're doing right."
It's been reported that up to 70% of brands ignore customer feedback on Twitter. By being one of the businesses who is actually present, listening, and ready to respond—you'll not only look more human but will also have the opportunity to learn from the people who matter the most to your business.
5. Start a blog
If you've been on the fence about creating a blog for your business in the past, here's another reason to get started.
Blogging isn't just a great way to engage and inform your audience, it's also an easy way to humanize your business like never before.
Take our blog for example. Here you'll find plenty of advice, best-practices, and tips to improve your marketing, reach new customers, and grow your business.
But you'll also see and hear from real people. You'll find videos of Constant Contact employees sharing their expertise. You'll hear discussions between the people who write our blogs, manage our social media, and coordinate our marketing campaigns. And, with each blog post, you'll see a photo of a real person and profile about who they are, what they do, and what type of experience they're bringing to each post.
It's worked for small businesses as well. A business like Art Impressions, Inc. for example, uses a blog to introduce their design team and allow them to share their expertise. Ipswich Ale Brew Brewery, uses their Brewer's Blog to give fans a look behind the scenes and to put a face on the people crafting their beer.
Whether you're a retail business, a restaurant, a B2B, or a nonprofit—you have real people doing real work, and a blog can help show it.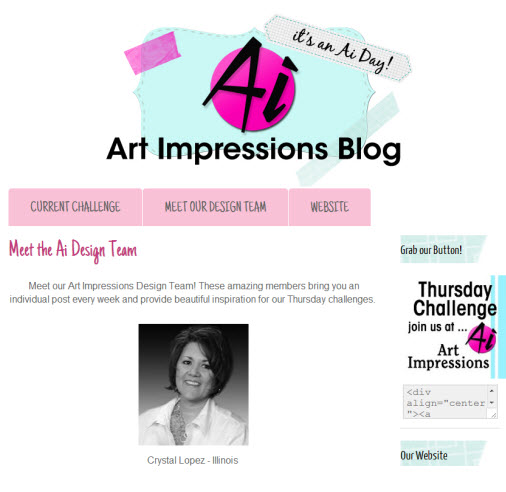 Bring humanity back to online marketing
As you can see, bringing humanity back to online marketing won't take much heavy-lifting.
In doing so, you'll not only see better results but will likely have a lot more fun in the process.
Regardless of what tools you decide to use for your business, remember: it's not about the tools you use, it's about the people you interact with and the relationships you share.
Remembering that will make it easy to humanize your marketing.
How do you humanize your marketing? Let us know in the comments below.