You know it's important to get people to open your emails.
But once someone opens, how can you tell if they're actually acting on the messages you're sending out?
While your open rate tells you how many people opened, your click-through rate tells you how many of those people actually clicked on a link within your email.
This is important for anyone sending emails for their business or organization, but is especially important when you're trying to drive real actions online – like getting someone to click-through to your website, visit your blog, register for an event, or schedule an appointment online.
This week, we discussed click-through rates on the video streaming platform, Periscope.
We had a great turnout, and covered a variety of topics, including:
Why your click-through rates matter
How your sending frequency can impact open and click-through rates
How the amount of content in your emails impacts your click-through rate
How many people actually click the links in your emails
What you can learn from your click-through rate
6 actionable tips to improve your email click-through rates
Watch the recording of the broadcast and read our Periscope recap below.
(Having trouble viewing the video? Watch it here.)
We're all familiar with open rates and how important they can be.
We send out our emails and we rush to our reports to see how many people have opened.
But in addition to opens, your click-through rate is really one of the best metrics you can use to measure the level of engagement in your email.
You don't just want to send emails and get people to open, you also want people to act on the messages you send out.
For businesses that have actions they want people to take online — whether that's to click through to your website, visit your blog, register for a class or event, purchase online, or redeem an offer — your click-through rate is a great way to see that and get a measurement of how many people are taking those specific actions.
Keep in mind that what we're really talking about is having a way to measure the action you want people to take. So if that action is offline — maybe you want them to visit your store, call to book an appointment, or show up for an event — you also want to have a way to track your results outside of the inbox. Also, keep in mind that the click is only the first step people will take, so you really want to track what type of results those clicks actually generated. This could be in the form of increased traffic or actual sales.
How many emails are too many emails to send in a week or month?
This gets to the idea of why metrics like click-through rates are so important.
There isn't a clear cut answer about the perfect frequency for every business. It will really depend on the goal of your email marketing and the audience you're trying to reach.
If you're a restaurant and have something new to send your readers on a weekly basis — like specials or schedule updates — then a weekly email might be right for you. But if you don't have a clear reason to communicate with your audience every week, you may not need to email your audience at the same frequency.
Open rates will be the best metrics to see whether or not your sending frequency is working because people may be ignoring or deleting your emails. But if people are opening and no one is clicking on the content you're sending out, then it's possible that you're overwhelming your readers with too much information.
Can putting multiple links in my email improve click-through rate?
Constant Contact recently conducted research into how the number of links in an email impacts click-through rates and found that it's the first couple links in any email that will get the most clicks. We also found that after 5-7 links, additional links have a minimal impact on improving your click-through rate.
It really comes back to understanding the most important actions you want people to take. Your email should have one clear call-to-action for readers to take.
So, we received a question from someone who is a professional fisherman and wanted to use email marketing. You might include some helpful information about fishing and entertaining photos and videos, but your main action might be to get people to visit your website to sign-up for a class or fishing charter.
If you include a link, you can use your click-through rate to keep track of how many people actually acted on the email.
Important data on email click-through rates
33 percent of all click-throughs come from 5 percent of clickers.
These are people that are super engaged with your emails and are consistently clicking on the links you're sending out. It can be helpful to focus in on those people and understand what they're most interested in.
If you're a Constant Contact customer, you can see a full read-out of who clicked on each link in your email. You can use this information to figure out what content people are interested in, or what type of offer can get them to act.
The optimal length for an email is 20 lines of text and 1-3 images
This is good data to think about when designing your emails, but keep in mind that the optimal length can also vary depending on the industry you're in. There are certain industries where including more photos or additional text can actually help engage readers and improve click-through rates, so you'll definitely want to test it out.
But one thing you should take away from the data is that in today's increasingly mobile world — where more than half of all emails are opened on a mobile device — it's important to have a really clear and focused action.
Mobile should influence the template you choose, the content you put in there, the links that you use, and the actual place you're sending people to take an action so that everything works well across any device.
6 quick tips to improve your email click-through rate
1. Cut your emails down to the essentials
Think carefully about the length of your emails. Focus on the essential information and links you want to include and cut down on the stuff that isn't getting a response from your readers.
2. Motivate your readers
Make sure people understand the value of acting on the messages you send out. You want to have a strong "call-to-action". This means that you want to let people know what you want them to do, why they should do it, and what value they'll see from taking the action.
3. Include the same link multiple times
This doesn't mean you should pack your email with a ton of links. But if you have a specific action that you're focused on, you can use links in multiple places to make it easy as possible for people to click-through.
For example, it's a good idea to use a clickable button for the action you want people to take. But if you're also using text to explain the value of clicking, you can include a link within the text as well. You can also make your images clickable.
4. Target your message
We talked about how you can see who clicked particular links in your click-through reports. What if you decided to follow up with those people with a targeted message, related to the content they just engaged with?
Let's say you have something big you want to promote. You send out an email and see that 30 people clicked to learn more. Now you have a list of people you can send a follow-up to with additional information. You know that they've shown an interest, and now you can follow up to help move them along toward being a new or repeat customer.
5. Use images and video
Using visual content — like images and video — can be an easy way to improve your click-through rates.
Constant Contact customers can easily insert a link to a video in any email. Online video is more popular than ever, and adding a video could be a great way to engage readers.
Images can also improve your click-through rate. In fact, there is recent data that shows that adding an image to your email can improve click-through rates up to 47 percent.
6. Include a button
Buttons have become increasingly important with the growth in mobile. Buttons can make your links easier to click on a smaller screen, which will help boost open rates.
You can test using links and buttons to see what gets the best response from your readers.
Next steps
Take some time to benchmark your email marketing results. Where are your opens and click-through rates today?
Try some of these tips in your upcoming emails to see if you can move those metrics in the right direction to get more clicks and a better return from your email marketing investment.
Miss any of our previous Periscope broadcasts? You can watch them all here!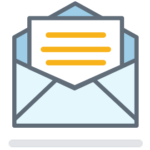 Is email marketing right for you?
See why smart small businesses use email marketing to drive more business. We'll show you exactly what it can do for you, and ten tips to get started.
Get your Guide!
By entering your information, you permit us to reach out to you in the future.