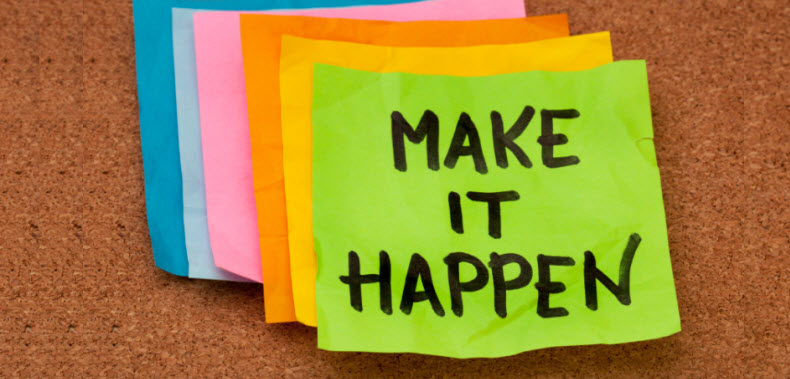 When it comes to New Year's resolutions, it's safe to say that most of us don't have a perfect track record.
According to one 2013 survey, just 8 percent of people actually see their resolutions all the way through. A quarter of those people won't even make it past the first week!
To say there's room for improvement is really putting it gently.
But while making major life changes can seem daunting, making improvements to your email marketing is a lot easier than you might think.
Here are five email marketing resolutions to stick to in 2014:
1. Get your contact list in shape
Hopefully you've done some work to grow your email list in 2013. But have you also taken the time to review your email list?
A healthy email list is the most important part of any successful email marketing strategy.
Here are a few things you'll need to do:
Find out who's actually reading your emails: Take a look at your email reports to find out who's actually opening your emails each month. You can create a separate list for your most active readers, and send targeted promotions that are just for them.
Learn what people are interested in: Use your click-through data to find out what type of content your readers are interested in. You can then segment your list into different audiences, based on the content they are engaging with.
Fix ongoing problems: Keep an eye on your bounce reports. If you're seeing certain addresses bounce each month, it's possible that the email address is no longer valid or that someone on your list is using a different address.
2. Eliminate harmful bad habits
Like in life, there are some bad habits that we are aware of and some that we need others to point out before we can make a change.
For example, if you're constantly waiting to the last minute to think about what you're going to write in your emails or are going months without contacting your list, you probably already know that these are habits you need to change.
By developing an email marketing plan and sticking to a reasonable schedule, you'll immediately increase your potential for success.
But there are also habits you may not be aware of.
For example, did you know that it's important to ask for permission before adding someone to your email list?
Allowing people to opt-in improves your list responsiveness. With this approach you'll have a list full of people who want to hear from you, rather than a group surprised and upset that they've been added to a list without their permission.
This is also why it's not a good idea to purchase an email list. These lists are full of people who don't know your business and have not opted-in to receive your emails. Make a commitment to grow your list the right way in 2014.
3. Reduce your content-related stress
Few email marketing tasks can cause a small business owner's stress level to go up faster than creating email content. This is especially true if you consider yourself to be a less-than-perfect writer.
Until you make a commitment to reducing your content-related stress, you'll never break this frustrating cycle.
Here are a few tips to help you do it:
Create a content template: This doesn't have to be anything high tech. A simple sheet of paper that you use to outline the different articles you want to include could be all you really need. Here's a great example.
Focus on answering simple questions: Writing a blog post or article can be stressful. Answering customer questions is not. And, by simply answering these questions you'll make your emails that much more relevant to your readers.
Find the right tools: There are plenty of tools out there to help you find, create, and share better content. They will also help you save time and reduce your stress in the process. Here are three great examples.
4. Travel outside your comfort zone
Don't make the mistake of getting stuck in your email marketing comfort zone in 2014.
The inbox has changed, and in just the last two years, the number of people reading emails on mobile has increased by 330 percent. In that same time period, opens on desktops have decreased by 44 percent.
If you're not willing to step outside of your comfort zone and adapt to these changes, you could be putting yourself at a major disadvantage.
Luckily, making your emails more mobile friendly can be done with a few simple improvements.
5. Learn something new
Developing a new skill or talent is a great goal for 2014.
It will not only help keep you focused, but will also have a positive impact on all of the email marketing resolutions you have set for yourself in the New Year.
We have plenty of places you can turn to in order to learn something new:
Attend a seminar: Our team of small business marketing experts host live events throughout the year, right in your backyard! We also partner with SCORE and more than 3,000 Chambers to help bring education to you. Learn more.
Learn online: Online webinars give you the chance to get the training you need right from your home or place of business. You can register for these events ahead of time and have a reminder sent right to your inbox before the webinar begins. Learn more.
Get education sent right to your inbox: Take the time to find sources you can rely on. Once you find them, have updates sent right to your inbox. That way, you'll never miss a chance to learn something new. If you're interested, you can sign up for our Hints & Tips newsletter.
Stick with it!
By sticking to these email marketing resolutions, you'll not only have more people opening, clicking, and sharing your emails, but you'll also have more opportunities to improve customer relationships and grow your business in 2014.
You don't have to wait until January 1. Log in to your Constant Contact account and get started today.
Not a Constant Contact customer? Start your free 60-day trial today!