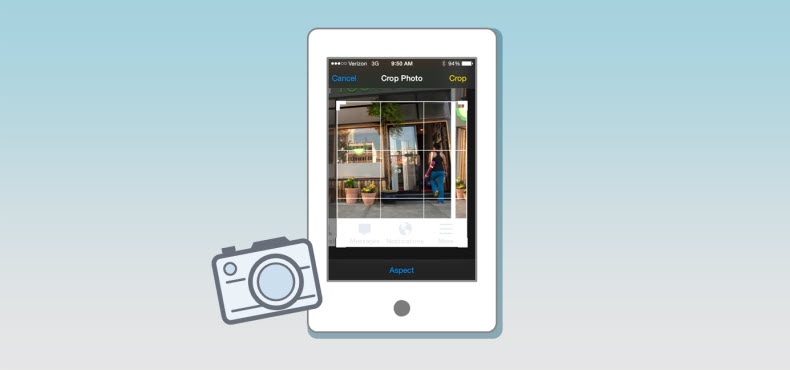 Instagram has changed the way people think about creating and sharing photos online.
Whether that's a good thing or a bad thing is up for debate. But what's not up for debate is that for small businesses, Instagram has become a valuable content creation tool and a network with a ton of potential.
This week, Instagram introduced a series of new features that marketers and users of the platform are going to love.
Read about this top story and find out what Facebook is saying about the recent buzz around changes to organic reach in this week's marketing news roundup.
Instagram announced a major update to its app this week; adding 10 new features for editing and enhancing photos.
The new list of features includes: Adjust (a new tool for cropping and straightening photos), brightness, contrast, saturation, warmth, sharpen, shadow and more. Users will also have more control over the level of filter that's applied to photos before sharing.
Here's what Instagram had to say about the latest update:
"You take a photo to capture a moment, but often what you see in the photograph doesn't feel the same as what you remember. From brightening up a photo of your dinner party to better capturing the warmth of a sunset portrait, these new creative tools help you bring out and share the beauty of the moment as you remember it — right inside the same simple Instagram you already know."
After updating your app, you should see a new wrench icon when sharing photos. You can access a scrolling menu of features by clicking the icon.
Bottom Line: There are a number of benefits of using Instagram for your small business. In addition to being a tool that is constantly being updated with new features to create and share awesome-looking photos, it also has one of the most engaged user bases of any social network.
Even better, Instagram is incredibly simple to use and is designed to make creating high quality photos possible for any user — regardless of your technical experience or knowledge.
Here are some of our favorite resources for using Instagram:
In a post on the Facebook for Business site this week, Facebook's ad product marketing lead, Brian Bolan addressed a series of questions about the decline in organic reach for Facebook Pages.
According to Bolan, one of the biggest reasons for the decline in organic reach is the continued growth in the volume of content on the site.
On average, there are 1,500 stories that could appear in a person's News Feed each time they log onto Facebook. For people with lots of friends and Page likes, as many as 15,000 potential stories could appear any time they log on.
Bolan also points to the fact that people are liking more Pages than ever before.
In addition to the growth in content, people are also liking more Pages. Facebook's director of product management for News Feed told TechCrunch this April the total number of Pages liked by the typical Facebook user grew more than 50 percent last year. With each new Page like, competition in News Feed increases even further.
Bolan explained that Facebook uses a number of factors to rank the quality and relevance of content, which results in approximately 300 of the possible 1,500+ being shown to each user.
The post also provided insight into the impact fans can have when paying to promote content with Facebook's Ad products.
When an ad has social context — in other words, when a person sees their friend likes your business — your ads drive, on average, 50 percent more recall and 35 percent higher online sales lift.
Bottom Line: As a business or organization on Facebook, it's important that you're focused on providing content that's interesting and relevant to the people you're trying to reach. When fans interact with your content — through clicks, likes, comments, and shares — Facebook takes notice and uses that information to decide which content shows up in your fans' news feeds.
In addition to remaining focused on creating high quality content, businesses also need to be open to introducing a paid component to their Facebook marketing strategy. Facebook continues to optimize its ad products to offer new ways to grow your audience and generate new business. And while you may not want to make a significant investment right away, you can start small and familiarize yourself with how these tools can be used to your advantage.
For more help, check out our full list of resources for improving your organic reach on Facebook.
Social Media Examiner released a new infographic this week, highlighting key trends from their 2014 Social Media Marketing Industry Report.
One of the biggest takeaways is that 92 percent of marketers say that their social media efforts have generated more exposure for their business. But even with that increase in exposure, 89 percent are still unclear how to measure social media return on investment (ROI).
Other findings include:
70 percent of marketers plan to increase their use of visual content
68 percent plan to crease their blogging activity
65 percent of marketers want to learn more about Google+
33 percent plan on creating original audio content in 2014
90 percent of marketers regularly use Facebook ads
Bottom Line: As the social media marketing landscape continues to evolve, brands — both large and small — need to have a strategy in place.
This starts with setting a goal for your social media efforts, and focusing on building an audience on the platforms that are right for your business.
With a goal in mind, you can start to develop a social media posting schedule incorporating these different sites.
And then look to take advantage of the different tools available to measure your results.
Want more social media insights? Sign up for our free Hints & Tips newsletter for access to our latest posts, guides, videos, and upcoming online marketing webinars.