We know that mobile already plays an important role in helping you run and market your small business.
That's why we are thrilled to announce our all-new mobile app, Constant Contact Mobile.
Get the app!


Control your email campaigns from anywhere. Anytime.
Our all-new Constant Contact Mobile app brings the full power of the Constant Contact desktop experience to your smartphone or tablet.
With the new app, you will be able to:
Compose and Schedule Emails
Create and edit emails on the go, using our mobile editor. All of the emails created using our mobile editor are completely mobile responsive, which means they will look great no matter what device your audience is receiving them on.
You can add text, links, buttons, and images right from your mobile device. Or choose to schedule any email that's saved as a draft within your Constant Contact account.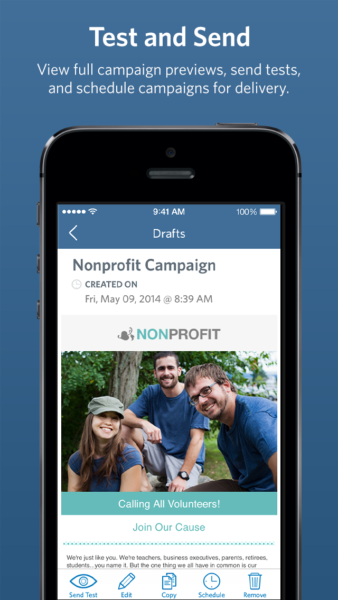 Manage Your Contacts
Bring your email database with you everywhere you go, and easily import or edit existing contacts right from your mobile device.
You'll be able to seamlessly add new contacts to your database from your phone or tablet, making it easy to grow your email list on-the-go.
Track the Progress of Your Emails
Stay up-to-date with how all of your different email campaigns are performing by accessing your email reports on your mobile device.
Keep track of how many people are opening, clicking, and forwarding your emails, and review important metrics like bounces and opt-outs.
If you have multiple accounts setup with Constant Contact, you'll be able to easily switch between your different accounts.
I already have a Constant Contact app on my device.  What's in it for me?

QuickView Users: the all-new Constant Contact Mobile app does everything QuickView does, plus contact management!  And, all of your previous work is already waiting for you in the new app.  Download now.  Once you've downloaded, please remove QuickView from your device. 
Toolkit Users: the all-new Constant Contact Mobile app does everything the Toolkit app does, plus mobile contact management! So now, in addition to creating and tracking your emails, you'll also be able to conveniently grow and manage your customer list.  Get Constant Contact Mobile today – simply by upgrading the Toolkit app directly from your device.
Get the app!
Constant Contact Mobile is available for both iOS and Android users.


A Constant Contact account with username and password is required to use the app.
Not a Constant Contact customer? Start your free 60-day trial of Constant Contact today!